Student Excellence Series: Caleb Moyer
Learn more about why we're proud of Caleb Moyer, honored for Investment Science & Portfolio Management.
published: 2019/06/24
contact: Rachael Smith - CBA Marketing Department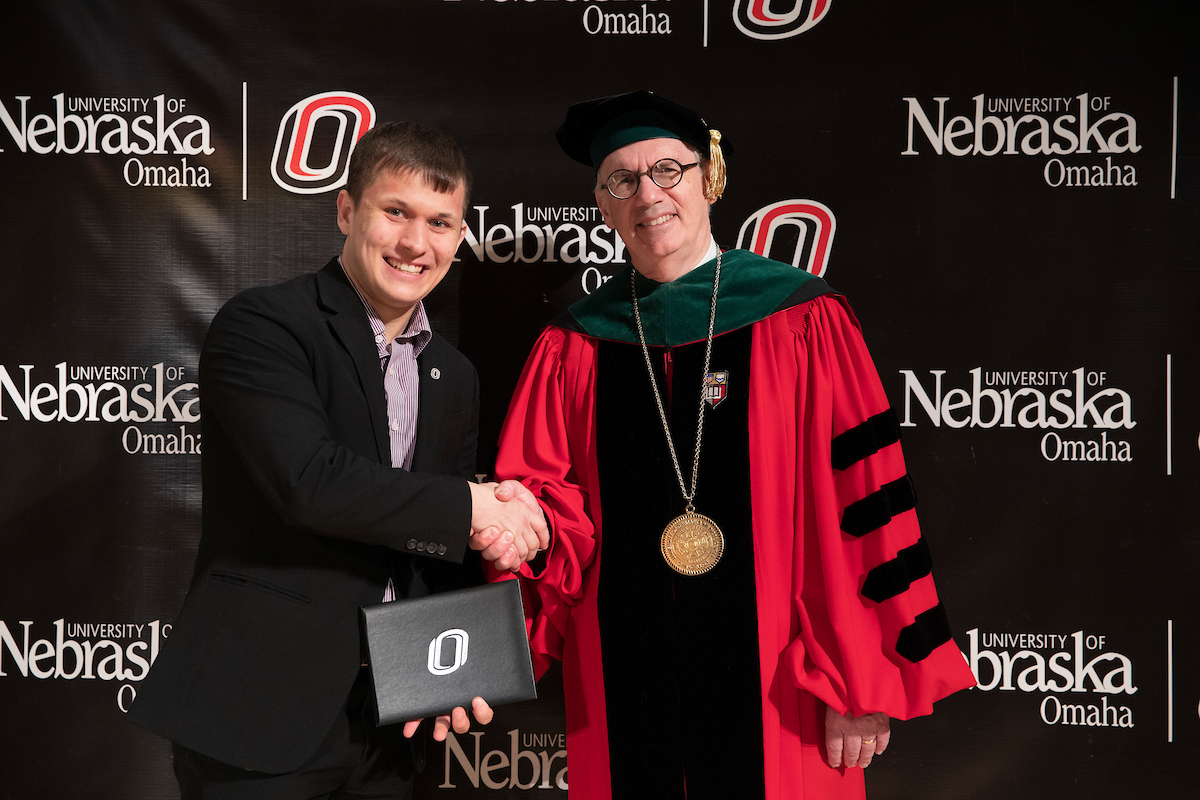 Caleb Moyer receives departmental honors for Investment Science & Portfolio Management at the 2019 Student Honors Convocation.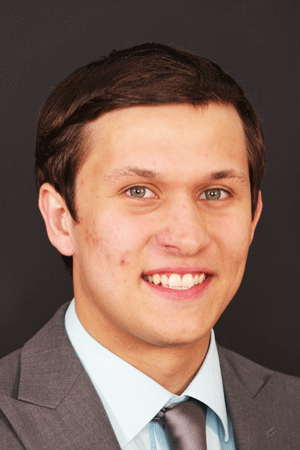 The UNO CBA Student Excellence series highlights several of the outstanding students at the college who were recently recognized for their accomplishments at the 2019 Beta Gamma Sigma Honors and Awards Ceremony. UNO CBA students are diverse, multitalented, and hard-working, and they graduate as intelligent and ambitious business leaders with the knowledge they need to make an impact. Learn more about why we're proud of Caleb Moyer, honored for Investment Science & Portfolio Management, below.
Major
BSBA in Banking and Financial Markets, Business Finance, Investment Science & Portfolio Management
Minor concentration in Management
Honors and Involvement
Summa Cum Laude Honors
Graduation Date
December 2018
Award
Honored at department ceremony for Investment Science & Portfolio Management
---
Why did you choose to attend UNO?
" I chose to attend UNO because after visiting as a senior in high school, I could tell the environment the business college had was one that would serve me well in my time at college. From challenging courses, to professors there to help guide you, to a strong support system no matter what you are pursuing, there was no doubt that if I was willing to put in the work, my degree at UNO and specifically my time inside of the College of Business Administration would be fulfilling and rewarding."
Have you had a favorite class at UNO? Why was it your favorite?
"International Finance, by far. Dr. Maisondieu Laforge, the professor for all sections of the class, was such an outstanding teacher and the class revolved around a lot of the topics that I hope to use in my career. I always say that while I took a lot of night classes during my time at UNO, I never had one that I hoped wouldn't end until I took Dr. Maisondieu Laforge's class."
How has attending UNO CBA helped you to achieve your personal and professional goals?
"UNO has helped me get in front of the people that have helped shape my career. From meeting a classmate that helped me get my first investment-based job to having mentors (during my time in CBA's Scholars Academy) that guided me with how to do 'real-world' business, much of the knowledge, skills, and connections I have are because of my time at UNO."
What's your dream job? What pursuits or goals do you have for the future?
"I'd like to own my own investment firm someday. Ever since a high school assignment in a personal finance class where we had to construct a stock portfolio, I've always enjoyed and had a knack for finding what works with investments. Looking at numbers - reading balance sheets, income statements, etcetera - is almost a hobby to me, as it's something I really enjoy doing.
"My sophomore year in college, I developed a model I use for my personal investing, and I've continued to refine it over the past few years. It has done fairly well, and I think will do even better when the markets go down, which may be sooner rather than later. Eventually, I would like to do more with this and use it to start my own investment firm so I can help others achieve financial independence, which is something that can help a lot of people."
What parts of your CBA journey are you most proud of?
"As any college student would attest to, there are lots of struggles that you go through during your college years, from long nights studying for a test to trying to figure something out that you didn't understand the first time through. These struggles have helped shape me into who I am and will serve me, and others who have had similar experiences, well in the real world."
What has been the top highlight of your CBA experience?
"Classes with friends, learning from highly professional faculty teaching the top courses that can be found anywhere in the world, developing my skills outside of the classroom with groups associated with my interests...there are too many things to name just one top highlight. The only limit to what you can achieve at UNO is what you are willing to put your mind to, and much of what I am is because of those opportunities. That is the top highlight of my time at UNO."
If you could tell someone about UNO CBA, and if you could give a message to any prospective students interested in the school, what would you say?
"It's such a great college that is ripe with opportunities if you are willing to work for them. It's not by any means easy, as anyone that has succeeded in anything will tell you, but if you are willing to put in the work, CBA is a great place to be. From challenging courses to teachers that are top of their professions, to opportunities to study abroad, and clubs to join that help you grow your skillset, the only limit on what you can achieve at UNO is what you are willing to put your heart and mind to."