Student Excellence Series: Amy Kohlscheen
Learn more about why we're proud of Amy Kohlscheen, honored for Banking and Financial Markets.
published: 2019/07/01
contact: Rachael Smith - CBA Marketing Department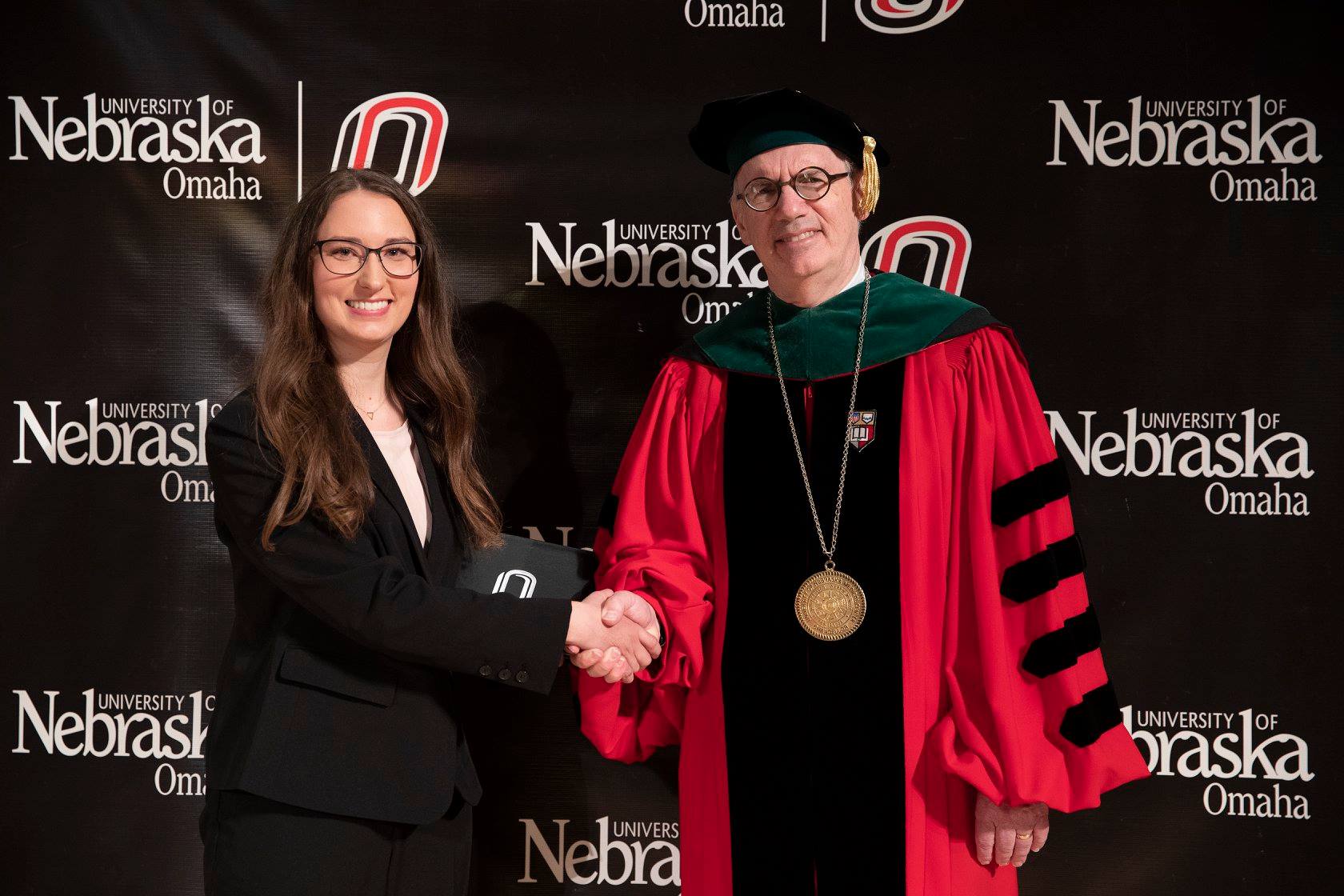 Amy Kohlscheen receives departmental honors for Banking and Financial Markets at the 2019 Student Honors Convocation.
The UNO CBA Student Excellence series highlights several of the outstanding students at the college who were recently recognized for their accomplishments at the 2019 Beta Gamma Sigma Honors and Awards Ceremony. UNO CBA students are diverse, multitalented, and hard-working, and they graduate as intelligent and ambitious business leaders with the knowledge they need to make an impact. Learn more about why we're proud of Amy Kohlscheen, honored for Banking and Financial Markets, below.
Major
BSBA in Banking and Financial Markets, Business Finance, Investment Science and Portfolio Management, and Management
Honors and Involvement
Magna Cum Laude Honors
President, Maverick Banking Association
Member, Maverick Investment Program
Graduation Date
May 2019
Award
Honored at department ceremony as Banking and Financial Markets Student of the Year
---
Why did you choose to attend UNO?
" Omaha has always been my hometown, so there was no hesitation in selecting UNO. I always knew I wanted to major in business, but couldn't decide on one concentration. That is when I explored all the opportunities that UNO CBA offers. I learned that I can earn more than one concentration, which allowed me to express myself in more than one field. From this I graduated with four concentrations in business."
Have you had a favorite class at UNO? Why was it your favorite?
"My favorite class at UNO was Principles of Collaboration taught by Dr. Diller. This class was my favorite because it was a hands-on experience in working with teams. From this I learned important team building skills, negotiation skills, and different problem-solving skills. These skills will help me in my future career when working with teams. Dr. Diller is one of the most passionate professors I have ever had at UNO; he truly wants to set up his students for success. I am proud to be a part of Team Diller."
How has attending UNO CBA helped you to achieve your personal and professional goals?
"My journey at UNO CBA allowed me to explore all areas of business. UNO CBA has set me up for success. From this I found my passion for finance and management. My finance classes allowed me to excel with the numbers side of business. My management classes tested my logical and creative side of business."
What's your dream job? What pursuits or goals do you have for the future?
" My dream job would be working as a financial analyst in Nebraska."
What parts of your CBA journey are you most proud of?
"A big obstacle I faced was in the last semester of my college career, and that was the Capstone course. Capstone prepares your group to solve a complex problem that a company has. The cases that were provided were challenging and my group was able to work together to find a solution. I'm proud that my group passed round one and we got to compete in round two. This was a good learning opportunity to work with other students from different business majors."
What has been the top highlight of your CBA experience?
"Being elected president of the Maverick Banking Association. This opportunity allowed me to grow as a leader. As president, I assisted Dr. Rowe (the professor leading the club) to organize the yearly field trip to the Kansas City Federal Reserve. The field trip was interesting, too."
If you could tell someone about UNO CBA, what would you say?
"UNO CBA is about exploring all areas of business. If you are not sure what you want your concentration to be, start with taking your CBA core classes. From there find which classes you were truly passionate about and pursue that path."
And finally, if you could give a message to any prospective students interested in coming to UNO CBA, what would you tell them?
"I will tell any prospective student to explore of all your opportunities. That starts with finding the right CBA advisor for you, who will set you up for success. Your college career goes by very quick, so try to join some of the activities and clubs that UNO offers. Start building those connections, because you never know what connection will lead to your next career."