Student Excellence Series: Alison Raszler
Learn more about why we're proud of Alison Raszler, honored for Supply Chain Management.
published: 2019/06/10
contact: Rachael Smith - CBA Marketing Department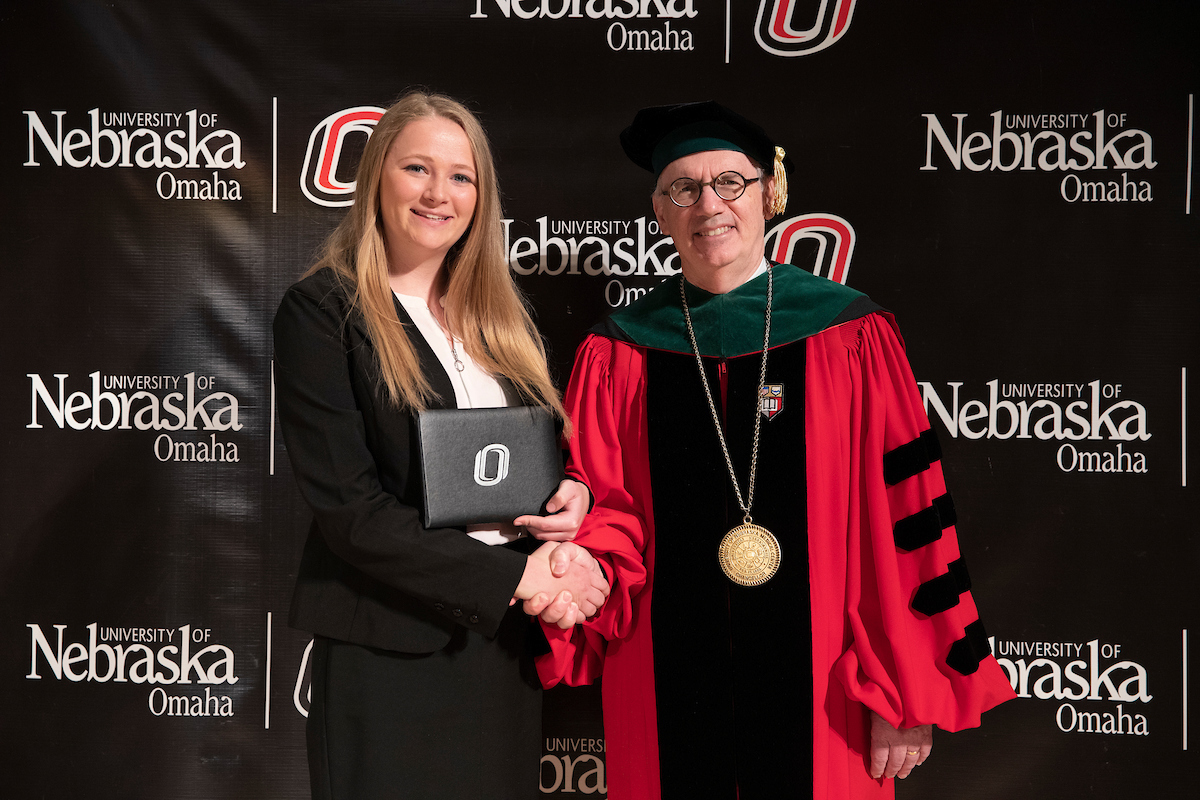 Alison Raszler receives departmental honors for Supply Chain Management at the 2019 Student Honors Convocation.
The UNO CBA Student Excellence series highlights several of the outstanding students at the college who were recently recognized for their accomplishments at the 2019 Beta Gamma Sigma Honors and Awards Ceremony. UNO CBA students are diverse, multitalented, and hard-working, and they graduate as intelligent and ambitious business leaders with the knowledge they need to make an impact. Learn more about why we're proud of Alison Raszler, honored for Supply Chain Management, below.
Major
BSBA in Supply Chain Management, Marketing, and Management
Honors and Involvement
CBA Scholars Academy
Honors Program
President, Delta Sigma Pi
Graduation Date
May 2020
Award
Honored at department ceremony for Supply Chain Management
---
Why did you choose to attend UNO?
" I chose UNO because of the connections the school has with the Omaha business community. UNO has provided a great network of working professionals and companies for me to seek out professional development and to apply for paid internships."
Have you had a favorite class at UNO? Why was it your favorite?
"My favorite class at UNO was Maverick Startups. During this project-based honors class, my team and I had to create and obtain revenue from a business we constructed during the semester. Having the freedom and flexibility to build something from start to finish helped me use the skills I learned from other classes to create a profitable business in just 4 months."
How has attending UNO CBA helped you to achieve your personal and professional goals?
"Attending UNO CBA has given me the skills to reach my goals of working in Omaha in the Supply Chain field after graduation. I have also been able to grow personally by being actively involved in extracurricular activities in school including the UNO CBA Scholars Academy and the co-ed business fraternity, Delta Sigma Pi. These and other organizations on campus have given me a lifelong network of friends and helped me get out of my comfort zone."
What's your dream job? What pursuits or goals do you have for the future?
"My dream job is to work in the food industry in a large company in Omaha working to ease the distribution cycle through the chain of farmer-to-consumer."
What parts of your CBA journey are you most proud of?
"One obstacle I had to overcome while at CBA was being told I was too young to get a summer internship as a freshman. Multiple recruiters and companies would look at my year in school and move my resume to the reject pile. I often had to take this action with a grain of salt. Some companies, when they said 'no, we won't hire a freshman', what I heard is 'we will not hire you yet, but keep trying.' After at least 10 companies said I was too young to be an intern, I found one company who could look past this barrier and hired me."
What has been the top highlight of your CBA experience?
"The top highlight of the CBA experience is being a part of the UNO CBA Scholars Academy. High school seniors apply for this four-year program that admits you to the business honors program, and it has made me who I am today. This program sets me up with a business mentor from the Omaha community, gives me opportunities for company tours to help me see what company I would see myself in, and most importantly, is a program with 20 students that I take classes with during my four years who have become some of my closest friends."
If you could tell someone about UNO CBA, what would you say?
"The professors are here to help you. Every professor I have had is so willing to help you outside of class, either during their office hours or beyond that. They also recognize you after they had you in class and will smile or greet you in the hallways. UNO CBA feels like home to me because the professors, staff, and students are so inviting."
And finally, if you could give a message to any prospective students interested in coming to UNO CBA, what would you tell them?
"Get involved! Becoming a member in clubs that interest you will give you so much opportunity and connect you with other students that you can build memories with. UNO CBA has some of the best professors, a state of the art building, and Omaha business connections that will set you up for a successful career."