Student Excellence Series: Dominika Jedinak
Learn more about why we're proud of Dominika Jedinak, honored for Economics.
published: 2019/05/13
contact: Rachael Smith - CBA Marketing Department
Dominika Jedinak receives departmental honors for Economics at the 2019 Student Honors Convocation. Jedinak was a member of the 2019 Capstone Cup winning team and is a member of the 2015 Scholars Academy cohort.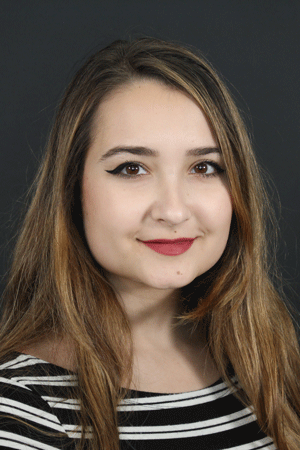 The UNO CBA Student Excellence series highlights several of the outstanding students at the college who were recently recognized for their accomplishments at the 2019 Beta Gamma Sigma Honors and Awards Ceremony. UNO CBA students are diverse, multitalented, and hard-working, and they graduate as intelligent and ambitious business leaders with the knowledge they need to make an impact. Learn more about why we're proud of Dominika Jedinak, honored for Economics, below.
Major
BSBA in Economics and Management
Honors and Involvement
CBA Scholars Academy
Honors Program
Omicron Delta Epsilon
Phi Kappa Phi
Beta Gamma Sigma
Graduation Date
May 2019
Award
Honored at department ceremony as Outstanding Economics Undergraduate Major
---
Why did you choose to attend UNO?
" Like any graduating high school senior, I had trouble deciding where to spend the next four years. I had looked at several universities, but none of them seemed to compare to UNO. I loved the idea of staying in Omaha – my family is from Council Bluffs – while having access to amazing faculty and classes.
"I was particularly interested in the CBA Scholars Academy. I applied for and joined the first cohort of the Academy, something that I was especially excited about because of the connections to the Omaha business world, the sense of community within the cohort, and the global reach through studying abroad as a cohort."
Have you had a favorite class at UNO? Why was it your favorite?
" Although I've enjoyed many of my classes at UNO, one of my favorites has been International Economics with Dr. Catherine Co. This class has challenged me like no other, and although I've spent nights wondering whether or not the class was worth the struggle, I can now say that it was. International Economics is a class that combines world issues with economic concepts and has helped me think like an economist while keeping up to date on the news."
How has attending UNO CBA helped you to achieve your personal and professional goals?
" The faculty and staff at UNO CBA have thousands of connections with the Omaha business community. Through them, I was able to stay in contact with businesses in Omaha and have an internship my sophomore year that eventually became a full-time offer before I graduated."
What's your dream job? What pursuits or goals do you have for the future?
"My ultimate goal in life is to always be a part of something that directly improves the lives of others. Although that may sound cliché, I am where I am today through the help of my parents, and from those in the community who assisted me when my parents did not have the answers. The least I could do is give back to the community that became the foundation of my life."
What parts of your CBA journey are you most proud of?
"I am a first-generation American. Both of my parents are from Košice, Slovakia, and I am the first from my family to be born in the United States. Like all first-generation Americans, this part of my story has come with challenges. My parents were unfamiliar with the university process in the U.S., which made applying and attending a scary experience. Although my parents helped as much as they could, there were times when they did not have the answer. However, this experience is one that I would not trade for anything.
"When I think of my struggles, I imagine the difficulties that my parents faced when they arrived in a brand-new country, where everyone spoke a language other than their own. My parents have been my inspiration to keep pushing when times are tough."
What has been the top highlight of your CBA experience?
"The highlight of my CBA experience was when I travelled to Vietnam in 2017 as a part of Students for Microenterprise Development. The purpose of this trip was to gather marketing materials for Mon Qua, a business started by ethnic minority women from northern Vietnam. With a small group, I spent two weeks meeting and interviewing these women, and eventually came back to the United States to sell the products that the women made. All of the profits from Mon Qua go directly to these women, and this has been an ongoing project that is one of the highlights of my life."
If you could tell someone about UNO CBA, what would you say?
"If I could tell anyone something about UNO CBA, I would stress the importance of the reach that the university has. Not only in the Omaha community, but also in countless countries abroad. This is especially important in a time when prospective business students must consider the global impact of the business world. CBA is an excellent university to learn about international business first-hand."
And finally, if you could give a message to any prospective students interested in coming to UNO CBA, what would you tell them?
"I would tell any prospective student that opportunity in CBA can be found where you least expect it. Do not be afraid to speak to professors about job opportunities, or even opportunities abroad. There are hundreds of organizations on campus that are waiting to help any student achieve their goals, and my only regret is that I didn't join more of them."