UNO CBA's Annesha Mitra Wins UNO Academic Advisor of the Year
Mitra is Director of Undergraduate Advising for UNO CBA and was selected from nominees across the entire university.
published: 2019/04/19
contact: Rachael Smith - CBA Marketing Department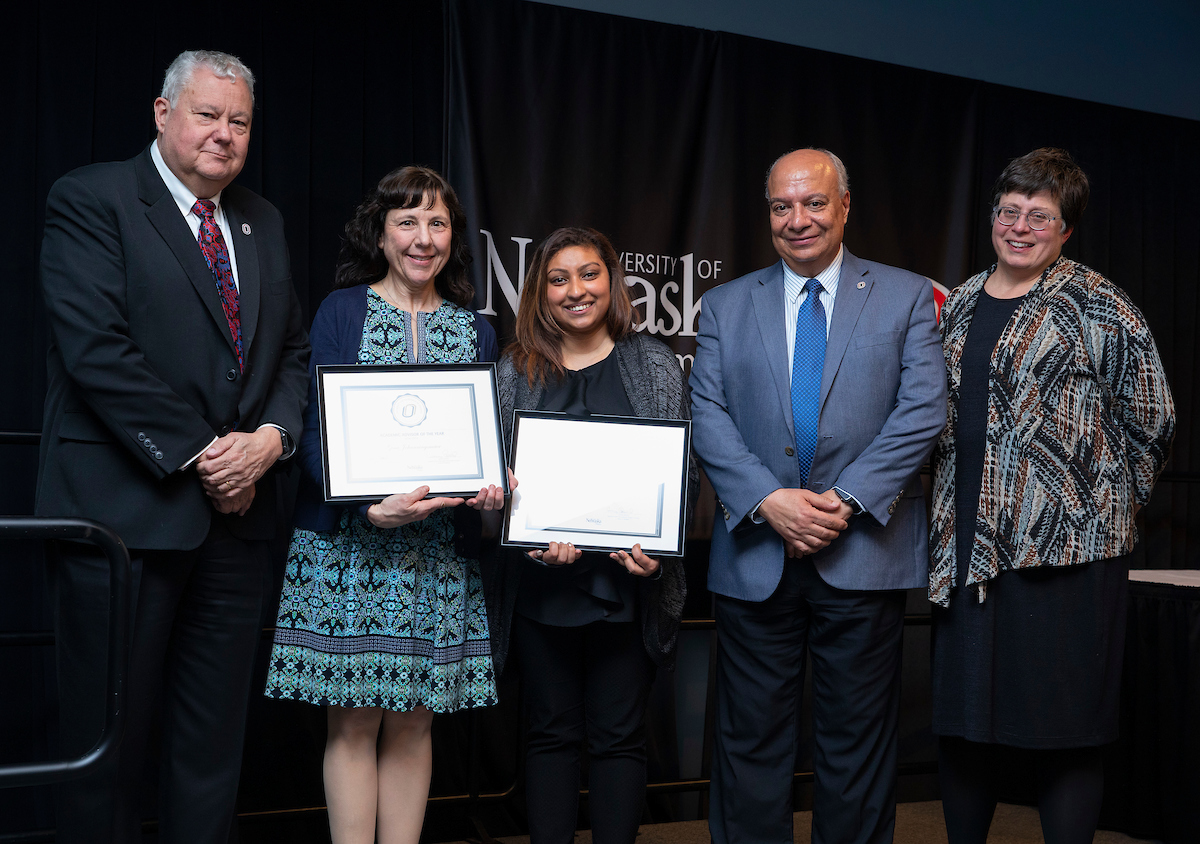 Annesha Mitra (center) receives recognition for her outstanding service to students, her colleagues, and the college.
The Academic Advising Council released their call for nominations for 2019 Academic Advisor of the Year in December last year. Students across the entire university were asked to nominate advisors that offered exceptional service to students, their colleagues, and the college. The winner receives a plaque and $500 in recognition of their accomplishments.
UNO CBA's own Annesha Mitra was named this year's winner! Anyone who's worked with Annesha knows the recognition is well-deserved. She's worked at UNO since 2011 and started out as a student worker in Dual Enrollment. She then worked in Admissions before moving to CBA Advising in 2015. She earned a BS in Psychology and an MS in Criminal Justice and Criminology from UNO, and she cites her advising experiences during those degrees as the inspiration for her career path.
Let's hear more from our amazing Advisor of the Year!
Tell us about yourself!
AM: "Besides work, I love spending time with my husband and our two puppies. We have a shih-tzu bichon named Zara and a poodle bichon named Dexter. They keep us very busy and are really the cutest little pups. I also love watching Netflix shows – I'm always looking for new suggestions!"
Clearly, advising matters to you. Why? What makes your role so important and fulfilling?
AM: "I enjoy working with people. I love helping students and watching them grow up and graduate with their degree. It's great to see them from the beginning of their college journey all the way until their graduation.
"I had a great experience when I was at UNO doing my undergrad. My advisor, Rachel Tomcak from the College of Arts & Sciences, was always a great support and resource for me. I want to give that back and help students the same way my advisor guided me.
"Advising is so much more than just helping students pick out their classes. Advisors are there to guide students, connect them with resources, and essentially be a big part of your undergraduate degree journey."
What does winning this award mean to you?
AM: "I'm so excited and happy to win the award. I am very grateful that I get to work with such amazing students, faculty, and staff in CBA. Our undergraduate advising team is just amazing!"
Congratulations Annesha, and thanks for all you do for UNO CBA students!