A Weekend Investment Brings Lifelong Returns with the Genius of Warren Buffett Course
The upcoming Genius of Warren Buffett program gives Lifelong Learners a one-of-a-kind glimpse into the Oracle of Omaha.
published: 2019/04/10
contact: Rachael Smith - CBA Marketing Department - CBA Marketing Department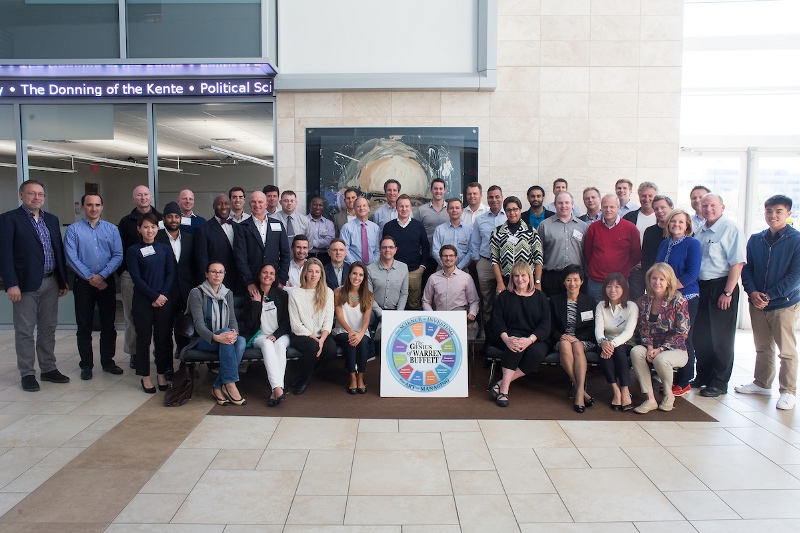 Mammel Hall – The Genius of Warren Buffett program, a series of events that offer participants a deeper understanding of Warren Buffett's investment principles, starts April 29 prior to the Berkshire Hathaway annual meeting for shareholders.
The annual Berkshire Hathaway meeting begins May 4 at the CHI Health Center, so participants are prepared just in time.
From late April through May 1, the University of Nebraska at Omaha (UNO) College of Business Administration hosts several events in which Lifelong Learners and shareholders gain invaluable insight into the strategies and values of Warren Buffett:
The Genius of Warren Buffett Executive MBA course teaches UNO graduate students and Lifelong Learners Buffett's business valuation methods and management philosophy. The three-day course taught by Robert P. Miles, author of three Buffett books, meets April 29 through May 1.
The Berkshire System Summit highlights Berkshire Hathaway's culture, principles, and methods. The event is May 2 at Mammel Hall. Speakers include Tony Nicely, Geico CEO; Bob Batt, retired executive vice president of Nebraska Furniture Mart; and Don Wurster, president of National Indemnity Company.
The 16th annual Value Investor Conference includes two all-day events on May 2 and May 3 at Mammel Hall.
Presenters across these events include executives like Yefei Lu, portfolio manager of Shareholder Value Management and author; Elizabeth Collins, CFA and head of Global Equity Research at Morningstar; and Florian Bartunek, founder and CIO of Constellation Asset Management.
Miles, who teaches the course every fall and spring, highlights its value in asking Lifelong Learners to perform blind valuations of actual stocks and businesses that Warren Buffett and Berkshire Hathaway have purchased. "Studying and simulating [Buffett's] historical investments – including mistakes – has become so successful of a learning tool that many Lifelong Learners return year after year to re-immerse themselves," says Miles.
Berkshire shareholders visiting from across the globe learn more about the Oracle of Omaha and leave with extraordinary insights into Buffett's strategies. Buffett's daughter Susie is a guest lecturer during the conference and, according to Miles, "no topic is ever off limits" for inquisitive learners seeking a unique perspective into Buffett's thinking. Executives from insurance to retail also act as guest lecturers ready to answer detailed questions posed by attendees. This inspires annual attendance by shareholders seeking to continuously enhance their understanding of Berkshire Hathaway's principles.
The UNO Executive MBA Program and the UNO Maverick Investment Club are beneficiaries of the dinners, making it fitting that the program returns each year to Mammel Hall, UNO's LEED certified Business Administration building. "Warren Buffett taught at UNO (before it was known as UNO) during the 60's, so it's appropriate that this course evolved at the same university," shares Miles. "Lifelong Learners travel from all six continents, representing 40 countries, so Omaha benefits by having this one-of-a-kind course – the only one in the world."
The Genius of Warren Buffett course is a 3-day investment that brings lifelong returns for participants. Learn more about the opportunity to study the Oracle of Omaha at https://www.unomaha.edu/college-of-business-administration/genius-of-warren-buffett/.