UNO Business Students Join Beta Gamma Sigma
The UNO College of Business Administration congratulates the newest members of Beta Gamma Sigma international honor society.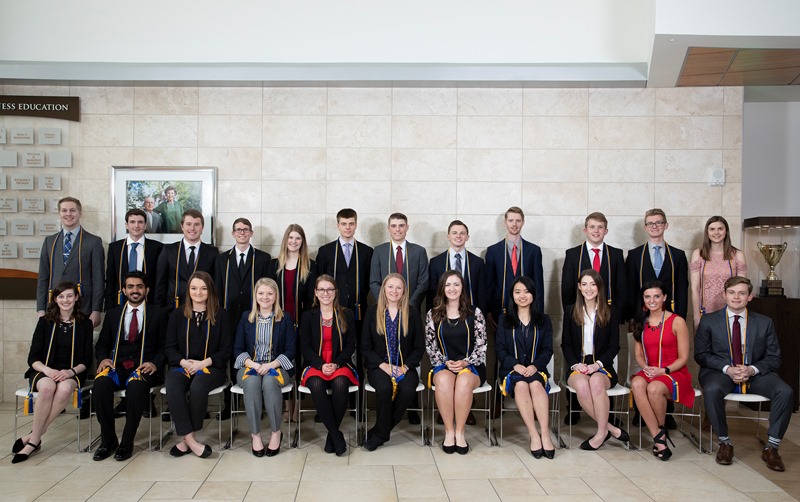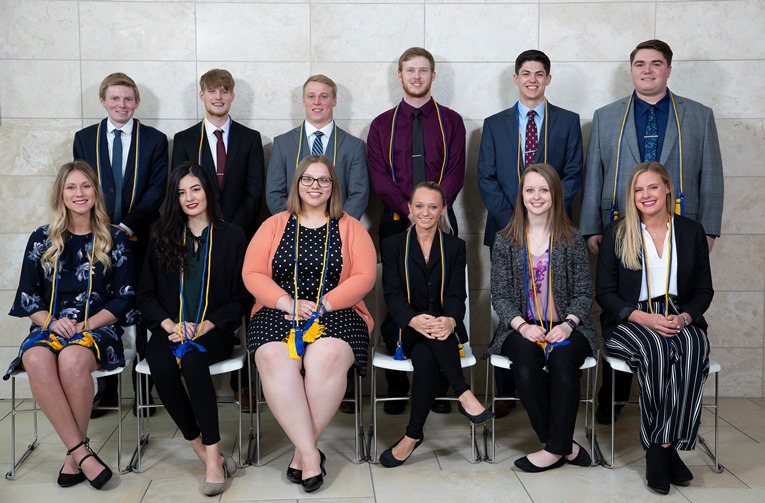 OMAHA – The University of Nebraska at Omaha's College of Business Administration (CBA) inducted 63 high-achieving students into Beta Gamma Sigma on April 4, 2019. Students inducted were in the top 10 percent of CBA juniors and seniors and the top 20 percent of graduate students.
Celebrating the 54th year at UNO in 2019, Beta Gamma Sigma is an international honor society serving business schools accredited by the Association to Advance Collegiate Schools of Business (AACSB). Fewer than 5 percent of the world's business programs maintain this rigorous accreditation.
In February, students were "tapped" during a surprise ceremony where faculty in academic regalia visited classrooms to deliver the news. This year's minimum GPA was 3.850 for juniors, 3.875 for seniors and 3.952 for business students pursuing a graduate degree.
The following students were inducted during the CBA Honors and Awards Ceremony on April 4:
Arlington, NE

Trenton Hilzendeger, Junior

Brandon Keefer, Senior

Aurora, NE
Paige Faber, Junior
Bellevue, NE
Casey Jones, Senior
Bennington, NE
Andrew Eihausen, Junior
Bhagalpur Bihar, India
Rajesh Kumar, MBA
Blair, NE
Keegan Olson, Junior
Blue Hill, NE
Jayden Hamel, Senior
Colorado Springs, CO
Josh Morgera, Junior
Dawson, NE
John Kanel, Junior
Eden Prarie, MN
Mark Ehresman, Junior
Elkhorn, NE
Aidan Posey, Junior
Alison Raszler, Junior
Fargo, ND
Jared Rehfeld, Senior
Fremont, NE
Cristina Vizcaya, Junior
Gothenburg, NE
Jacob Franzen, Junior
Great Lakes, IL
Theresa Cassaday, MBA
Gretna, NE
Christian Kennedy, MBA
Griswold, IA
Mandi Backhaus, Junior
Harbinger, NC
Danielle Odunusi, MBA
Kingston, MA
Erin Sennert, MBA
La Vista, NE
Brooke Huse, Junior
Lincoln, NE

Leah Gahan, Junior

Jenna Harrison, Senior

Madison, SD
Samantha Langford, Junior
Manley, NE
Callie Zeorian, Junior
Makinohara, Shizuoka, Japan
Yumeka Matsushita, Junior
Minden, NE
Karol Moncerrat Gonzalez Rivera, Senior
Murray, NE
Neil Bock, Senior
Muscat, Oman
Mazin Al Rahbi, Junior
Norfolk, NE
Shane Kalin, 2018 BSBA graduate
Omaha, NE

Scott Ashby, Junior

Chelsea Boryca, MBA

Jessica Cabello, Senior

Maddie Daley, Junior

Amanda Elsasser, MBA

Nathan Ewart, Junior

Megan Henderson, Senior

Alexandra Hermanek, Junior

Noah Johnson, Senior

Scott Kenealy, MBA

Tonya Kieckhafer, MBA

Sara Lowry, Senior

Jakob Mach, Junior

Samuel McDermott, Junior

Tom Ramaekers, MBA

Sanith Ray, MBA

Seth Richardson, MBA

Lee Rogers, Junior

Rachel Sabaliauskas, Junior

Emily Scheibeler, MBA

Matt Schomers, Senior

Monica Selkin Stoney, MBA

Adam Smith, Junior

Brad Stuthman, Junior

Jonathan Whelan, Senior

Ono, Japan
Reona Ishida, Junior
Papillion, NE

Edna Friend, MBA

Kiley Phelps, Junior

Miranda Swift, Junior

Saint Paul, MN
Catherine Walsh, MBA
Shandong Binzhou, China
Di Pan, MBA
Sioux City, IA
Jorden Hansen, Senior