Eighth Annual Midwest Entrepreneurship Conference Establishes UNO as Entrepreneurial Hub
Coordinated by the UNO Center for Innovation, Entrepreneurship and Franchising (CIEF) and the UNO Collegiate Entrepreneurs' Organization, the conference is an empowering opportunity for attendees.
contact: Rachael Smith - CBA Marketing Department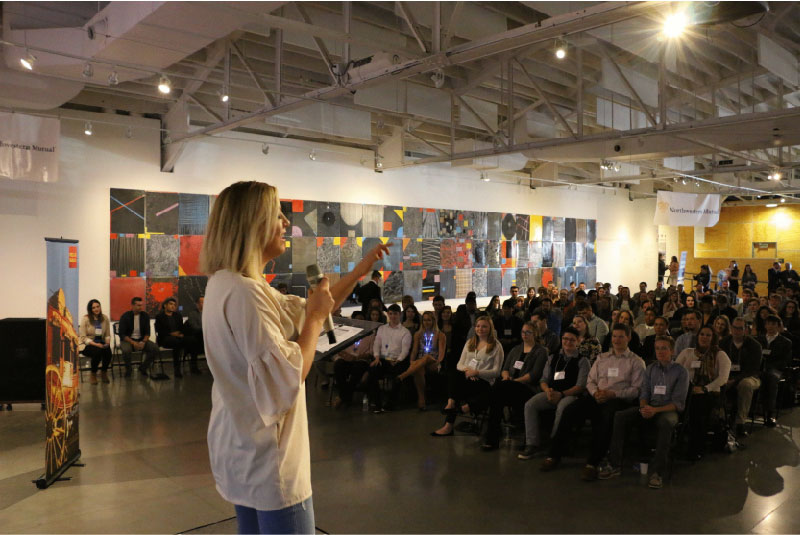 During the Midwest Entrepreneurship Conference, hundreds of college students and young professionals meet in Omaha for two days of inspiring speakers, diverse panels, and professional development opportunities.
Via a startup career fair, networking and mentoring sessions, a pitch contest, and speeches by nationally recognized entrepreneurs, students leave energized and empowered by innovative thinking and lessons on how to apply entrepreneurial action to their own lives.
This year marks the eighth annual Midwest Entrepreneurship Conference and features entrepreneurs like Mary Clare Sweet, founder of Lotus House of Yoga, and Casanova Brooks, award winning real estate agent, investor, speaker, and CEO.
"Students at UNO get the chance to hear from high profile speakers, many internationally renowned, and from others who started great businesses in their early '20's," says UNO Associate Professor of Entrepreneurship Dr. Dale Eesley. This makes it an influential opportunity for UNO students, especially because an event like it isn't offered by any other school in the Midwest.
"This conference shows how far UNO has come as a university and specifically as an entrepreneurial hub," states Eesley. "Students make useful connections with speakers and each other."
The Key to Inspiration
Eesley, who founded the conference in 2012 and manages the event agenda each year, coordinates a combination of speakers and environment that he feels is key to the conference's inspirational atmosphere.
"We have highly successful entrepreneurs here because they have the great stories to share," says Eesley. "This lets students know that entrepreneurship is a big deal. By having a large number of attendees too – almost 400 – it helps students see that they aren't alone, and there's a whole community of people interested in changing things through entrepreneurship."
There's something for everyone at the conference. Every student is welcome to attend, and alumni are encouraged to provide sponsorship or even apply to be a speaker if they have a powerful story of their own.
Exciting Entrepreneurial Interest
The conference is just one component of a series of events coordinated by Eesley and the UNO entrepreneurial team to excite entrepreneurial interest in Omaha students and citizens.
April 5 also marks A Celebration of Entrepreneurship, the UNO CIEF program's first ever alumni gala.
"UNO has come a long way over the years, and alumni have every reason to be proud of their school," asserts Eesley. "There are so many alumni who have started great businesses, but in the past we didn't have a forum to recognize them."
Now, the brand new gala provides a venue to honor UNO alumni who are changing the Omaha business landscape. The event includes a silent auction, food and drinks, entertainment, and awards. Of course, it also ties in to supporting the CIEF program; all proceeds go towards providing scholarships and startup funds for UNO student entrepreneurs.
As for UNO CIEF, the program will keep dreaming up new ideas – in line with the spirit of innovative entrepreneurs – that inspire entrepreneurial interest in students and continue to establish the college's status as an entrepreneurial hub.
Learn more:
Midwest Entrepreneurship Conference • A Celebration of Entrepreneurship Gala • UNO Center for Innovation, Entrepreneurship, & Franchising (CIEF)