Ly Phan Dominates Maverick Business Competition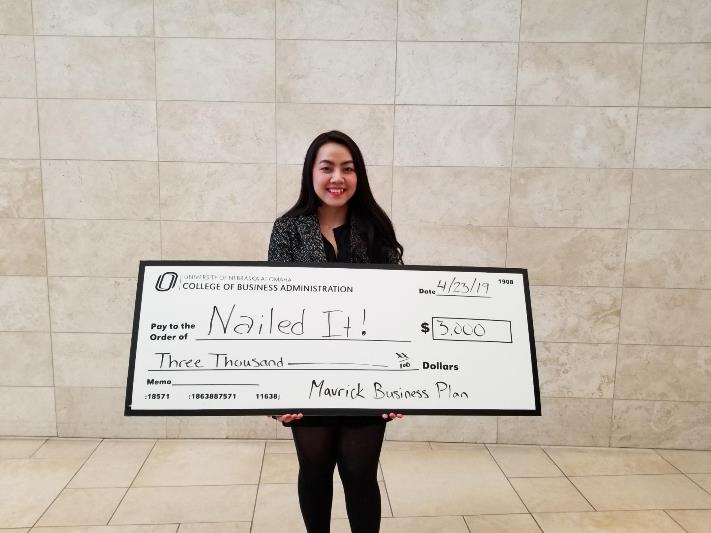 Ly Phan, a Business Administration major from Vietnam, took first place with her company, Nailed It, in the annual Maverick Business Plan Competition hosted by the Center for Innovation, Entrepreneurship & Franchising (CIEF) on April 23. Phan received a $3000 check for placing first.
Ly is no stranger to winning business competitions: she took first place at CIEF's BigIdea! Pitch Competition on October 9, 2018, earning a cash prize as well as a trip to Collegiate Entrepreneurs' Organization (CEO) National Pitch Competition. At CEO Nationals, she placed in the top 16 out of 80 competitors.
Her business concept is Nailed It is a management system for nail salons in the form of an app. It benefits nail technicians, salon owners, and customers. It would increase communication between salon owners and nail technicians while allowing customers and technicians to build rapport and ultimately brand loyalty for a salon.
Nailed It hopes to bring transparency and operational efficiency to an underserved nail salon industry when it comes to business procedures, as many salon owners still manage operations with pen and paper. Additionally, it would allow customers to see ratings and performance reviews of salons and technicians, allowing for a seamless experience from all angles.
In her business plan, Phan describes the huge market potential in the $9 billion industry in 2018. Nailed It has a freemium pricing model that contains ads in the free version, and additional features with no ads and a tiered, monthly subscription for the premium model.
Ashton Cornett, Lucian Murphree and Jessica Cabello won runner-up with their company, VietnamGo. Their concept aims to add transparency, validation and ease to the process of matching educators in Vietnam and U.S. citizens that want to teach English abroad. The team took home $2,000 in prize money for their efforts.
Winning second runner-up and $1,000 was HomeAuthority, presented by Andrew Roehr and James Buell. Their mission is to add trust, speed and simplicity to the world of home contractors with an app that screens businesses and jobs to help match contractors with legitimate leads.
Additional finalists who pitched business plans include IT students Makayla Rohrer and Tera Maher with A & B Sitters, an app that pairs parents of children with special needs with qualified baby sitters; Michael Mazgaj with Holler Scholar, a service that provides audible abstracts for scholarly articles; and Jo Biniamow and Jon Tschida who presented MovieBox, a box subscription service for movie lovers.
"This year's finalists were all very compelling and high quality. It has been a pleasure watching these students develop their ideas throughout the school year and have the opportunity to present their hard work to judges and an audience," said Dale Eesley, director of UNO's Center for Innovation, Entrepreneurship and Franchising. "Many of the finalists have advanced prototypes and have taken significant steps in bringing their concept to marketplace."
Contact Us
If you have a story idea, news tip or inquiry, please contact:
Lindsey Hasenjager, Director of Social Media and Promotions, College of Business Administration
lhasenjager@unomaha.edu • 402.554.3852