Innovation Unbound: Dr. Diamond's Upcoming Book Defends Innovative Dynamism
UNO CBA Professor of Economics Dr. Art Diamond explores entrepreneurial capitalism – or what he terms "innovative dynamism" – in his upcoming book to be published June 2019.
published: 2019/03/20
contact: Rachael Smith - CBA Marketing Department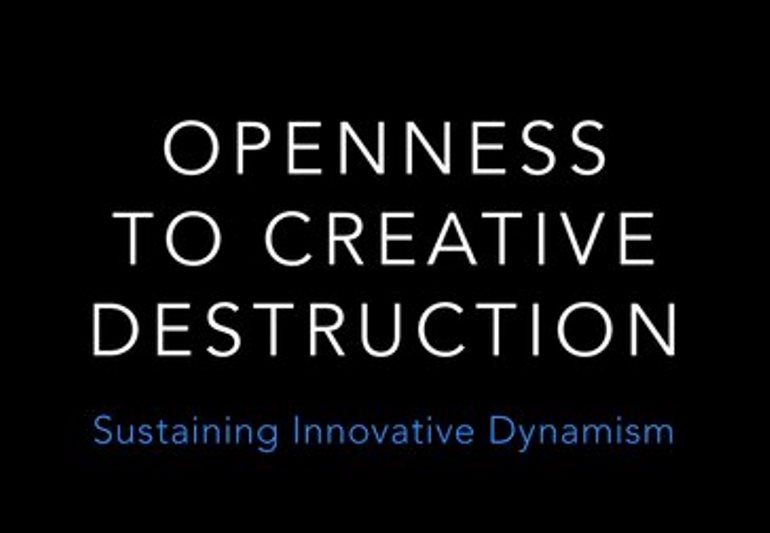 UNO CBA Professor of Economics Dr. Art Diamond has long believed that innovation is "the key to human betterment." Diamond asserts that entrepreneurial capitalism, or as he terms it innovative dynamism, enables the greatest innovation to facilitate improvements in the human condition. His belief in this concept inspired his upcoming book Openness to Creative Destruction: Sustaining Innovative Dynamism to be published by Oxford University Press in June 2019.
The book explores "how life has improved through innovation, how innovation has occurred through the efforts of inventors and innovative entrepreneurs, how workers benefit from a system of innovative dynamism, and how policies can be crafted to encourage the innovative entrepreneur to bring us more innovations."
The piece has been 15 years in the making for Diamond, who sought to "describe how the system worked and to persuade others that the system should be praised and defended." Driven by passion for the subject, he followed a pluralistic method of seeking evidence from econometric studies, case studies, histories, psychological experiments, biographies, and anywhere else relevant arguments could be found.
The Purpose Behind the Book
With his book, Diamond aims to challenge economists that claim innovation is an inevitability. Instead, he asserts that innovation "depends on the hard work, hard thought, and courage of inventors and innovative entrepreneurs" functioning within a system that allows for their success.
Diamond knew he needed to research the topic further in order to discover what traits in inventors and entrepreneurs should be encouraged. As explained in the preface to his book, he reached several epiphanies in the process. For Diamond, gaining richer understandings of economic concepts became the most fulfilling aspect of the research process.
Ultimately, he discovered that innovative dynamism not only creates more and better jobs than it destroys, but also allows for both innovative new goods and lower prices. The system benefits both consumers and workers, a key takeaway that Diamond incorporates in his book.
Influencing the Broader Business Discussion
Diamond also uses his book to combat the cliché that business people should feel guilty for the pursuit of business success. He asserts that their actions result in longer and better lives for ordinary citizens, and replacing old goods and processes with new ones is a necessary component of human betterment.
In tackling this topic with boldness and leaving no gaps in his evidence, Diamond motivates readers, students, and academics to adopt a similar attitude of exploration. He urges that anyone interested in contributing their original thoughts and research to the business field not be intimidated by experts, who "do not have a monopoly on hard work, hard thought, or courage."
In the spirit of the innovators he writes about and is inspired by, Diamond also recommends that people continue to investigate and encourage innovation through openness to learning from a diverse variety of people, reading widely, and being alert to serendipitous discoveries. Most of all, when finding an important truth, Diamond encourages inquisitive minds "have the courage to persevere."
Openness to Creative Destruction: Sustaining Innovative Dynamism will be published June 3, 2019.
Praise for Openness to Creative Destruction: Sustaining Innovative Dynamism
"Diamond shows us that entrepreneurial innovation is not just the best way to make a better world. It is the only way." - Roger Koppl, Professor of Finance, Syracuse University, author of Expert Failure and other works
"Read this book and discover what matters most in economics--ideas and knowledge-how summarized in the word "innovation." But to fuel innovation resources have to be released from their old incumbent uses and flow into the new. That is the destruction that creates." - Vernon Smith, Nobel Prize in Economics, received 2002
"Diamond assuages the ancient fear of betterment, recently haunting us with spooks of AI and technological unemployment. He shows conclusively that an "innovative dynamism" enriches us all, materially and spiritually. The poor are bettered. The jobs are bettered. Read the book and be bettered, freed from specious and politically poisonous worries about economic change." - Deirdre McCloskey, UIC Distinguished Professor of Economics and of History Emerita, author of Bourgeois Equality and other works