Aiming High
The first in his family to earn a college degree, Danny Ventura is savoring his new career inside an iconic Omaha skyscraper.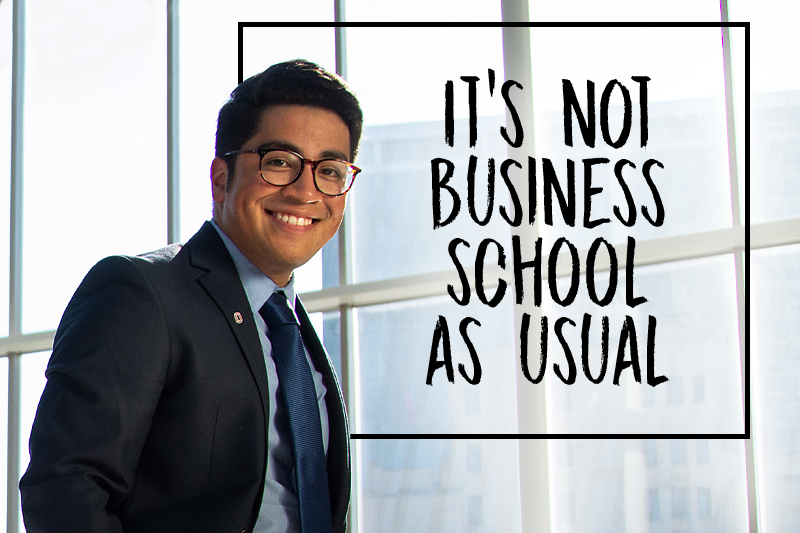 On Sundays last fall, Danny Ventura rose early and raced to Mammel Hall. Prepared to study, the senior business student brought his breakfast—a box of Eggo waffles and gallon of milk—and booked it to one of the building's breakout rooms.
"I'm all in, I have my hat on, and I'm not leaving until I finish what I have to finish," says Ventura, reflecting on the busiest semester of his college career when he was enrolled in 24 credit hours (double a typical course load).
Spending most of his life in Dodge and Fremont, Nebraska, Ventura knew he wanted to attend UNO. Omaha was a major draw, especially the downtown skyline, he says. "I've always liked cities and big buildings, maybe because I was born in L.A."
The summer before college, Ventura worked at Fremont Beef Co. as a packaging specialist, reporting every day at 6 a.m. That workplace, and its employees, made an impression.
"I heard stories of adults working there for $10 an hour," he says. "When I'm at the university and I get to study, there's no room to complain."
Carrying that same hustle-hard mentality with him at UNO, Ventura often worked seven days a week juggling classes, study sessions, and work.
Before college, Ventura didn't know what an internship was. A few years later, he had several sales and marketing roles on his resume, including Enterprise Rent-A-Car, Do Space and Blue Cross Blue Shield of Nebraska.
"The College of Business has been a place for me to meet everybody, a place to get to work, a place to find internships," he says.
Through the college's connections, Ventura heard about First National Bank's management trainee program, which is designed to develop the firm's future leaders. And that's when his Sunday study sessions last fall became serious business.
A master time manager, Ventura was working overtime to graduate a semester early—all because he wanted an interview, a shot at becoming a management trainee.
Thankfully, his sacrifices paid off. After an intensive and competitive interview process this spring, he found out he was one of only four candidates selected out of hundreds of applications.
With his dream job secured, Ventura cruised through his final semester. In May, he earned a B.S. in Business Administration with concentrations in marketing and international business, becoming the first person in his family to earn a college degree. And a few weeks later, he began commuting to his new office inside Omaha's iconic tower.
"I was so happy when day one came," says Ventura, crediting his extensive internship experience for preparing him to hit the ground running.