Out of the Comfort Zone
UNO CBA student Michell Blodgett has enriched her experience and education by committing to a life outside of the comfort zone.
published: 2019/03/04
contact: Rachael Smith - CBA Marketing Department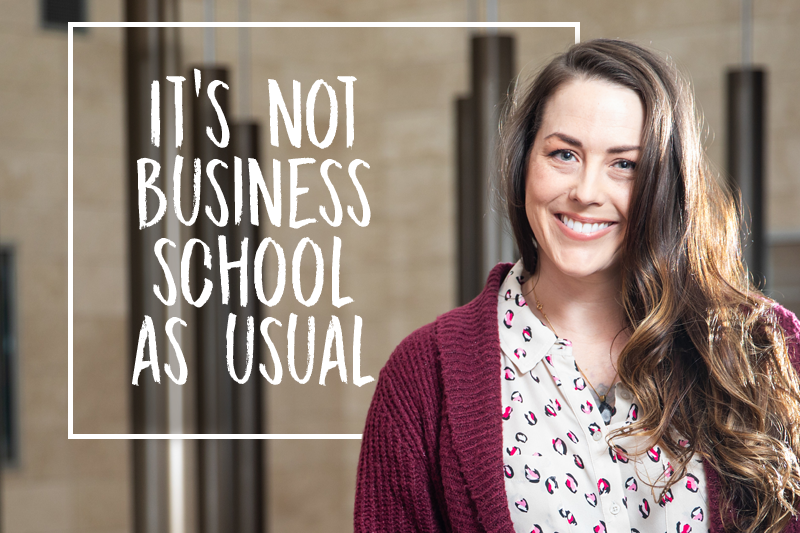 UNO CBA senior Michell Blodgett isn't one to approach a new venture with fear. Her diverse background and multitalented personality serve as proof.
Blodgett, a U.S. Navy veteran, mother of two, model, actress, and business enthusiast has committed her life to branching out of her comfort zone. Her willingness to tackle new challenges has motivated her through two undergraduate degrees, and this year Blodgett finishes both a BSBA in Management and a BA in Sociology with an Anthropology concentration and Theater minor.
Taking on such a busy schedule – and only four hours of sleep per night – sounds daunting, but Blodgett cites her decision to attend UNO as a key factor to her success. After 5 years in the military and 3 years in the reserves, it was in 2014 that she decided to use her GI Bill benefits to attend school. For her, UNO CBA was the natural choice.
"I did research on local schools. At the time, UNO was the #1 military friendly school," Blodgett says. "I didn't look back from there. I stuck with UNO because it is just such a great college."
Blodgett recalls her concern that she might feel out of place at school, a common experience for veterans entering back into college. The Office of Military and Veteran Services and their collaboration with UNO CBA worked with her to dispel that worry.
"At this school, and in this college, you feel like you belong," Blodgett says. "You don't have a feeling that you're out of place. There's a reason it's been ranked the #1 military friendly business program. It really isn't your average school – you have so many different walks of life in one building, and they're all supportive."
Since coming to UNO, Blodgett has taken on more new experiences than she ever thought she would. She's joined clubs, made it as a finalist in the BigIdea! Pitch Contest, joined the collegiate entrepreneurs program, served as a math tutor for the Student Veteran Organization, and is applying for a Venture For America Fellowship this summer. She plans to leverage these experiences into her own business or working in a startup, with a focus on improving the world.
"Anything I can do to be an asset to the world," Blodgett says. "I need to, and want to, use all of this experience for the better."
And it's through her experiences with UNO CBA that Blodgett has learned that she can transform her multifaceted experiences into anything she dreams of.
"Engaging with everybody else was a real highlight," Blodgett recalls. "Learning from entrepreneurs and venture capitalists, UNO CBA really gets people involved from the community to talk to you and mentor you. I have so many mentors. Everybody wants you to succeed, move on, and do better, and it really shows."
Classes like Innovation Ventures and lectures from Dr. Diller's Principles of Collaboration course have inspired Blodgett to combine her business knowledge with her interests. Using the business acumen she developed at UNO CBA, Blodgett also considers someday owning a production company, an exciting new challenge for her skillset.
"Don't be afraid to be involved and put yourself out there," Blodgett recommends. "Don't be afraid to listen, take classes that feel like they're out of your comfort zone, join clubs, and take in everything there is to offer."
This attitude of exploration has paid off for Blodgett. Above all, her time in UNO CBA has made it clear that there are no limitations to what she can achieve.
"This degree has helped me to realize I can make anything my dream job," Blodgett says with a smile. "I can use my knowledge to formulate anything I want."