Professor Sewell Earns Alumni Award for Excellence
Sewell's achievement is driven by her lifelong commitment to God, family, and service.
published: 2019/02/04
contact: Rachael Smith - CBA Marketing Department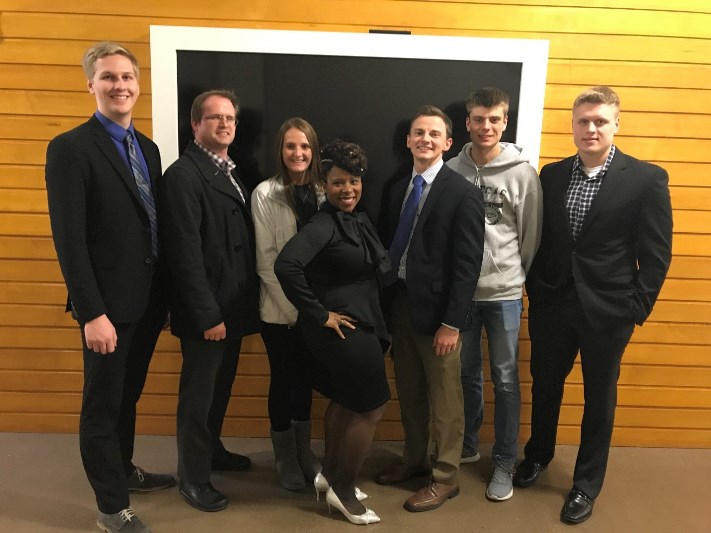 Professor Sewell (center) with 6 of her students at the 2018 lecture series featuring former secretaries of state General Colin Powell and Dr. Madeleine Albright.
Destynie Sewell, J.D., MBA, and Assistant Professor of Business Law and Ethics was recently named the winner of the 2019 College of Public Affairs and Community Service (CPACS) Alumni Award for Excellence in Public Service. Sewell will receive the prestigious award at the March 5 CPACS Alumni Awards Celebration. The University of Nebraska at Omaha (UNO) alumna states that her dedication to giving back is motivated by all she's ever known – God, family, and service.
Growing up, Sewell's mother would sometimes work 3 jobs to support the two of them. The women in her family were always committed to community and public service, and Sewell's mother and grandmother worked in the community support field.
"There were times I'd go with my mom to get ice cream, and there'd be another kid in the car. I'd ask my mom why we were taking care of another child when we were poor," Sewell says. "My mom would say that we were still fortunate. That's when I knew the importance of giving back."
---
Paying it Forward
Sewell was motivated by the lessons she learned in childhood to pursue her education at the UNO College of Business Administration (CBA). She earned her BS in Business Administration with concentrations in Banking, Finance, and Investment Science/Portfolio Management. She simultaneously received a BA from the College of Arts and Sciences, majoring in French.
Sewell continued her education with the UNO CBA, earning an MBA in 2007. She received her Juris Doctor from Creighton University in 2011, gaining licenses to practice law in both Nebraska and Iowa and to appear before the United States Supreme Court. She worked with the U.S. Department of Veteran Affairs prior to starting her career with UNO.
As Sewell developed her education and experience, she never stopped asking herself "how can we help? How can I be of service today?"
This attitude has driven Sewell to participate in various service organizations and service memberships. She is a member of the La Vista Civil Service Commission, serves as an ethics guest speaker for local organizations, co-directs her church's youth mentoring program, and acts as a Sunday school teacher and Bible study leader for high school students. She is also a Faculty Advisor and individual mentor for several UNO organizations and programs, giving back to her alma mater.
Sewell says that she is fortunate to have been a graduate of the UNO College of Business. She names the mentorship of Dean Pol, Assistant Dean Harland, Dr. David Volkman, Dr. Amy Rodie, Dr. Darryll Lewis, and Goodrich program professors Dr. Pamela Smith, Dr. Jerry Cederbloom, Dr. Michael Carroll, and Dr. Imefedia Okhamafe as instrumental to her success.
Now, rounding out her third year of teaching at UNO, Sewell is committed to continuing the trend of inspiration and support she received from her mentors.
"When I think about helping my students, I think about all the things my previous mentors had done for me," Sewell states. "I am fully aware that if it weren't for the people who mentored me throughout my collegiate career, I would not be here now. It's my obligation to pay that forward."
"None of us are here by our own design. No matter how hard we work, if it wasn't for someone giving us a chance, we wouldn't be here," Sewell continues. "We owe it to society to pay it forward. We owe it to society to invest in the same way, if not more, than what's been given to us."
---
Providing Opportunity
With her commitment to paying it forward, Sewell has seen many success stories. One in particular stands out in which one of her students wrote her a note at the end of the semester. The student, a minority, thanked Sewell for providing minority representation at the college.
"He said he'd never had an African American professor in this college," Sewell says. "I had a hope coming here that I'd put a different perspective on what a college professor looks like. When I get random thank you cards from students saying 'this is how you helped me', that's how I know I'm accomplishing my mission."
Sewell has also exercised her commitment to providing opportunity to minorities in the Goodrich Pre-Law Society. In 2016, she played a major role in allowing the society to win the Nebraska Bar Association's Diversity Award. Sewell says she is proud to encourage diversity in the field of law, which is starving for minorities and faces a particular lack of minority representation in Nebraska.
As an extension of her commitment to creating student opportunity, Sewell also takes pride in expanding the legal studies program at UNO. The program has been steadily growing, largely from canvassing students and informing them that law can be an exciting, positive discipline. She aims to change the narrative that only political science majors can enter the field, and strategically features guest speakers and tours that are interesting to business students.
Sewell has also partnered with other female professors within UNO CBA to create a CBA women in business and law mentoring group. The program will be focused on providing practical programming aimed at helping young women develop professional skills and better navigate the corporate environment. The group will provide assistance with networking, interviewing, resume writing, salary negotiation, and more.
---
Giving Back and Giving Thanks
Everything Sewell does derives from her focus on providing encouragement, something she recommends to all teachers and mentors.
"Sometimes just coming out of your office and chatting with students, letting them know you care, makes a big impact," Sewell says, who sometimes sits in the hallways of Mammel Hall and catches up with students. "When you take an interest, students' attitudes change. It's the little things."
She also wants everyone to realize that the necessity of giving back is never finished.
"Service is never done. Learning is never done," Sewell states.
And now that she's won the Public Service award, Sewell has no intention of slowing down. She is motivated to continue making strides in service, in providing opportunities, and in supporting students with a consistent attitude of thanks.
"I'd like to extend a heartfelt thanks to the College of Business, and especially the Goodrich program, who nominated me for their guidance, for their mentorship, and especially their love."
Congratulations on your award and achievements and thank you for the inspiration you provide each day, Professor Sewell!
---
University of Nebraska at Omaha Service Memberships
CBA Technology and Education Resource Committee (TERC)
UNO/UNMC Faculty Communication and Collaboration Group
UNO's Pre-Law Cohort Faculty Advisor
CBA Delta Sigma Pi Faculty Advisor
Guest speaker for various campus organizations
Individual mentor to several pre-law students
Participant in events sponsored by Pi Alpha Delta (pre-law fraternity)
Participant in UNO's annual Chuck Hagel Symposium in Public Service
Community Service
Ethics guest speaker for various local organizations
Former Girl Scouts Troop Leader
Co-Director of church's youth mentoring program
Teacher for Sunday school and Bible study to high school students
New Era Baptist Minister Wives Group
La Vista Civil Service Commission