Gaining Stakeholder Approval: A Winning Strategy
Dr. Erin Bass, Associate Professor of Management, researches how organizations gain social approval from stakeholders and what that means for financial performance.
published: 2019/02/27
contact: Dr. Erin Bass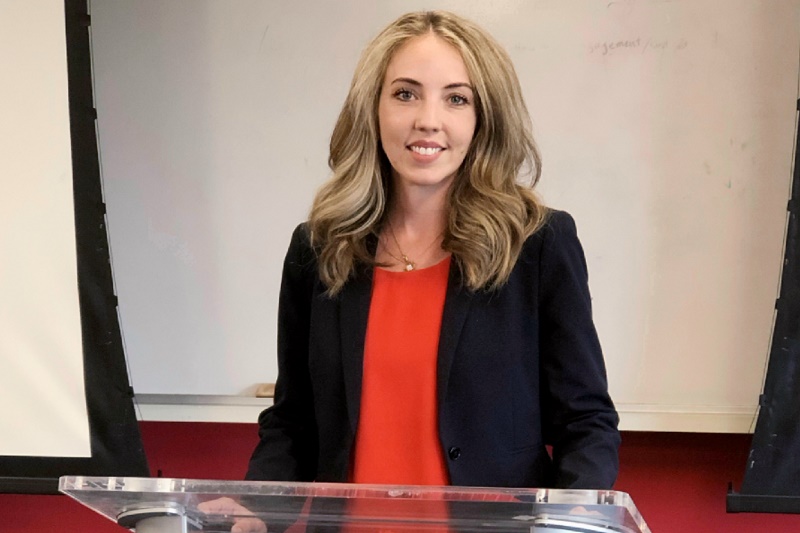 Dr. Erin Bass presents at the University of Calgary, June 2018.
In a study published in the Academy of Management Journal, Dr. Erin Bass and co-authors from UNL and Oklahoma State University researched the use of scrutiny as an advantage and uncover what they term the "scrutiny-building phenomenon."
Using data from 2003-2010 of media coverage and investment activities of publicly-traded organizations, the team found a pattern of behavior in which managers hasten unpopular-but necessary-actions which they know may well attract scrutiny. Our takeaway message is not for practitioners to hasten their engagement in unfavorable behavior, but rather to be conscious of timing when these behaviors might occur.
"This study provides an important piece of strategic food-for-thought for managers," says Bass. "Most organizations face scrutiny at one time or another. Being strategic about using that time-frame of scrutiny can actually enhance financial performance in the long run."
In another research project, Bass and a colleague at the College of Charleston researched another option for dealing with stakeholder scrutiny: strategic actions to turn scrutiny into social approval. Inspired by the recent pipeline protests, the team interviewed employees of energy companies as well as members of Native American communities to understand how organizations gain-and stakeholders grant-social approval. The authors uncovered a sequential process that follows four stages: 1) enacting responsibility to stakeholders by focusing on safety, 2) creating a relational space with stakeholders, 3) working together to build a shared philosophy, and 4) co-creating positive social impact. This process makes stakeholders more likely to approve of the organization and its project. This saves the organization time and money, but also increases its reputation in and connection to the local community.
"Although this project is set in a particular context, I think it provides important lessons for all organizations," Bass says. "Ignoring stakeholder demands is a thing of the past. We find that organizations that invest in developing authentic relationships with stakeholders are more likely to be able to execute their strategy, complete projects on time and with little resistance, and even become preferred community partners."
The implications of this research have received international attention from both the corporate and academic worlds. In June, Bass was invited to speak on this topic to a group of energy executives from around the world at the Haskayne School of Business at the University of Calgary in Canada. In September, Bass presented the team's research at the Strategic Management Society Conference in Paris, France.
"I love researching practical things," she says. "Things that executives can actually implement to create value. Our responsibility as business faculty is not to tell managers what to do, but rather to work alongside organizations and provide actionable insights, while at the same time learning from their experiences."