Paying It Forward
2018 marks a milestone anniversary of UNO alumni Tim and Traci Harrison's scholarship.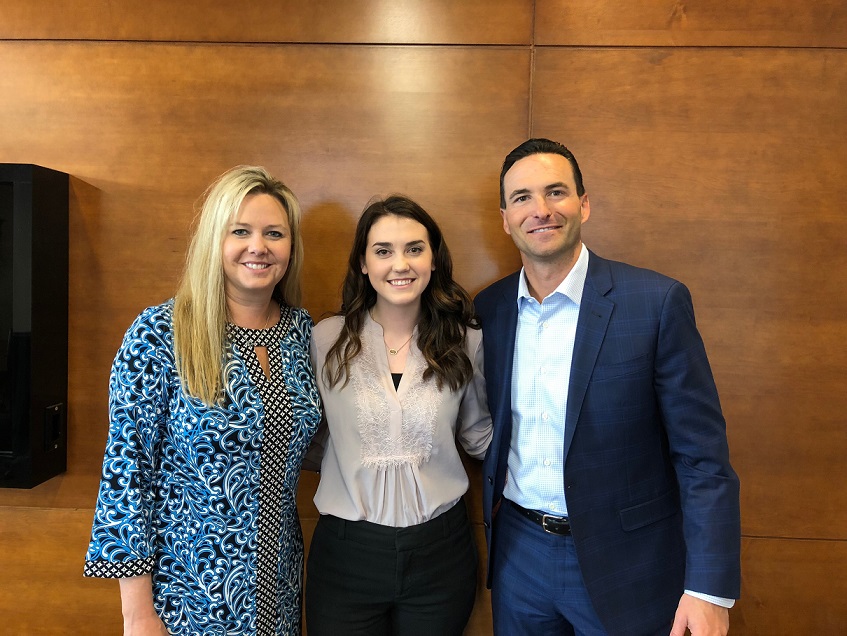 UNO alumni Tim and Traci Harrison were once a couple of college kids with big dreams and high work ethic, juggling jobs and classes. Now they're high-powered partners (and parents of pre-teens) making it a priority to pay it forward.
Tim turned his college sales internship at Northwestern Mutual into a thriving enterprise. An accounting major, Tim soared to the top nationally as an intern, hired his 16-year-old brother as his first employee, and has since built Harrison Financial Services to a firm of 15. Together they manage $700 million in assets and $1 billion of life insurance in force.
For nearly 25 years, Tim and his team have served clients — decision-makers, business owners, families and foundations in Omaha — and earned dozens of post-graduate credentials in the process.
"One of the core values in our company is continuous learning," Tim says.
In addition to his bachelor's degree from the UNO College of Business Administration, the Omaha native holds a master's in financial services and numerous professional designations, including his CIMA® at the Wharton School and CPWA® from the Booth School of Business in Chicago.
Traci earned a degree in international business from UNO in 2000, three years after Tim graduated. From Springfield, Nebraska, she worked in business for many years, most recently at West Corporation, before stepping away to spend more time with their son and daughter and help Tim at the office.
Outside the family business, the Harrisons have also invested in the educations of nine UNO business students over the last decade … and counting.
This year marks a milestone anniversary of the Tim and Traci Harrison Scholarship, which covers all tuition costs and is awarded annually to a junior or senior studying investment science, finance and/or accounting. Recipients are selected based on financial need and academic achievement, and preference is given to students who work at least 20 hours a week.
"It's not easy to have a full-time job and a full-time workload in school," says Tim, speaking from experience. "It's nice to know there's somebody there to offer a hand."
Tim and Traci both worked through college and know firsthand the struggles and sleep deprivation that come from a brimming schedule. But the combination of classes and work experience is key, Tim says.
Since their days at UNO, the Harrisons have stayed involved on campus and in the community, serving on many nonprofit boards and even inspiring their two children, ages 10 and 12, to volunteer with them—from ringing bells for the Salvation Army to attending UNO's service days.
"We're trying to teach them that it's important to give back," says Traci, who's served on the UNO Alumni Association's board of directors and was a member of the association's inaugural Young Alumni Academy cohort.
Both with humble upbringings, Tim and Traci say they learned by watching their own parents provide for their families and give back to the community. Among Tim's greatest accomplishments, he says, is hiring his dad, who never had the opportunity to finish college, to work as the firm's office manager.
Aside from all the accomplishments, including the firm's national ranking on the 2018 Financial Times 400 Top Financial Advisers list, the Harrisons hope to serve as an example for others.
The Tim and Traci Harrison Scholarship is one such example. Tim says he encourages other business owners to consider giving back to their college experience by establishing a scholarship.
"Omaha is a special place because there are so many families that want to give," he says. "I think everybody wants to do good things for others, they just may not know the best path."
---
Tim's Tips
Charitable giving:
Everybody should find something they're passionate about and devote time and/or treasure to that passion. On our team, we encourage all our people to find something they really care about in the community and go make an impact.
Wealth management:
Pay yourself first. A good goal is saving or investing 20 percent of your gross income. But at the end of the day, make sure you're also spending life living. We travel and take our kids on trips to create memorable experiences. Our life is not all work related. It's about a combination of having things you're passionate about and having fun while you're at it.
Building a successful business:
What's most important is find something you love to do. And the key is building a great team of people around you who know more than you do in their area of expertise.
---
Scholarship Recipient Highlights
Zach Griffith, 2013-2014 recipient
Thanks to the Harrison's generosity, Zach Griffith says he has already made it a priority to give back to UNO, both financially and through service as a mentor for the CBA Scholars Academy.
Griffith worked as an intern at Union Pacific and then started full time after graduation in the financial reporting group, working at the railroad for nearly four years and holding four different jobs. In spring 2018, the young alumnus embarked on a new chapter of his life and career as a community economic development volunteer in the Peace Corps.
Reflecting on his scholarship, Griffith says that instead of worrying about paying for college he was able to focus on learning, taking risks, and exploring worlds and perspectives he had no idea existed —including a life-changing opportunity to travel to India in 2013.
"I have been blessed beyond measure and will make it a point throughout my life to give back, whether that is financially or through service, as I will be doing for the next 27 months in Namibia."
Theresa Holly, 2017-2018 recipient
Theresa Holly graduated in May with 150 credit hours, poised to take the CPA exam and start full time at Hancock & Dana, where she also worked as an intern. During her time at UNO, she worked over 40 hours a week and was involved in several organizations, including Beta Alpha Psi accounting fraternity, Delta Sigma Pi business fraternity, Chi Omega sorority.
From the moment she toured Mammel Hall, she knew the UNO College of Business Administration was going to be her home away from home. In addition to many classes and study sessions, Holly worked in the college's operations department for nearly two years as the lead customer service consultant.
"I honestly should pay rent because I'm here so much," she says.
Holly says she was excited to learn she received the Harrison's scholarship, which allowed her to pay only $50 during her final semester.
"It's wonderful to get recognized and have my accomplishments pay off."