December graduate is ready to write her next chapter after college.
Lasha Goodwin, a business administration major with a concentration in real estate and land use economics, has spent her college career dedicated to improving her community -both on campus and in the Omaha metro.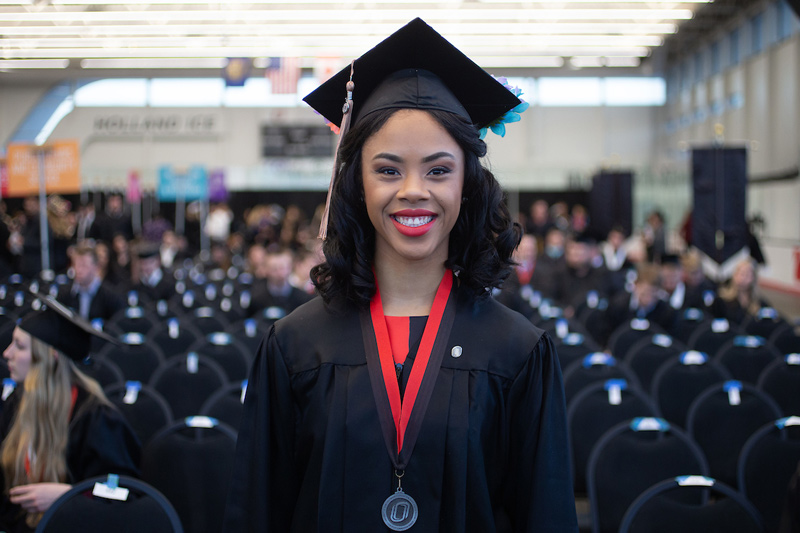 In her four years at UNO, Goodwin has served as a UNO Ambassador, an officer in the National Society of Black Engineers, a member of Rho Epsilon (a real-estate fraternity) and a counselor for Pink Hard Hat Days for Girls day camp. She also competed in the Capstone Cup business competition, played saxophone for the UNO Jazz Band, traveled to Japan for a field mission and volunteered during UNO's Seven Days of Service, Three Days of Service, and during President Obama's visit to Baxter Arena.
At the same time, Goodwin also worked as an intern at Alley Poyner Macchietto Architecture, where she has received a full-time job offer following graduation.
"My business degree and real estate concentration has helped me understand the vital connection between business transactions and architectural processes," she says. "The course work emphasized how to strategically implement ideas, and how to involve the people who are impacted by those ideas. With my business degree, I truly feel that I can be successful in whatever I pursue."
In addition to her on-campus involvement, Goodwin has also been a program coordinator for the Global Leadership Group, an Omaha non-profit dedicated to neighborhood revitalization in North Omaha along 24th Street. She has helped develop programs to engage residents, schools, businesses and churches in the area.She credits individual connections she's made with staff and faculty with helping her not only achieve what she wanted as a student, but also as a person.
"I'm so grateful for my time at UNO. Our programs;clubs and organizations; and campus culture all contributed to an excellent experience. UNO is the best university in the state of Nebraska, bar none."
Contact Us
If you have a story idea, news tip or inquiry, please contact:
Lindsey Hasenjager, Director of Social Media and Promotions, College of Business Administration
lhasenjager@unomaha.edu • 402.554.3852