The Story Behind the Statues
With many fond memories from college and fulfilling careers afterward, alumni Alfred and Beverly Thomsen felt compelled to give back — in a big way.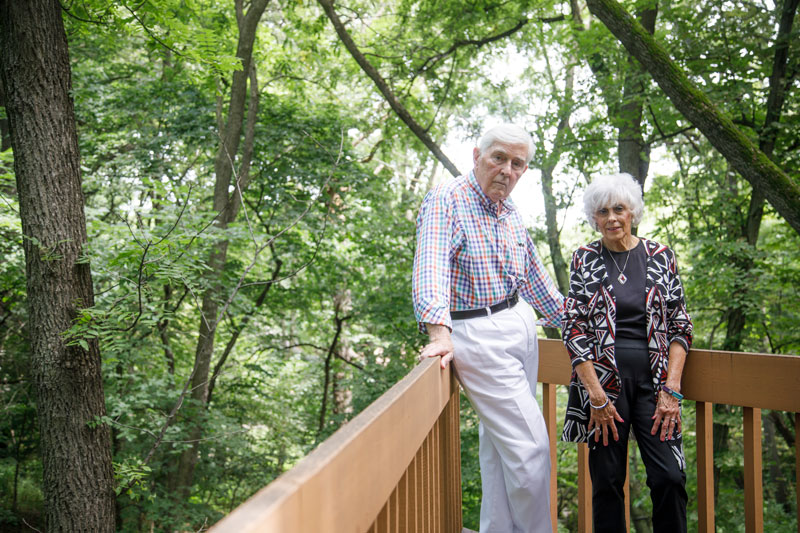 Al and Beverly Thomsen met at UNO (then named Omaha University) in the 1950s.
This story is published in UNO Business, the college's annual magazine. View the 2017 edition here.
---
Professor C. Glenn Lewis was the type of teacher who couldn't wait to get his class started. "It's no exaggeration," said Alfred Thomsen, Lewis' former student. "He was at the door, and he would pull you in the class when you were coming down the hall."
Now, a 7-foot bronze statue outside Mammel Hall depicts the late real estate professor, his hand extended as though he's still welcoming students to class.
"Even people who didn't know him knew he loved what he was doing," said Beverly Thomsen, Al's wife of 59 years. "You could just tell."
Dr. Lewis founded UNO's real estate program in 1948 and led the program for more than 20 years — developing curriculum, teaching and establishing partnerships with real estate organizations — until he retired in 1971.
"He was so involved and so interested in seeing his students' progress — and hoping that they stayed in the real estate field," Al said.
Thanks to Lewis, Al stayed in the field and thrived. He was part of the commercial real estate community for over 40 years before retiring in 2001.
The UNO alumnus said he owes a lot to Lewis and the university: It's where he found his career and where he met his wife.
"Without the university, we wouldn't be sitting here right now," said Al, perched next to Beverly on a curvy purple couch at their Omaha home, a colorful, custom two-story.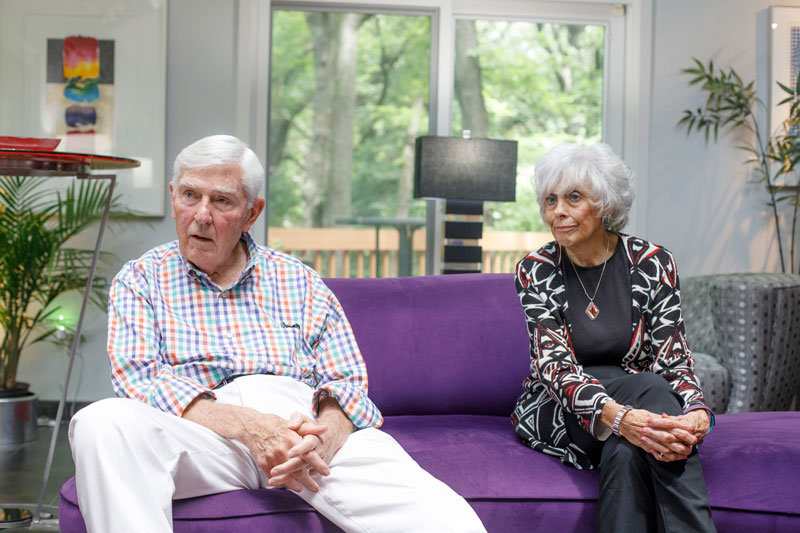 A lucky break
The Thomsens met at Omaha University in the 1950s, locking eyes for the first time at the Fieldhouse. Beverly was engaged at the time but soon broke up with her fiancé to spend more time with Al. Their fraternity and sorority friends took bets on how long they'd date.
"Nobody thought we'd last longer than six months," Beverly said.
Beverly earned an education degree, teaching fourth grade until she and Al had two children of their own — a boy and a girl, who grew up to be an emergency room doctor and the manager of a Dallas-based record label, respectively.
After their kids left the nest, Beverly went back to work, serving as a substitute teacher for 25 years. Beverly always knew she wanted to be a teacher. Al, on the other hand, wasn't so sure about his career.
"I have no idea what would have happened to me, number one, if I hadn't met Beverly, but number two, if I hadn't have been lucky enough to get involved with Professor Lewis," said Al, the first in his family to attend college.
One semester, Al needed three more credit hours to complete his schedule. A fraternity brother convinced Al to enroll in Lewis' real estate principles class.
Big on building connections, Lewis created an internship program for his students. He worked hard to find Al an intern position in real estate management.
"That [program] set me up for the rest of my life," Al said.
Al worked for the Walter C. Johnson Company, which specialized in real estate and building management, and then was transferred to the Woodmen of the World Life Insurance Society (now WoodmenLife) at 17th & Farnam in downtown Omaha.
Interestingly, his internship turned into his life's work. After graduating in 1957, Al worked his way up, eventually becoming the real estate building manager at WoodmenLife. He was involved with the construction of the new 30-story Woodmen Tower, dedicated in 1969.
After serving on the building committee responsible for the design and construction of the Woodmen Tower, Al formed the Alfred G. Thomsen Company, which was the exclusive managing and leasing agent for WoodmenLife from 1966 through Al's retirement in 2001. Through his company, Al took on other projects in Omaha — including the IBM building, First National Bank building and Old Mill — and throughout the country.
"The Woodmen people were incredible to work for," said Al, calling his career one of the luckiest things to happen to him, aside from attending UNO and meeting Beverly, of course.
Giving back
Reminiscing on their time at UNO, Al and Beverly said the campus had a small family feel.
While walking across campus, Al said, it wouldn't be unusual to receive a personal shout out from Milo Bail, president of Omaha University from 1948-1965, or John Lucas, founding dean of the College of Business Administration. With many fond memories from college and fulfilling careers afterward, the Thomsens felt compelled to give back.
"We paid a pittance for the education that we actually received," Al said. "I've always felt that I owe the university for that education and for the experiences that we had."
In addition to funding a scholarship in C. Glenn Lewis' name and designating a major gift through their estate, Al and Beverly caught wind of the College of Business Administration's quest to name the dean's suite after John Lucas, dean from 1952–1969.
Al remembers Lucas as friendly and approachable. "He was like a Fortune 500 executive," Al said. "He was tall and very well dressed."
After considering everything Lucas did for the university and the business college, Al and Beverly decided to establish the John Lucas Dean's Suite. But Al wasn't content with only a placard on the wall. He wanted something more prominent.
So Al and Beverly, along with CBA Dean Louis Pol and Development Director Sue Kutschkau, came up with the idea for a statue.
They worked with Omaha artist and sculptor Matthew Placzek on not one but two pieces, first for Lucas and then Lewis. The Thomsens visited Placzek at his Midtown studio, giving their feedback on facial features and other details so the statues would be just right.
They also worked with CBA Assistant Dean David Nielsen on place­ment, selecting two locations on opposite sides of Mammel Hall to display the permanent fixtures.
In November 2016, John Lucas' statue was unveiled. C. Glenn Lewis' statue followed a few months later in May 2017. Al gave remarks at both ceremonies in front of special guests, including family members, donors and students.
"When I look back on it, the whole thing has been fun," Al said. "All the people we worked with were super."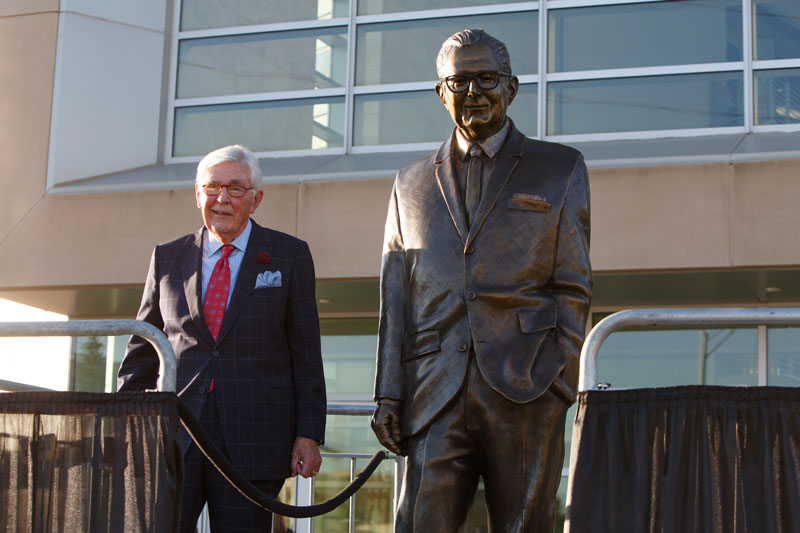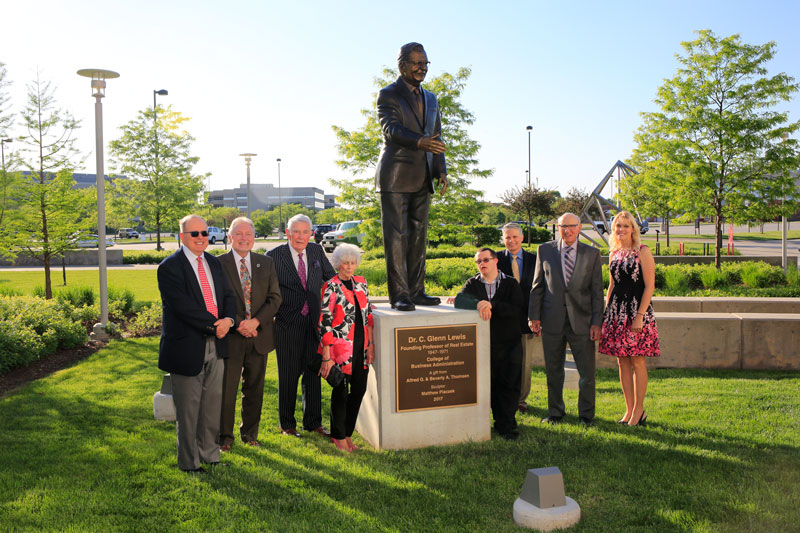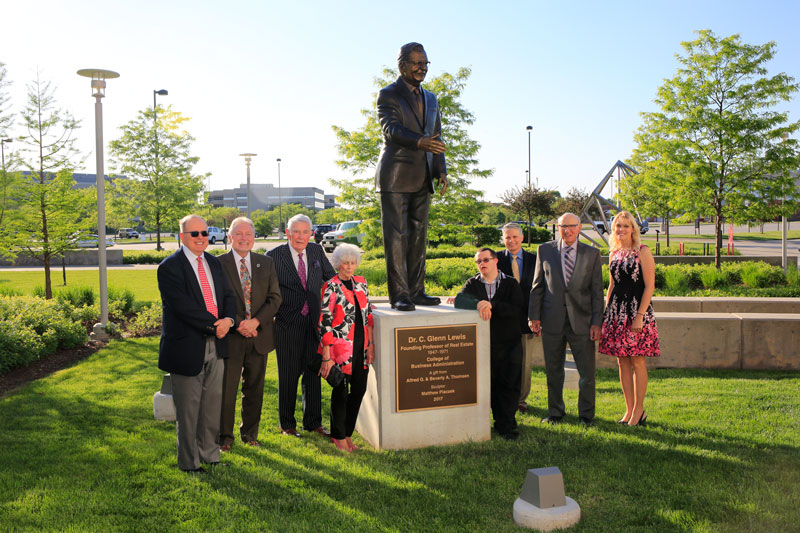 A lasting legacy
The Thomsens have left their marks in different ways. For Beverly, it's through all the children she poured into as a teacher. For Al, it's the buildings he opened and managed.
Many years into retirement, the Thomsens are still busy building their life and filling their time with projects around the house, par­ties with neighbors and vacations with their family — including two grandchildren.
Looking back, Al said, "It's been an incredible life. Absolutely incredible."
And thanks to their contributions to the college, they have helped the legacies of Dean John Lucas and Dr. C. Glenn Lewis live on, as well.
Plaques in front of both statues include a short bio of the men they depict and the names of the people who made the structures possible. The names of Alfred G. and Beverly A. Thomsen are included — a lasting mark of their generosity.