Scholars Academy: Samuel McDermott
The College of Business Administration Scholars Academy will welcome 20 more students this fall. Meet a member of the 2017 cohort.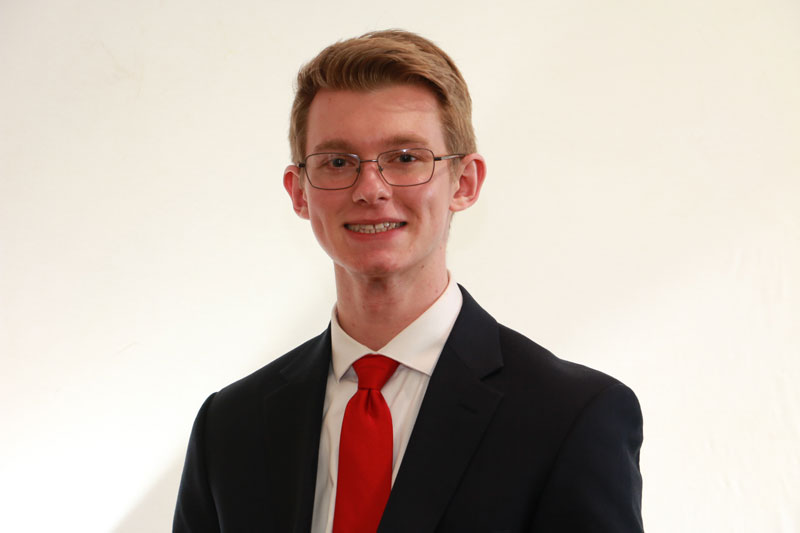 Samuel McDermott is a 2017 graduate of Millard West High School.
The UNO College of Business Administration Scholars Academy is a close-knit community of ambitious, high-achieving business students who want to challenge themselves while pursuing a bachelor's degree.
During this four-year program, Scholars are mentored by Omaha-area business professionals, take special business courses taught by award-winning faculty, and gain real-world experience through community engagement and international travel. They also receive generous scholarships.
Scholars are selected the spring of their senior year in high school after a rigorous and competitive application process.
Meet new member Samuel McDermott of Omaha, Nebraska.
---
Why did you choose UNO?
I made my decision to attend UNO based on several factors. After taking a tour, I discovered how much I loved the campus and the atmosphere of the university. Additionally, I think the campus is in a great location, close to Aksarben and Baxter Arena and not too far away from Midtown Crossing and the Old Market. The last major factor was the quality of the dorms. I was blown away by the quality of all the different housing options.
Why did you choose business as a major?
I chose business because of the numerous career opportunities it offers. Not only does a business degree offer job security, but I believe it fits my strengths well. I enjoy working together with people to reach a common goal, and I enjoy thinking logically and problem solving. In a business career, I will be able to use these strengths to help others.
What business concentration are you planning to pursue? Why?
I plan on pursuing a concentration in finance and/or investment. In high school I found that I enjoy and am competent in math. I am also quite interested in the stock market and would like to begin seriously investing.
What aspect of the Scholars Academy are you most looking forward to?
I am very much looking forward to the cohort aspect of the Scholars Academy. After attending the interview day and watching the members of previous cohorts interact, I am excited to meet the other people within my cohort to get to know them better. Having a group of people taking classes similar to mine and taking part in projects with them will be beneficial to my education and enjoyment of college. I am also interested in the networking and career opportunities this program provides.
What do you like to do in your free time?
I like to spend most of my free time playing piano. I have played since I was five and continue to take private lessons, perform in recitals, and compete in local and state-wide competitions. I am also the keyboard player in a blues band, sponsored by the BluesEd program of Omaha. As a member of this band, I play shows all over Omaha throughout the summer. I also have been a member of the Millard West Show Choir Bands for all four years of high school, playing piano and keyboard. Once my college career begins, I hope to form a blues/funk/jazz group at UNO. Additionally, I very much enjoy reading, watching films, adding to my CD collection, and drinking coffee or tea.
What is one thing we would be surprised to know about you?
This summer I am going on a 17-day tour of Europe. I am going with a large group of seniors from Millard West, including two of my best friends, and we will be traveling to the U.K., France, Switzerland, Italy, and Greece. This trip will my first time flying on a plane. I'm a little nervous, but more excited. I cannot wait to try the food and see the sights of Europe.