Scholars Academy: Isaac Cruz-Vital
The College of Business Administration Scholars Academy will welcome 20 more students this fall. Meet a member of the 2017 cohort.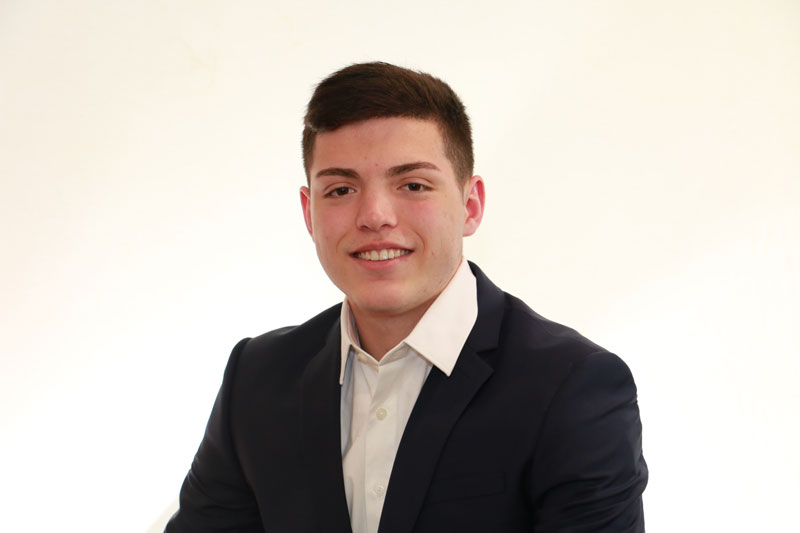 Isaac Cruz-Vital is a 2017 graduate of Omaha South High School.
The UNO College of Business Administration Scholars Academy is a close-knit community of ambitious, high-achieving business students who want to challenge themselves while pursuing a bachelor's degree.
During this four-year program, Scholars are mentored by Omaha-area business professionals, take special business courses taught by award-winning faculty, and gain real-world experience through community engagement and international travel. They also receive generous scholarships.
Scholars are selected the spring of their senior year in high school after a rigorous and competitive application process.
Meet new member Isaac Cruz-Vital of Omaha, Nebraska.
---
Why did you choose UNO?
I always felt that UNO was the perfect fit for me. When it came to making my final decision, I wanted to make sure that my selection mixed my needs and wants, and UNO was able to provide that. The value of the school is great, the professors are willing to help, but most important, the opportunities and resources are endless. And to top it all off, UNO is just a few miles away from home.
Why did you choose business as a major?
I believe that through business, I will be able to develop and learn many skills. Learning how to manage a business, growing my network, and expanding creative thinking are a few of the many skills that I can develop through majoring in business.
What business concentration are you planning to pursue? Why?
I am planning to pursue entrepreneurship. My goals involve not only starting a business but also creating an environment that can set a healthy trend. With my business passion comes the desire to help those around me. To launch and run a successful business, it helps to have a college degree and all the discipline and skills that come with four years of study. Not only will a degree grow my knowledge, it will allow me to create relationships with people who can bring and add value to my businesses. I am a firm believer that your network is your net worth.
What aspect of the Scholars Academy are you most looking forward to?
I am looking forward to the resources and mentorship. College itself is a new responsibility on a different level than high school, and jumping into the CBA Scholars Academy and the honors program will be a challenge. What makes it all much more accommodating and rewarding is being surrounded by faculty who want to see you succeed and being mentored by business professionals monthly. Success is what CBA wants out of everyone.
What do you like to do in your free time?
When I'm not at school, I'm at work. And when I'm not at work, I'm on the soccer field. And when I'm not at either of those, I'm catching up on homework. Nevertheless, when I do get some free time, I make sure to be doing something that is relaxing and fun, whether it's going for a drive, going out and having a bite of food with friends, or just hanging with my family.
What is one thing we would be surprised to know about you?
I am a twin. My twin and I will both be attending UNO, so don't think you're having a rough morning when you think you're seeing one of us at multiple places; there's just two of us!