Scholars Academy: Christina Becker
The College of Business Administration Scholars Academy will welcome 20 more students this fall. Meet a member of the 2017 cohort.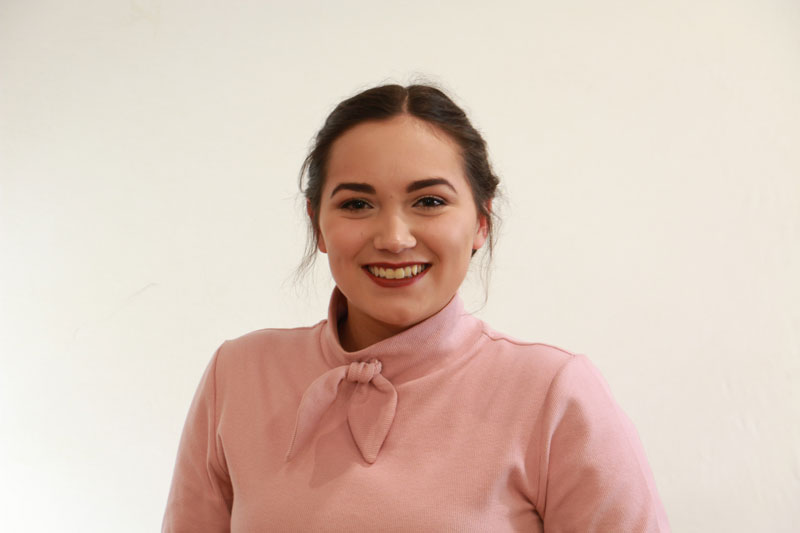 Christina Becker is a 2017 graduate of Millard West High School.
The UNO College of Business Administration Scholars Academy is a close-knit community of ambitious, high-achieving business students who want to challenge themselves while pursuing a bachelor's degree.
During this four-year program, Scholars are mentored by Omaha-area business professionals, take special business courses taught by award-winning faculty, and gain real-world experience through community engagement and international travel. They also receive generous scholarships.
Scholars are selected the spring of their senior year in high school after a rigorous and competitive application process.
Meet new member Christina Becker of Omaha, Nebraska.
---
Why did you choose UNO?
I choose to attend UNO for many reasons. After being accepted to 12 different colleges across the U.S., I decided to stay in Omaha. I realized the program I was looking for was in my own backyard. The CBA Scholars Academy will provide me with endless opportunities. I will be able to develop my business skills and explore my passions while also studying with other high-caliber students from across the country. Omaha itself provides lots of business opportunities, and with the CBA Scholars Academy under my belt, the possibilities will be endless.
Why did you choose business as a major?
I have a passion for business; I discovered this passion in high school. I was a part of the Millard Entrepreneurship Academy. Through this program I was able to simultaneously earn high school and college credit in business courses. I have attended countless events, participated in competitions, and obtained an internship through this program. With the help of my wonderful teachers, and countless episodes of Shark Tank, I was able to discover an unknown passion for business.
What business concentration are you planning to pursue? Why?
Although it is likely to change, I currently plan to pursue a concentration in entrepreneurship and/or business management. I learned a lot about entrepreneurship in high school, and everything about it intrigues me. Entrepreneurs have the ability to control their own destiny, make all the decisions, and best of all, turn their passions into a career. A person can do anything with entrepreneurship, and that's the beauty of it; the possibilities are truly endless. I was also inspired by my current employer who is a local entrepreneur in Omaha. She is always working so hard but having a blast while doing it. I hope to one day also own my very own business.
What aspect of the Scholars Academy are you most looking forward to?
I am so excited and honored to get to be a part of such a prestigious program like the Scholars Academy! One reason I am looking forward for school to start is that I get to be in a business honors program where I get to study topics I love. I am also excited for all the opportunities that will come. From volunteer work, internships, and more, I am so ecstatic to see what the future holds! Of course, I am most excited to work and collaborate with other students and to be able to form a tight-knit group of colleagues and friends.
What do you like to do in your free time?
I love to spend time with my 6-year-old niece and 2-year-old nephew. When I'm not playing with them, I love to hang out with my three best friends, singing show tunes and exploring Omaha. I also love to do crafts — anything from journaling, drawing, calligraphy, knitting, and more. I enjoy reading books and binge watching Netflix series. I also absolutely love to do makeup on myself and my friends.
What is one thing we would be surprised to know about you?
In high school I was heavily involved with the theatre department. I have over 16 plays/musicals under my belt. I have done everything from acting, tech work, to my personal favorite, stage managing. When I'm not at rehearsal, I am probably working at a locally owned hair salon in Omaha, Garbo's, as a front desk receptionist. Another interesting thing about me is that I was born in California and lived there for the first eight years of my life. I'm obsessed with colorful pens and have an extensive collection. I also have every lyric to the hip-hop musical Hamilton memorized.