Scholars Academy: Cade Linville
The College of Business Administration Scholars Academy will welcome 20 more students this fall. Meet a member of the 2017 cohort.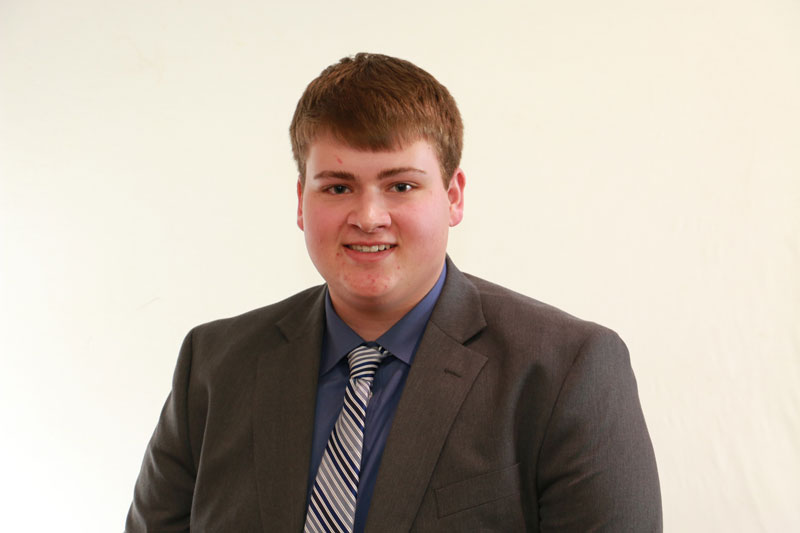 Cade Linville is a 2017 graduate of Randolph High School.
The UNO College of Business Administration Scholars Academy is a close-knit community of ambitious, high-achieving business students who want to challenge themselves while pursuing a bachelor's degree.
During this four-year program, Scholars are mentored by Omaha-area business professionals, take special business courses taught by award-winning faculty, and gain real-world experience through community engagement and international travel. They also receive generous scholarships.
Scholars are selected the spring of their senior year in high school after a rigorous and competitive application process.
Meet new member Cade Linville of Randolph, Nebraska.
---
Why did you choose UNO?
I chose UNO because I believe that Omaha is the place where I will build my success. The school itself is renowned for being a top-tier business school, and my being part of the 2017 cohort of the CBA Scholars Academy takes it to a whole new level. From the unparalleled equipment to the internship opportunities, UNO is by far the best home for me for the next four years. I look forward to meeting new people and encountering new experiences, and I believe Omaha will not disappoint.
Why did you choose business as a major?
I grew up around numbers. Arithmetic came naturally to me from a very young age. My father is the current president of First State Bank of Randolph and also runs First Financial Services along with the bank. When I was little, my dad got his Series 7 and got into investments. He has made a good life for his family in the industry, and I would like to follow suit.
What business concentration are you planning to pursue? Why?
As of right now, nothing is out of the picture, but the two frontrunners are finance and accounting. Finance is the one I think I will enjoy most because it is what I have enjoyed throughout high school. Numbers come very easy to me, and I could definitely see a long career in financial services ahead of me. Accounting is in the picture because I have enjoyed my time in my years of accounting in high school, and accounting could keep me happy with my work for many years.
What aspect of the Scholars Academy are you most looking forward to?
There are many things, but what I look forward to most are the fantastic opportunities that are granted by the Academy. UNO is already a renowned business school, and to be in the top tier of students opens a lot of doors in a lot of places. The comradery that will be achieved in the Academy is also great. I look forward to meeting and engaging with my peers and getting to know people on a personal level.
What do you like to do in your free time?
One of my favorite things to do in my free time is golf both competitively and at my leisure. I have played four years of varsity golf in high school, and it has always been my favorite sports season. I use golf both as a way to give myself confindence as well as relieve stress. I play with my parents, friends, and sometimes even people I do not know.
What is one thing we would be surprised to know about you?
I have been highly involved in school and community for as long as I can remember. Since freshman year, I have been involved in football, basketball, golf, baseball, One Act, FFA, speech, and the National Honor Society. I take great pride in my involvement in my town, and even greater pride in knowing that my accomplishments alongside my teams can light up the town. I love bringing pride back to my community.