UNO Business: From Southern Comfort to Silicon Valley
A dream career aligns this CBA alumna's passion for innovation and the environment.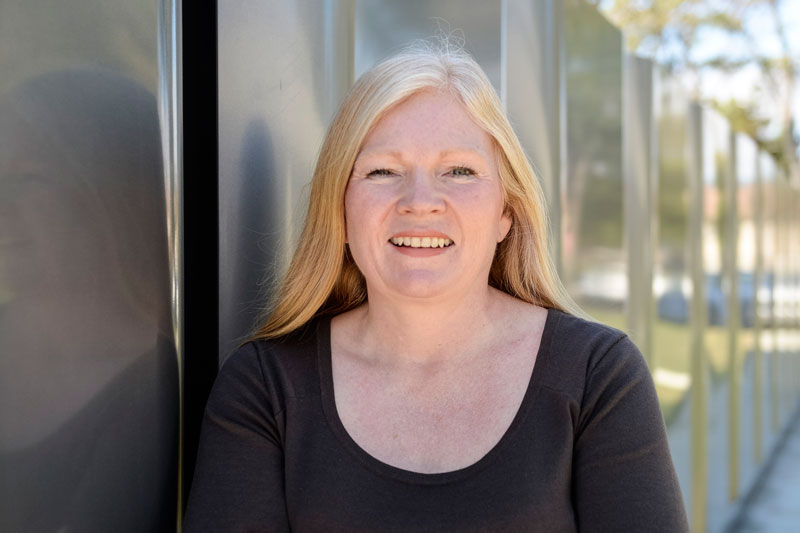 Photo courtesy of Bloom Energy
Susan Brennan, MBA 1991
Chief Operations Officer, Bloom Energy
Hometown: Granite City, Illinois
On Twitter: @STEM_SUSAN
Brennan received a CBA Distinguished Alumni Achievement Award in 2009 and was featured twice on Automotive News' list of 100 Leading Women in the North American Auto Industry.
---
Susan Brennan decided to start her life over at age 51. Leaving behind a beautiful home and what she called a "cushy job," she moved her family from Tennessee's southern comfort to California's Silicon Valley.
Brennan closed a 25-year career in the automotive industry, where she led operations at Ford and later Nissan. As vice president of manufacturing at Nissan North America, she helped launch the all-electric LEAF, short for leading environmentally friendly affordable family car.
With roots in "steel town" Granite City, Illinois, Brennan couldn't bypass a job opportunity that would blend her operations prowess and passion for the environment. Now, as chief operations officer at Bloom Energy in Sunnyvale, California, Brennan is helping the 15-year-old company bring its power generation system — the Bloom Energy Server® — to the mass market.
"Our vision is to continue to grow the business and then, that's where my job comes in, to bring the cost down while we scale our manufacturing to meet the growing market demand," she said.
Also called the Bloom Box, this system uses a proprietary fuel cell technology that produces reliable, clean and cost-effective energy, according to the company.
Before founding Bloom Energy, Chief Executive Officer KR Sridhar worked for NASA's Mars program, designing an oxygen-production unit for use on the planet.
"He took the product that was designed for Mars and reverse engineered it for the Earth," Brennan said. "It started out as this really cool technology, and then he was able to prove that it would work, and he was able to prove that it could be built at scale."
Bloom continues to enhance the technology with each new generation of the Energy Server, optimizing its power density while shrinking its footprint.
"There's never a day here where things stay static," Brennan said, adding that Bloom has evolved from a technology company developing a new product to a multifaceted organization developing a new industry. "Launching the LEAF was very exciting for me because no one had launched a mass-manufactured all-electric car, and this goes to the next level."
At Bloom for almost three years, Brennan has thrived not only because the company is innovative and fast-paced but also because she has technical expertise.
She earned a microbiology degree from the University of Illinois and subsequently spent several years as a chemical, biological and pharmaceutical researcher.
"One of the reasons I believe I've been successful is because I chose a technical field," she said.
She also credits her graduate education at UNO, noting that she still uses some of the skills she learned in her business classes, especially operations. Brennan enrolled in the MBA program between 1989 and 1991, taking classes while working full-time at an automobile hardware manufacturing company. There, she learned her aptitude for operations and management. That job opportunity changed the trajectory of her life, she said.
Believing so strongly in the value of a technical degree, Brennan spends time speaking to young girls, encouraging them to continue taking science, technology and math classes.
When she has a captive audience of middle school girls, for example, she asks them three questions: Do you want to make a lot of money? Do you want to travel the world? Do you want to make the world a better place?
"Generally one, two or all three of those resonate with them," said Brennan, who has traveled the world with her roles in automotive and at Bloom.
Aside from mentoring young women, Brennan is raising two teenagers of her own, a 17-year-old son and 13-year-old daughter, with her husband. Since moving west, the family has made it a point to explore all that California has to offer. They live just four hours from Yosemite National Park.
"I never see myself retiring, partially because I had children late in life," she said, explaining that she plans to work in technology and innovation for at least another decade. "I'm hoping that by having the kind of job I have, I'll be able to create really good jobs that are good for the planet and for people."
After that, she has plenty of other passions to keep her busy: supporting professional development for women, speaking engagements, even saving elephants.
Content in what she calls her dream job, Brennan has traveled a winding path to arrive in a field — or valley, rather — that feels like home.
In fact, soon after arriving in Silicon Valley, an encounter with a car, of all things, was another sign that she made the right choice to leave her old life and open a new chapter in a special part of the country that celebrates ingenuity.
"I wasn't here a week when I was driving and an autonomous car passed me on the road," she said, explaining how, in her previous career, she had been in many meetings where people dismissed the idea of a self-driving car. "I was like 'Oh, this is so cool, I've finally landed in my place.'"