Scholars Academy: Megan Henderson
The College of Business Administration Scholars Academy will welcome 20 more students this fall. Meet a member of the 2017 cohort.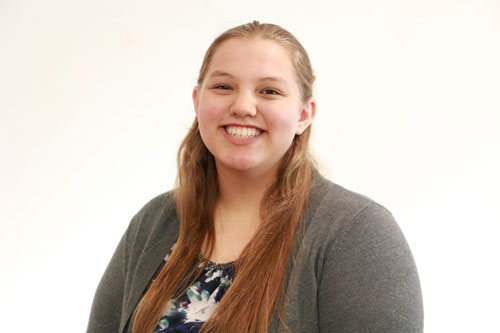 Megan Henderson is a 2017 graduate of Millard South High School.
The UNO College of Business Administration Scholars Academy is a close-knit community of ambitious, high-achieving business students who want to challenge themselves while pursuing a bachelor's degree.
During this four-year program, Scholars are mentored by Omaha-area business professionals, take special business courses taught by award-winning faculty, and gain real-world experience through community engagement and international travel. They also receive generous scholarships.
Scholars are selected the spring of their senior year in high school after a rigorous and competitive application process.
Meet new member Megan Henderson of Omaha, Nebraska.
---
Why did you choose UNO?
I chose UNO because of the possibilities that this campus and the programs have to offer. Attending a school that has the entire city of Omaha as its campus is pretty exciting and not something every college can offer. Omaha is home to Fortune 500 companies and many other businesses that offer opportunities for students to learn and gain real-world experience.
The UNO campus cultivates an energy of passion and growth, two things that are very important to me. The business program and UNO have developed an environment where I know my voice matters and the work I will be doing matters. Everyone at UNO is very supportive and encouraging, and I know that I will be successful here.
Why did you choose business as a major?
I chose business as my major because of the vast array of topics that it covers and the way I fit into the business world. In high school, I was a student in a career academy focused on business and logistics. It was an eye-opening journey taking college classes on a subject I didn't know much about.
After taking two years of classes about basic business principles and logistics and distribution topics, I couldn't walk away from it. I had found something I really loved. Business fits me and my personality. I am a dedicated worker and leader, I love a challenge and problem-solving, and my passion is in business.
What business concentration are you planning to pursue? Why?
I am excited to study supply chain management, a field of endless possibilities. I became enthusiastic about it after spending my last two years of high school in a career academy dedicated to this field.
I learned the basics of the field and fell in love with the vast web of steps and processes this industry holds. I am interested in working and learning more about all the steps people don't think about, such as raw material collection, production, transportation, and distribution for the products we use every day like a pencil or a laptop.
What aspect of the Scholars Academy are you most looking forward to?
I am most looking forward to having a tight-knit group of people I will know on campus. I think having the opportunity to work closely with such a small group of people in classes and other activities creates a sense of community that we can rely on.
The Academy gives us the chance to start building relationships and meeting some familiar faces before school even begins in the fall. Being part of this group means having people around me who know and understand what I am doing and are there to support me. Having that support from a small community of people in the same boat as me is very welcoming.
What do you like to do in your free time?
Most of my free time is spent doing relaxing activities to help me take a break from my busy schedule. I enjoy obsessing over the musical Hamilton, reading, and binge watching TV shows on Netflix.
Currently, I am watching The West Wing, which let me tell you is very enlightening. I am also a big fan of crime dramas, so NCIS and Hawaii Five-0 are always on my continue watching list. I recently had the opportunity to see Hamilton live in Chicago; it was incredible and I highly recommend it. I also enjoy reading adventure thrillers and cliché love stories because there is nothing like getting your heart racing in one story and then torn apart in the next.
What is one thing we would be surprised to know about you?
I am a volunteer for an organization called Launch Leadership, focused on developing youth leadership as a tool to better individuals, organizations, and communities. I was a delegate of Launch's summer leadership workshop, and the weeks I spent at Launch services helped me grow into the person and leader I am today.
After my time as a delegate, I was given the opportunity to be a volunteer for this incredible organization that gave so much to me. As a volunteer, I work with youth from across the state and facilitate activities to improve their leadership skills. I volunteer my time with Launch in the hopes of making an impact, no matter how big or small, on the youth of Nebraska.