Scholars Academy: Matthew Smith
The College of Business Administration Scholars Academy will welcome 20 more students this fall. Meet a member of the 2017 cohort.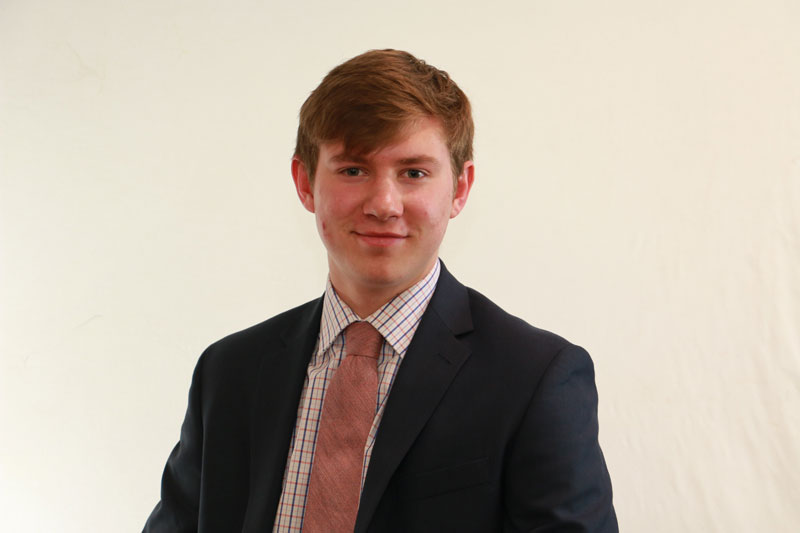 Matthew Smith is a 2017 graduate of Creighton Preparatory High School.
The UNO College of Business Administration Scholars Academy is a close-knit community of ambitious, high-achieving business students who want to challenge themselves while pursuing a bachelor's degree.
During this four-year program, Scholars are mentored by Omaha-area business professionals, take special business courses taught by award-winning faculty, and gain real-world experience through community engagement and international travel. They also receive generous scholarships.
Scholars are selected the spring of their senior year in high school after a rigorous and competitive application process.
Meet new member Matthew Smith of Papillion, Nebraska.
---
Why did you choose UNO?
I chose to attend UNO for two reasons: 1) It has a strong, accredited college of business. 2) The opportunity to be a Division I soccer player, which has always been a goal of mine.
As a student athlete, my participation in the Scholars program is even more important to me because I can build an academic community around me. I know this group will challenge me to reach and achieve my best. I know that having the opportunity to meet Omaha business leaders and start building relationships will be important as I grow in my education.
Why did you choose business as a major?
Business is what most interests me. I have grown up around strong and successful owners who have inspired me. I have always been intrigued by all the different parts that go into a business. I chose business as a major because I want and believe that I can contribute to the business world.
What business concentration are you planning to pursue? Why?
Marketing — it interests me a lot because it deals with the interactions of other people. I believe I have very good social skills as well as problem-solving skills. However, there is always room for improvement. These skills are beneficial to someone going into marketing. Therefore, by concentrating on marketing, I can improve my skills that will make me successful.
What aspect of the Scholars Academy are you most looking forward to?
I'm looking forward to the interactions with local business leaders. Meeting with a business leader who is and has been successful will be very insightful. I am excited to learn from them and what they have to offer. I am also looking forward to building connections in the business world.
What do you like to do in your free time?
Much of my free time is taken up by soccer. I really enjoy soccer, and it has been a passion of mine for my whole life. Whether it's watching soccer, playing FIFA, or actually playing the sport, it always seems to occupy my time.
What is one thing we would be surprised to know about you?
I am an artist. I have drawn and painted for the past couple of years. I'm lucky to have a good art instructor at my high school. His help has led me to win several art awards in several art competitions. Recently, I have even sold some of my paintings and plan to do several pieces in the summer for clients. I hope I am able to continue my art career, or even use it in conjunction to my business career.