Scholars Academy: Faviola Martinez-Perez
The College of Business Administration Scholars Academy will welcome 20 more students this fall. Meet a member of the 2017 cohort.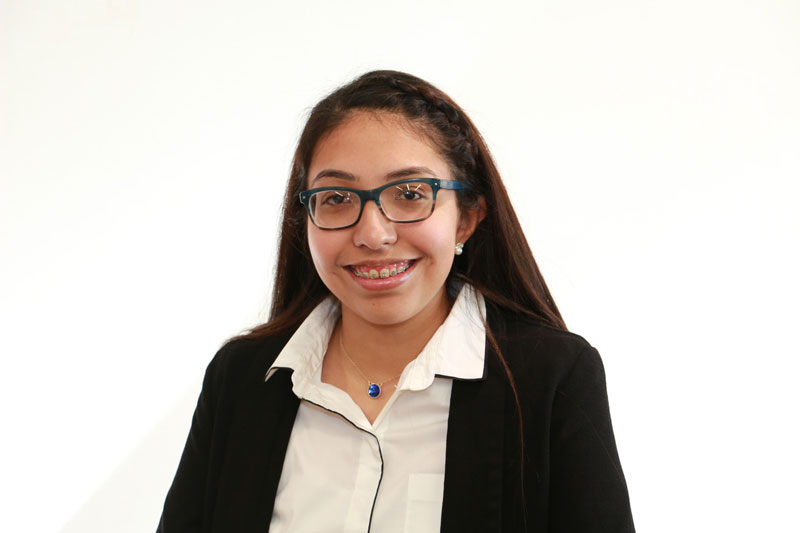 Faviola Martinez-Perez is a 2017 graduate of Omaha South High School.
The UNO College of Business Administration Scholars Academy is a close-knit community of ambitious, high-achieving business students who want to challenge themselves while pursuing a bachelor's degree.
During this four-year program, Scholars are mentored by Omaha-area business professionals, take special business courses taught by award-winning faculty, and gain real-world experience through community engagement and international travel. They also receive generous scholarships.
Scholars are selected the spring of their senior year in high school after a rigorous and competitive application process.
Meet new member Faviola Martinez-Perez of Omaha, Nebraska.
---
Why did you choose UNO?
I chose UNO because it is so close to home. After visiting other colleges, I was convinced that UNO was the college I wanted to attend in the fall. After doing some research I realized that UNO's business program was the right fit for me. I know that by attending UNO I will not have a problem obtaining an internship. Last, I love Omaha because there are a lot of fun things to do. I believe that no other college would have made me feel at home. I am glad I decided to stay in Omaha because I know after graduation there will be many job opportunities I can pursue.
Why did you choose business as a major?
I was always terrified when people asked me what I wanted to major in. I never actually knew and didn't know if I would ever find out what I wanted to study. After taking an accounting class my junior year, I realized that business was the best fit for me. My senior year I decided to take two more business classes. It was a great idea because now I find myself applying the knowledge I have learned to my life. I now feel that I don't spend my money as carelessly as I used to. I look forward to helping a company manage financial statements.
What business concentration are you planning to pursue? Why?
I am not completely sure what I want to pursue. I plan to look at all my options and decide at a later time. I love math; it has been my favorite subject since middle school, so I am leaning toward accounting. I love helping people, and I love numbers. I think becoming a certified public accountant would be a great opportunity.
What aspect of the Scholars Academy are you most looking forward to?
I am looking forward to meeting lots of new people. I am also very excited to have a mentor who will be by my side to help me out. They usually say that in college no one will really pay attention to you. I feel that by being in the Scholars Academy someone will always be there paying attention and helping me get through any problem. I also love that I will have the opportunity to have a class with the other scholars. This will help us connect and become better friends.
What do you like to do in your free time?
I love watching different movies or TV shows on Netflix. Whenever the weather is nice I like to play tennis. It's a sport I learned my freshman year, and I find it so relaxing. If I am not watching TV or playing tennis, I am most likely eating out at a restaurant. I am not afraid of trying new places, so I would love to try all the restaurants in Omaha.
What is one thing we would be surprised to know about you?
One thing that surprises a lot of people is that I try to eat at Wingstop once a week. I found out about this place about two years ago, and I instantly fell in love. Their traditional wings are a perfect texture, not too soggy and not too crispy. In my opinion they are just right. Their fries are my favorite because they are one of a kind. I am convinced that they add a hint of sugar. My favorite sauce is Cajun—it's not spicy, but it sure doesn't taste like honey. I love Wingstop so much that my ultimate dream is to own a franchise and place it in South Omaha.