Scholars Academy: Erik Tena
The College of Business Administration Scholars Academy will welcome 20 more students this fall. Meet a member of the 2017 cohort.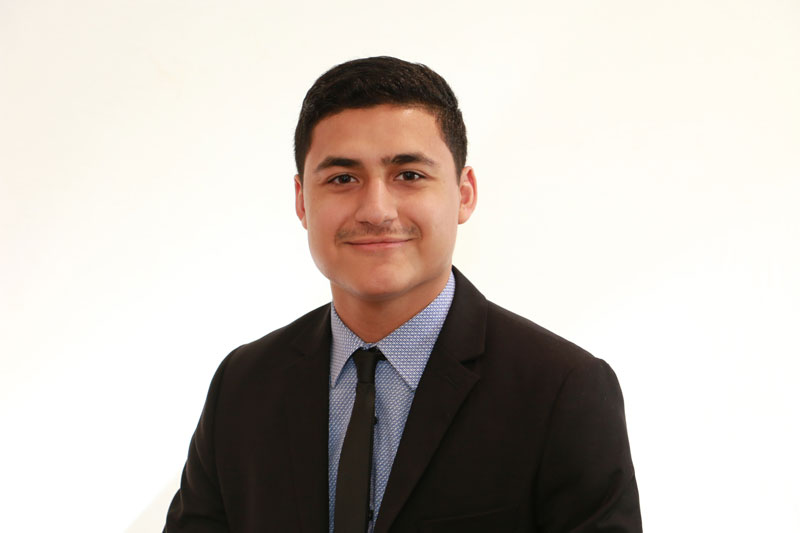 Erik Tena is a 2017 graduate of Schuyler Central High School.
The UNO College of Business Administration Scholars Academy is a close-knit community of ambitious, high-achieving business students who want to challenge themselves while pursuing a bachelor's degree.
During this four-year program, Scholars are mentored by Omaha-area business professionals, take special business courses taught by award-winning faculty, and gain real-world experience through community engagement and international travel. They also receive generous scholarships.
Scholars are selected the spring of their senior year in high school after a rigorous and competitive application process.
Meet new member Erik Tena of Schuyler, Nebraska.
---
Why did you choose UNO?
I chose UNO because of the opportunities it has to offer. Besides being relatively close to home, I will be receiving a very good education. Also, I was surprised when I found out about the amount of potential internship opportunities. Last, speaking to current Mavericks made me decide on UNO.
Why did you choose business as a major?
I chose business because I have always had a passion for it. Most of my life I have tried to make a quick buck off of whatever I could get my hands on. Throughout my childhood, I would make money off of my allowance by buying and selling stuff. Also, I like to travel and with a business degree I could work anywhere. Every city needs business people. This allows for people like me to travel the world while maintaining a job.
What business concentration are you planning to pursue? Why?
As of now I am uncertain. In the moment I have an interest in finance and marketing. I have always liked working with money and have always liked the challenge to attract people and get them to buy something from me. Although I am undecided, I may decide to study both.
What aspect of the Scholars Academy are you most looking forward to?
I'm looking forward to having a business mentor and meeting different business professionals. I will get to communicate with people working in business every day. They will be able to answer any of my questions and guide me through them until I figure out the answers. Also, just being able to gain inspiration from them is a big plus. Having someone motivating me to push myself to my full potential will be great during college.
What do you like to do in your free time?
I like to spend my time outdoors. One of the favorite things to do outdoors is fishing or spending time at the river. I also enjoy playing sports, basketball being my favorite. When I am stuck inside, I like to watch the Discovery Channel or the History Channel. While watching these channels, I learn a lot of interesting facts I would not have known otherwise.
What is one thing we would be surprised to know about you?
On my first day of Head Start, I ran away. Getting on the yellow bus that morning for the first time ever frightened me. Not being close to my mother made it worse. Once we arrived at the building, I curled up in a corner and cried during the whole time I was there. Suddenly, I got the urge to run away so I bolted out the door. I ran for three blocks before getting tired and being caught by a couple of teachers chasing after me. When they took me back they called my mother and sent me home for the rest of the day.