Scholars Academy: Chase Reed
The College of Business Administration Scholars Academy will welcome 20 more students this fall. Meet a member of the 2017 cohort.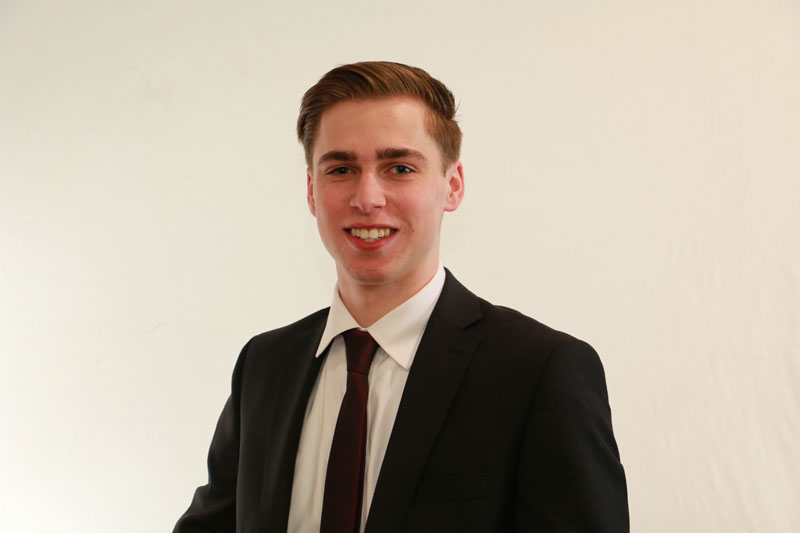 Chase Reed is a 2017 graduate of Treynor Community High School.
The UNO College of Business Administration Scholars Academy is a close-knit community of ambitious, high-achieving business students who want to challenge themselves while pursuing a bachelor's degree.
During this four-year program, Scholars are mentored by Omaha-area business professionals, take special business courses taught by award-winning faculty, and gain real-world experience through community engagement and international travel. They also receive generous scholarships.
Scholars are selected the spring of their senior year in high school after a rigorous and competitive application process.
Meet new member Chase Reed of Silver City, Iowa.
---
Why did you choose UNO?
I wanted the atmosphere of a big university but with the environment of a small school. UNO was the perfect mix, and its location in Omaha makes for a great business school. The businesses and different networks that UNO has will create great opportunities for me. It has all the different aspects of a college I was looking for.
Why did you choose business as a major?
I have always been interested in business and all the opportunities within the industry. Growing up I watched different business seminars, was in a stock market club, and idolized different entrepreneurs. It is also such a versatile major. Having a business degree will allow me to be able to work with people and be a part of companies in different industries if needed.
What business concentration are you planning to pursue? Why?
I plan on pursuing business administration because it will allow me to learn and understand so many different aspects of business. I feel that it will be the most beneficial to me because I eventually want to own a real estate company. As an owner, I will need to understand all the different things about running a business. Business administration will guide me to be knowledgeable in the business ventures of my future.
What aspect of the Scholars Academy are you most looking forward to?
The people! I am so excited to experience the amazing networking. I look forward to meeting different business owners and employees. It will be interesting to learn from other people's angles and approaches to business. Also, I cannot wait to be a part of the close-knit group that the Scholars Academy forms. Having a good group of friends who share my same goals will make college so much more fun!
What do you like to do in your free time?
What I do most in my free time is hang out with my friends and family. I also enjoy playing sports, painting, drawing, listening to music, hunting, fishing, and playing video games. Having different hobbies and activities never gets boring, and I always am looking to try new things.
What is one thing we would be surprised to know about you?
I don't have any first aunts, uncles, or cousins. Both of my parents are an only child, but this is not a bad thing. Since I don't have a very big family, we are all very close. Both sets of my grandparents live within a mile of us, so we always get to see them and interact with them. Because of this, I always have great support from all of my family, which I very thankful for.