Scholars Academy: Brad Stuthman
The College of Business Administration Scholars Academy will welcome 20 more students this fall. Meet a member of the 2017 cohort.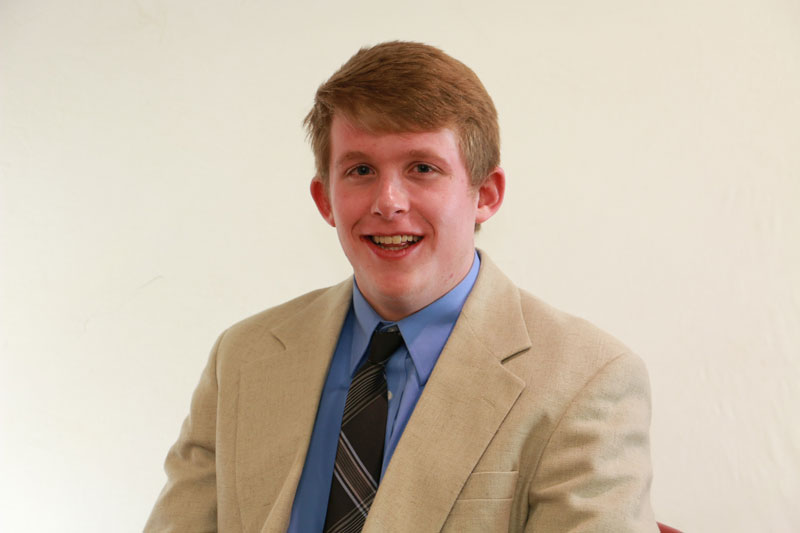 Brad Stuthman is a 2017 graduate of Elkhorn South High School.
The UNO College of Business Administration Scholars Academy is a close-knit community of ambitious, high-achieving business students who want to challenge themselves while pursuing a bachelor's degree.
During this four-year program, Scholars are mentored by Omaha-area business professionals, take special business courses taught by award-winning faculty, and gain real-world experience through community engagement and international travel. They also receive generous scholarships.
Scholars are selected the spring of their senior year in high school after a rigorous and competitive application process.
Meet new member Brad Stuthman of Omaha, Nebraska.
---
Why did you choose UNO?
One of the biggest reasons I chose UNO is because it has amazing ties to the job community in Omaha. Not many universities have such a great sense of community within such a large city with a lot of opportunities. Also, UNO is such a great value for undergraduate students. It has top-notch facilities that come at a fraction of the cost of other universities.
Why did you choose business as a major?
I enjoy and excel in math classes. Ever since I was a young kid, math has been my favorite subject, and a business major has a lot to do with math. Also, a business major is very versatile and can be used in a lot of different jobs. That is important to me because I never know what job opportunities are out there that a business major would qualify me for.
What business concentration are you planning to pursue? Why?
I plan on pursuing a concentration in finance because I love to work with numbers, and one day I want to be a financial advisor. One reason I want to be a financial advisor is because I love to work with people, and I have seen what a family friend does as a financial advisor in the real world. The things that he does seem to be what I would enjoy doing like working with spreadsheets and numbers.
What aspect of the Scholars Academy are you most looking forward to?
The travel abroad trip junior year. It will be a great opportunity to learn another culture, while still focusing on earning a degree. Learning business in another country will allow me to be exposed to different ways and rules that many others never get to learn. Another reason that I look forward to the trip is because it will be a fun experience traveling with people who I have been around for three years.
What do you like to do in your free time?
I enjoy playing and watching sports. I played varsity football for Elkhorn South, and football is my favorite sport to watch. Not only do I enjoy sports, but I also enjoy cars and fourwheelers. I buy and sell cars and fourwheelers to make some money on the side while having fun with them.
What is one thing we would be surprised to know about you?
I am a triplet. I have two sisters, Amanda and Caitlyn. The first letters of our names spell "ABC."