Scholars Academy: Parker Thompson
The College of Business Administration Scholars Academy will welcome 20 more students this fall. Meet a member of the 2017 cohort.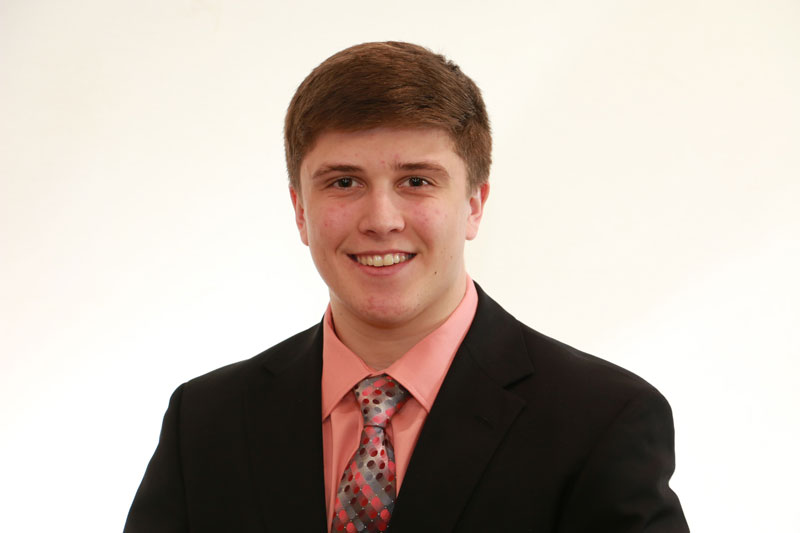 Parker Thompson is a 2017 graduate of Falls City High School.
The UNO College of Business Administration Scholars Academy is a close-knit community of ambitious, high-achieving business students who want to challenge themselves while pursuing a bachelor's degree.
During this four-year program, Scholars are mentored by Omaha-area business professionals, take special business courses taught by award-winning faculty, and gain real-world experience through community engagement and international travel. They also receive generous scholarships.
Scholars are selected the spring of their senior year in high school after a rigorous and competitive application process.
Meet new member Parker Thompson of Salem, Nebraska.
---
Why did you choose UNO?
Being from a small town of under 4,000 people, I love the diversity and size of Omaha, but I did not want to feel like just another face in the college crowd. I knew as soon as I toured the UNO campus that it was exactly what I was looking for, a small community feel within a large city.
I also knew that I wanted a new and modern college, which is why Mammel Hall and the new apartment-style housing were very attractive. I have enjoyed every visit back to UNO, and I cannot wait to explore the campus more as a freshman in the Scholars Academy.
Why did you choose business as a major?
Throughout high school I have taken many classes in all fields of study. I have found that while other subjects interested me, my business classes inspired me. I found this inspiration my junior year when I decided to take Accounting I.
I was not expecting much from the class. I knew that it would help me understand finances, but I never expected it to impact my life. The class quickly became my favorite, and it was largely because of the teacher, Mrs. Eickhoff.
I enjoyed learning from her because her passion for the subject and down-to-earth personality created a relationship that helped me succeed. She has served as a mentor, educator, advisor and friend. She has helped me solidify my decision to pursue a business degree by continuing to connect with me in the many business classes I've taken since.
What business concentration are you planning to pursue? Why?
At the moment I am undecided. I plan on going into my freshman year with an open mind. I want to take a variety of classes to truly discover the concentration that will intrigue me the most. I look forward to attaining internships that will broaden my understanding of the different aspects of the business world.
What aspect of the Scholars Academy are you most looking forward to?
I'm looking forward to working with others just as motivated as I am whether in a study group or in the classroom. I cannot wait to start new friendships with the people in the Scholars Academy and discover the diversity within each other.
The feeling of family is very important to me; this is why I know I will enjoy the tight-knit feeling of having other cohort members with me on the journey we are all about to begin.
What do you like to do in your free time?
I like to go outside and enjoy activities, such as playing basketball, baseball, and disc golf and riding dirt bikes. These activities relieve stress and clear my mind. I also enjoy cleaning and driving my car, especially on nice weekend days when I can roll the windows down.
What is one thing we would be surprised to know about you?
I ride and race dirt bikes. The sport of motocross is not one many people are familiar with, but it is one that I love to compete in. The feeling of freedom when riding a dirt bike is one that cannot be captured anywhere else.
Additionally, there is nothing I love more than singing, whether it be at home, in show-choir, in church, or on a stage in front of people. Everyone who knows me, knows me the most through the character I show behind a mic.