Scholars Academy: Karina Navarro
The College of Business Administration Scholars Academy will welcome 20 more students this fall. Meet a member of the 2017 cohort.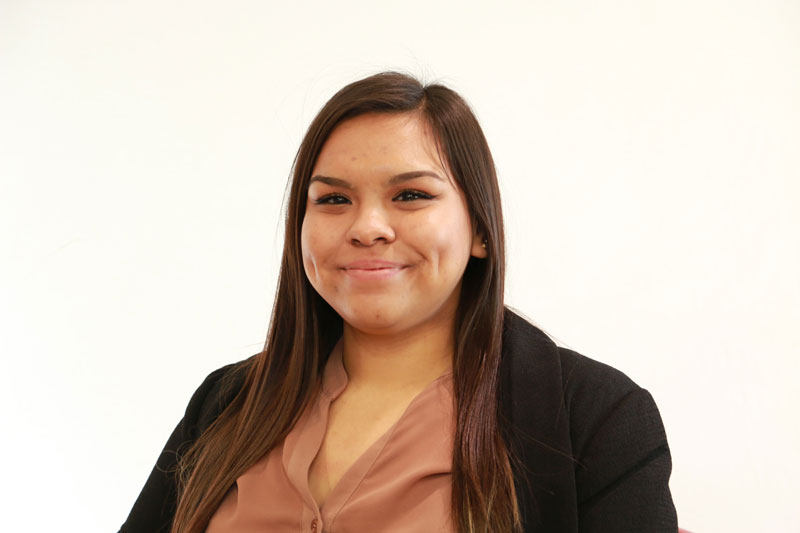 Karina Navarro is a 2017 graduate of Omaha South High School.
The UNO College of Business Administration Scholars Academy is a close-knit community of ambitious, high-achieving business students who want to challenge themselves while pursuing a bachelor's degree.
During this four-year program, Scholars are mentored by Omaha-area business professionals, take special business courses taught by award-winning faculty, and gain real-world experience through community engagement and international travel. They also receive generous scholarships.
Scholars are selected the spring of their senior year in high school after a rigorous and competitive application process.
Meet new member Karina Navarro of Omaha, Nebraska.
---
Why did you choose UNO?
The University of Nebraska at Omaha has become my home. My junior year, I participated in Summer Scholars where I was able to become familiar with the campus and take a college course. It was through this experience that I realized how much I love the campus and want to be part of the Mav family.
Why did you choose business as a major?
I am the treasurer for Classic Ambassadors, a subgroup within the Classic Upward Bound program. The duties include fundraising to help pay for group projects in the community, managing and reporting the finances, and coming up with events to benefit the community.
This experience has helped me make my decision to be an accountant. I have job shadowed in this area and became fascinated by the tasks of accountants.
What business concentration are you planning to pursue? Why?
My concentration at the College of Business Administration is accounting. I have taken classes about business at Omaha South and Cornell University, and I enjoyed them.
Additionally, I participated in Future Business Leaders of America (FBLA), and I was part of the Student Board of Directors for the Federal Reserve Bank of Kansas City's Omaha Branch, where I learned how to become a business leader in my community.
There were many speakers who came to talk about their experiences and how they found business as a career. With their knowledge, I learned how being in the business field can make a change not only in the company, but also in the community.
What aspect of the Scholars Academy are you most looking forward to?
I am looking forward to the whole Scholars Academy experience! Becoming part of the Academy will not only open doors but also allow me to meet others who have the same aspirations as I do.
I am excited to become great friends with the other students in the Academy and support one another through this transition. Another component I look forward to is having role models near by to guide me in the right direction with my passion of business.
The CBA Scholars Academy is why I am more excited to attend UNO in the fall and to continue to challenge myself.
What do you like to do in your free time?
The swing of the colorful dress moves side to side with the rhythm of the music. The beautiful traditional dance of Mexico is Ballet Folklórico.
I can show my culture to the entire community through a form of art. Since I was little, I have danced Ballet Folklórico and I enjoy it, especially the movement of the dresses.
Being able to share my culture with others who are not familiar with the traditional dance and express myself through the movements is part of who I am. During my free time, I attend classes to continue to learn and practice dance, which has become part of my lifestyle.
What is one thing we would be surprised to know about you?
One thing I absolutely love is traveling, going to an unknown location and exploring what the city has to offer. Although when I travel on an airplane, it is a terrifying feeling when the plane takes off into the air; I get anxiety at this moment.
I love to discover unseen places and learn about the area. I had the opportunity to travel to New York, although it was not the city. I was able to connect to the nature of Ithaca where I found peace in the creations of earth.
I like to broaden my horizons and admire the various views that each state or country has to offer.