Dabbs named UNO Student Organization Member of the Year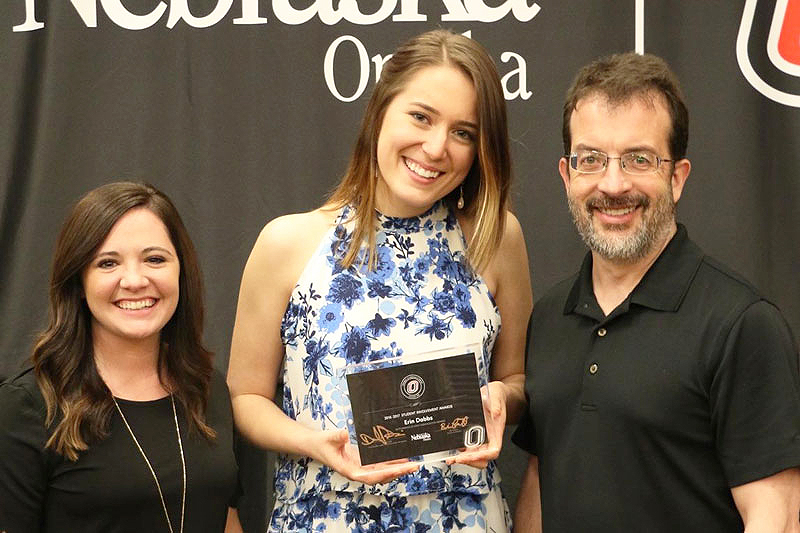 Erin Dabbs (center) with UNO Center for Innovation, Entrepreneurship and Franchising Director Dale Eesley and Assistant Director Jenna Taulman
University of Nebraska at Omaha College of Business Administration student Erin Dabbs is the 2017 Student Organization Member of the Year.
Student Involvement hosted the annual awards event April 24, recognizing outstanding students involved in the many organizations on campus.
This year, Dabbs served as director of public relations for UNO's Collegiate Entrepreneurs' Organization (CEO), scheduling weekly speakers, helping with pitches and startups, and liaising between CEO and the Omaha community.
It's the second time a CEO officer has received this award.
"CEO has been my biggest connection to the Omaha startup community," Dabbs said. "I've traveled for CEO, met the founder of a company who quickly became my boss, and met three of my closest friends."
During her time as a CEO officer, Dabbs has made it a point to pay it forward.
"When I was a freshman, I was totally in awe of the upperclassmen — a jaw-dropped kind of awe," she said. "I looked up to them, more than I think they knew. My goal as an officer was to try to be half as good of a role model as they were."
She has given back by passing on connections, helping her friends find jobs and mentoring others.
Now, she's moving on from CEO and starting a new student organization.
"Stay tuned for UNO Women in Business," she said.