UNO Students Awarded ISM-Nebraska Scholarships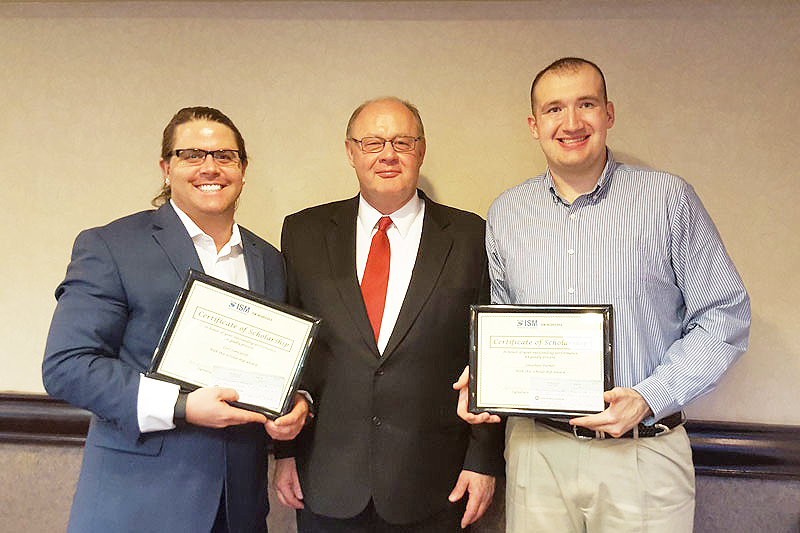 Scholarship recipients Levi Lancaster (left) and Johnathan Parker (right) with Dr. Steve Schulz, assistant professor of supply chain management.
Two University of Nebraska at Omaha students received scholarships from the Institute for Supply Management (ISM-Nebraska) April 20.
The Debra Smithers Excellence in Business Scholarship is awarded annually to four college students in Nebraska. Among the 2017 honorees are Johnathan Parker and Levi Lancaster, both juniors studying supply chain management at UNO.
"I feel so fulfilled with this award because I worked non-stop, day and night, on the application and in my supply chain management class," Lancaster said.
Lancaster credits his professors and academic advisor for helping him achieve his successes.
"Everyone has stayed a little longer to help me understand a problem or [provide] some feedback from their life experience with the jobs they have had in the past," he said.
The UNO College of Business Administration offers a Bachelor of Science in Business Administration with a concentration in supply chain management, one of 13 undergraduate concentrations offered, as well as a supply chain management minor and MBA concentration.
The Institute for Supply Management provides resources, networking and certification opportunities to professionals in the industry. Membership in this organization is free to students.
To learn more about supply chain management at UNO, contact:
Dr. Steve Schulz | sschulz@unomaha.edu
Dr. Phil Witt | pwwitt@unomaha.edu