Entrepreneurship Student Spotlight: Vaughn Perez
CBA senior Vaughn Perez will tell you his suit game is strong. His chances of career success are stronger.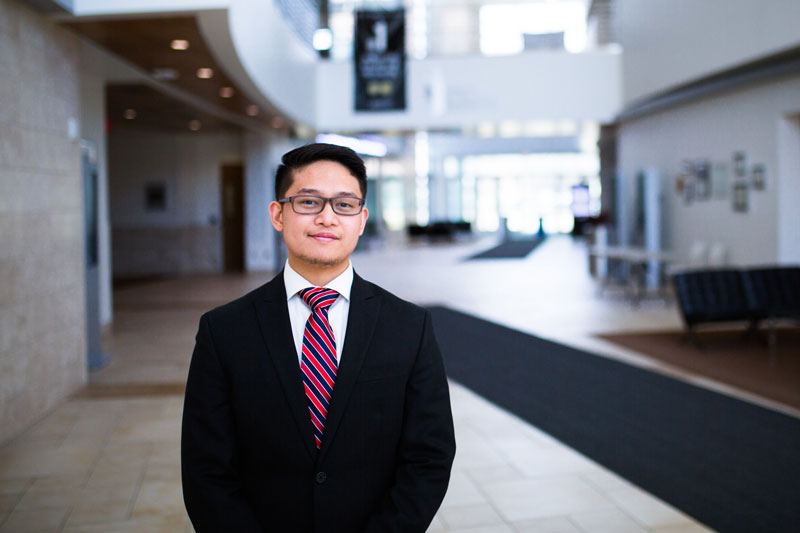 To name a few … President. Culture Manager. Yell Leader. 2017 Student of Academic Excellence.
(He also worked at Men's Warehouse for two years, hence his strong suit game.)
The current president of UNO's Collegiate Entrepreneurs' Organization (CEO) and a sales employee at rapidly growing Eat Fit Go, Perez gains his diploma in December and will hit the ground running.
He plans to stay at Eat Fit Go, aspiring to manage his own store and maybe even become the CEO. He says he's also working on his own business idea and is considering a graduate degree in sports administration.
"I also look to work for an NBA franchise and move up in the organization so that I can ultimately help that team win a championship," Perez says. "It's all about that ring baby!"
His dream job? Be the general manager of the Houston Rockets.
Perez is an Omaha native, although his parents were born and raised in the Philippines.
After graduating from Creighton Prep High School, Perez wasted no time jumping into the UNO community. He joined many student organizations and chased anything that gave him the chance to network and meet new people.
A self-proclaimed D1 athlete, Perez is a regular competitor in UNO's Ultimate Frisbee Club. When he's not busy on the field, he's in the stands cheering for other athletes. An original member of the Maverick Maniacs, Perez leads the student section — recently named the best in the country — in a number of chants at all major events.
Additionally, Perez has served in a number of leadership roles for CEO, UNO's nationally renowned entrepreneurship club. As a member, he has twice traveled to the CEO national conference, meeting entrepreneurs like himself from across the country.
Opportunities like these have taught Perez the value of relationships.
"My favorite thing about the UNO College of Business Administration is the friendships that I've accumulated," he says. "The personalities and the people I've met here will take me as far as I go."
Originally an engineering major, Perez says switching to business was one of the best decisions of his life.
"From the resources and the connections with other students to the mentoring from professors, CBA has provided me with everything I need to achieve not only as a student but also as a person."
Never without a backup plan — or two — Perez has set his career goals high. And thankfully, his closet is stocked with enough suits to see him through.