UNO Students Present Refugee Campaign on Capitol Hill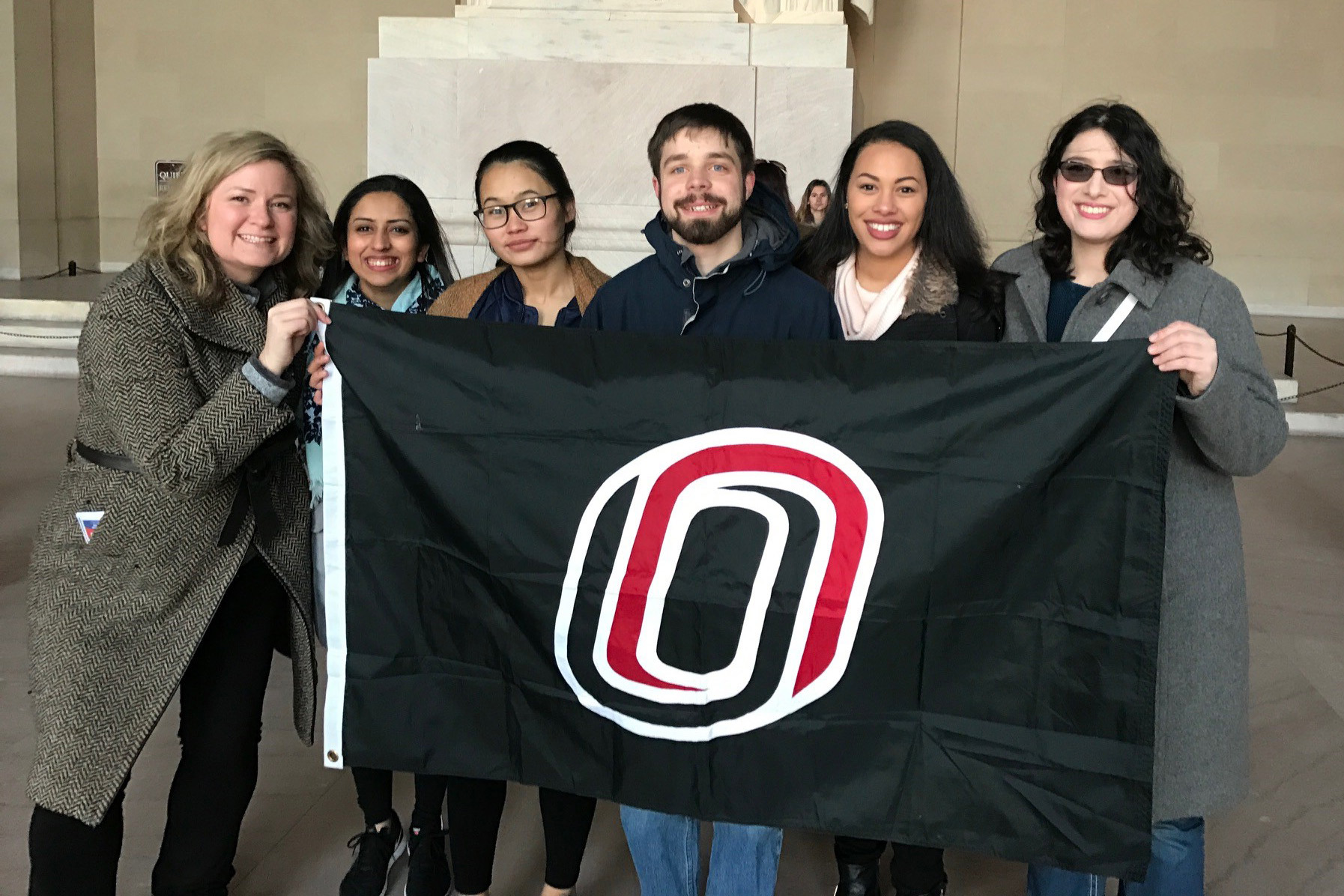 Dr. Gina Ligon (left) and students "showing the O" at the Lincoln Memorial during their trip to Washington D.C. in early February.
OMAHA – A group of University of Nebraska at Omaha (UNO) honors students placed fourth this month in the final round of an international competition aimed at countering extremism.
But it felt like first place, said their professor Gina Ligon.
The students "worked tirelessly" to advance to the finals in Washington D.C., said Ligon, associate professor of management at the UNO College of Business Administration (CBA). While there, they toured Capitol Hill and presented to leaders at Facebook and the Department of Homeland Security.
The road to D.C. began last fall when the class entered the "Peer to Peer: Challenging Extremism" competition. It's the first time UNO has participated.
Organized by EdVenture Partners, the competition challenges college students worldwide to create a social media campaign that resonates with their peers and the community.
UNO's campaign, called The Refugee Perspective, aims to fight misperceptions and change behavior toward refugees in Omaha. The ammunition? Video content.
Students recorded interviews with refugees and footage from a refugee-hosted dinner at a classmate's home. Spreading the content across social media, the campaign reached more than 76,000 people on Facebook and amassed more than 16,000 views on YouTube.
Utilizing neurophysiological technology in CBA's Koraleski Commerce and Applied Behavioral Laboratory (CAB Lab), students were able to test their Facebook advertisements and measure impact — adding sophistication to the campaign.
"Our campaign was very successful," said Abbie Zimmerer, a CBA senior studying marketing. Zimmerer helped create the ads and design the CAB Lab study, which used eye tracking to prove the ads triggered a behavior change.
"It was really interesting to see how the technology worked," she said.
About a month after the campaign launched, Ligon and her students received the news that UNO was selected as a finalist out of more than 250 universities representing 60 countries.
Amanda Greer, an international studies and criminal justice double major and economics minor, called the entire experience a "once-in-a-lifetime opportunity." She said the class taught her that anyone can make a difference.
Capitalizing on the campaign's momentum, Greer and her classmates have turned The Refugee Perspective into a student organization at UNO.
"None of the class is done with it," she said. "We're still invested."
Ligon said she's proud of her students and the high-caliber campaign they created.
"This class has been transformative for me as a researcher of terrorism influence," she said. "Our campaign is world-class."
Ligon is part of the National Consortium for the Study of Terrorism and Responses to Terrorism (START) and has been federally funded since 2010 for her research on the business aspects of terrorism. She is also the new editor of a major terrorism research journal, Dynamics of Asymmetric Conflict.
Students interested in joining The Refugee Perspective should contact Amanda Greer at agreer@unomaha.edu.
Related
UNO honors students battle extremism through a new perspective
Their weapon against extremism: befriending a refugee
The Refugee Perspective on Facebook, Twitter, YouTube and Instagram