New Faculty: Brent Clark
Meet a new addition to CBA's roster of diverse, dynamic faculty.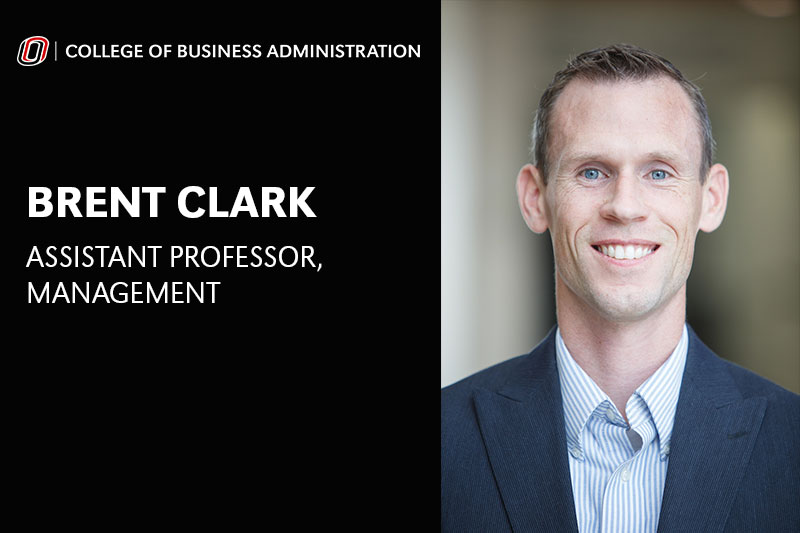 Last fall, the UNO College of Business Administration welcomed nine new full-time faculty members — one of the largest classes in college history.
---
Dr. Brent Clark, Assistant Professor of Management
Ph.D., Strategic Management, University of Missouri
Brent Clark has lived in many places, including Texas, Kentucky, Utah, Indiana, Missouri, South Dakota, and even Ecuador, though he claims Waldorf, Maryland, as his hometown.
When Clark isn't teaching, he's hard at work on several research projects.
"I am working primarily on understanding how technology impacts our decision making. I also study how entrepreneurs deal with uncertainty and how companies recover from crime and fraud events," he says.
Clark's hobbies include basketball, soccer, gardening, and woodworking. However, he says most of his free time is spent with his wife and three kids.
Read on to learn more about Dr. Clark.
Why did you decide to become a professor?
I have always been curious about how the world works — both the natural sciences and the human/social elements of our world. Becoming a professor was a perfect opportunity for me to be able to continually learn and also to contribute to the creation of new knowledge. Teaching, for me, is a natural extension of being curious. I like to assume that others are also curious and that they would benefit from learning what I have come to know.
What are your impressions so far of UNO and the College of Business Administration?
My first impression of UNO was that we have very sound leadership. By that, I mean that our leaders here are good at keeping things running effectively, and they also have a vision of the future that drives them push UNO in a very promising direction. I also feel like the students here are more engaged and more ambitious with their career and life goals than they are at other places I have been.
What's your favorite thing about teaching and working with college students?
While I am an introvert, I really value having connections with people. I love seeing students succeed in various ways (whether during college or after), and I am always humbled when I recognize that I was able to contribute to that success and create some sort of meaningful connection to the life of another person. That, to me, is very fulfilling and makes student interaction the highlight of my job.