Edelman Executive to Speak at UNO on Building Trust
date: 02/22/17
time: 5:00 PM - 7:30 PM
location: Mammel Hall • maps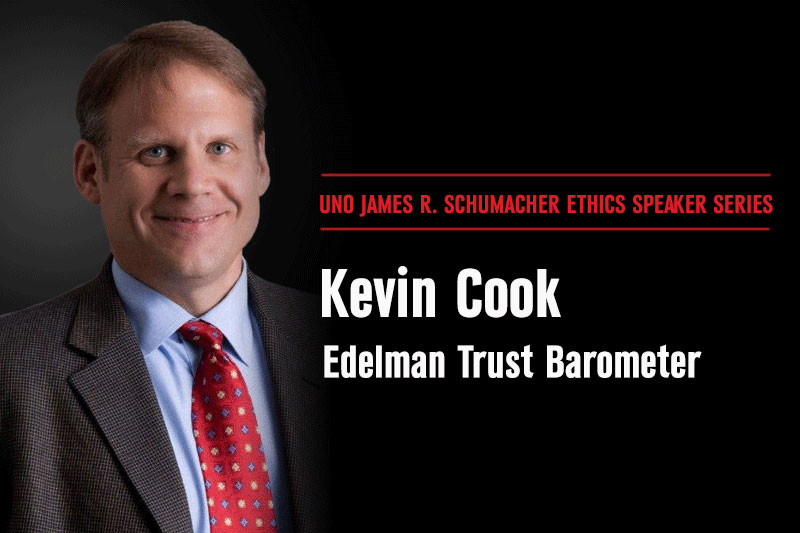 Results from a recent global survey on trust and credibility will be the focus of an ethics presentation at the University of Nebraska at Omaha (UNO) on Feb. 22.
The 2017 Edelman Trust Barometer reveals that the public's trust in institutions — including government, business and media — has hit record lows in many countries. Kevin Cook, chief operating officer at Edelman's Chicago office, will detail insights and implications from the study and discuss strategies businesses can use to build trust with stakeholders.
Part of the UNO James R. Schumacher Ethics Speaker Series, the event takes place Wednesday, Feb. 22, at Mammel Hall. A reception with refreshments begins at 5 p.m. The presentation follows from 5:30–7 p.m.
The event is free and open to the public. Parking is open in Lot 5 near Mammel Hall. Registration is requested; RSVP here.
A 20-year veteran of global marketing firm Edelman, Kevin Cook serves as senior counsel for some of the firm's largest global clients, including manufacturing, financial services and healthcare companies. He also counsels clients on global reputation and stakeholder campaigns, issues management, strategic transactions and corporate brand transformation.
For event questions or more information, contact Dr. Amy Rodie, James R. Schumacher Chair of Ethics, at arodie@unomaha.edu.
About the Edelman Trust Barometer
The 2017 Edelman Trust Barometer is the firm's 17th annual trust and credibility survey. The survey was done by research firm Edelman Intelligence and consisted of 25-minute online interviews conducted on October 13th – November 16th, 2016. The 2017 Edelman Trust Barometer online survey sampled more than 33,000 respondents consisting of 1,150 general population respondents ages 18 and over and 500 informed public respondents in the U.S. and China and 200 informed public respondents in all other countries across 28 markets. All informed publics met the following criteria: ages 25-64, college-educated; household income in the top quartile for their age in their country; read or watch business/news media at least several times a week; follow public policy issues in the news at least several times a week.