CBA Students Make 'Real' Elevator Pitches
Business student Erin Dabbs wows investors, wins first place after a wild ride at SLU's 'Real' Elevator Pitch Competition.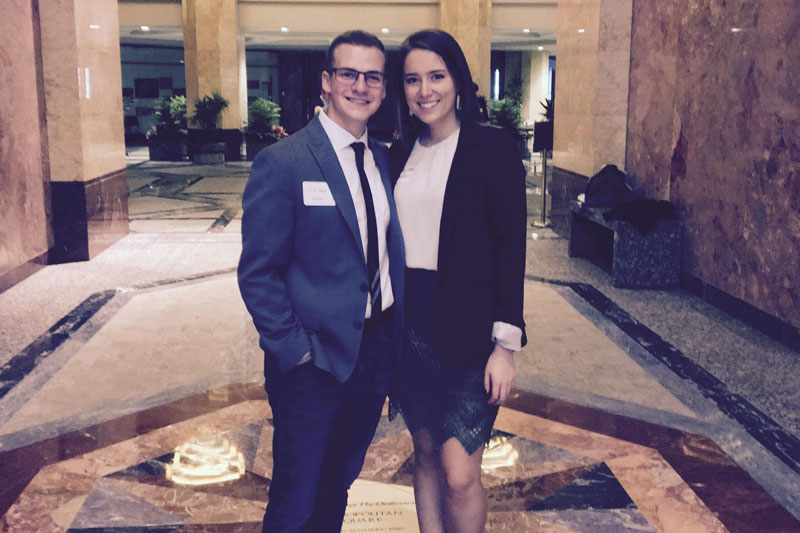 OMAHA – Elevator pitches are a familiar concept for most business students. This practice generally involves an individual quickly selling an idea to an executive or investor.
St. Louis University, however, holds the elevator pitch to a much more literal definition.
Every year, SLU's John Cook School of Business hosts the "Real" Elevator Pitch Competition, featuring participants pitching their business ideas to real investors while riding a real elevator in one of Missouri's tallest buildings, Met Square.
College students from across the nation are invited to submit video pitches. Among the 24 finalists were two University of Nebraska at Omaha (UNO) business students: Erin Dabbs, a junior studying marketing and management, and Collin Wyler, a junior studying marketing and entrepreneurship.
Smart Software Ideas
Wyler pitched his mobile app idea, GoNow, in the contest's for-profit division. GoNow allows travelers within a community to connect based on travel preferences. The idea came to Wyler while planning a weekend trip to Colorado.
"I asked around to all my friends but got so many no's," he said. Eventually, he settled on traveling with a distant acquaintance and had a great trip — thus, the conception of GoNow.
Dabbs competed in the not-for-profit track with DriveOff. The app aims to reduce distracted driving fatalities by incentivizing drivers to stay off their phones. Users receive points that earn them rewards from insurance companies or local businesses.
DriveOff was born at Startup Weekend Omaha, held in Mammel Hall and hosted by UNO's Center for Innovation, Entrepreneurship and Franchising in September. During this 54-hour event, Dabbs led a team of five that worked on market validation and product development.
Making tweaks to her pitching skills, Dabbs then took the same idea to CBA's BigIdea! Pitch Contest and won first place, securing her ticket to compete at the Collegiate Entrepreneurs' Organization (CEO) national conference and further refine her pitch.
A Wild Ride
In St. Louis, Dabbs and Wyler had 40-45 seconds to pitch their ideas while ascending Met Square's 40 floors. This tight time limit put even these experienced pitchers to the test, challenging the students to condense their messages to the most essential, intriguing information.
It was hard for me to keep it a secret that I am an Omaha Maverick!
- Erin Dabbs
Throughout the 12 elevator rides of the first round, the judges handed out their business cards to each student whose idea and pitch impressed them. The students with most cards moved on.
Dabbs collected nearly 40 business cards. "It was humbling and validating to have the judges physically hand me their approval," she said.
The top three students in each division moved on to the final round. From the backseat of a Tesla Model S, the finalists had one last chance to pitch their ideas to a group of VIP judges during a one-minute ride around the block.
To avoid any judging bias, participants were prohibited from speaking about their school or hometown. Dabbs said, "It was hard for me to keep it a secret that I am an Omaha Maverick!"
The Winning Pitch
All that riding paid off for Dabbs — she won the not-for-profit division, receiving a cash prize and trip to South by Southwest (SXSW) in Austin, Texas.
Dabbs and Wyler spoke highly of the opportunity to practice their pitches and meet fellow entrepreneurs. They also noted the opportunities that the UNO College of Business Administration (CBA) has provided, allowing them to go into SLU's competition with confidence.
Both students have been recurring participants in CBA's pitch competitions. "I've been pitching since I was a freshman," Dabbs said.
They are also on the leadership team of UNO CEO and employees of growing companies.
Careers in College
Dabbs works at LifeLoop, a software company focused on connecting the residents of senior living centers with their families. After co-founder Amy Johnson spoke at a CEO meeting, Dabbs knew she wanted to be a part of the company. Starting as an intern, she has worked in several areas of the business and has been an integral part of the company's growth.
Wyler currently works full time for a local startup, Flywheel, a WordPress hosting and management company. Graduating in May 2018, he hopes he can continue working there while building on his own business ideas.
Wherever these two budding entrepreneurs take their talents, one thing is for sure: the experiences they gained at the "Real" Elevator Pitch Competition will take their careers to new heights.
Contact Us
If you have a story idea, news tip or inquiry, please contact:
Chelsea Bailey, Director of Marketing, College of Business Administration
clbailey@unomaha.edu • 402.554.3852
Our Campus. Otherwise Known as Omaha.
The University of Nebraska does not discriminate based on race, color, ethnicity, national origin, sex, pregnancy, sexual orientation, gender identity, religion, disability, age, genetic information, veteran status, marital status, and/or political affiliation in its programs, activities, or employment. Learn more about Equity, Access and Diversity.
scroll to top of page