CBA Student Starts Beard Oil Business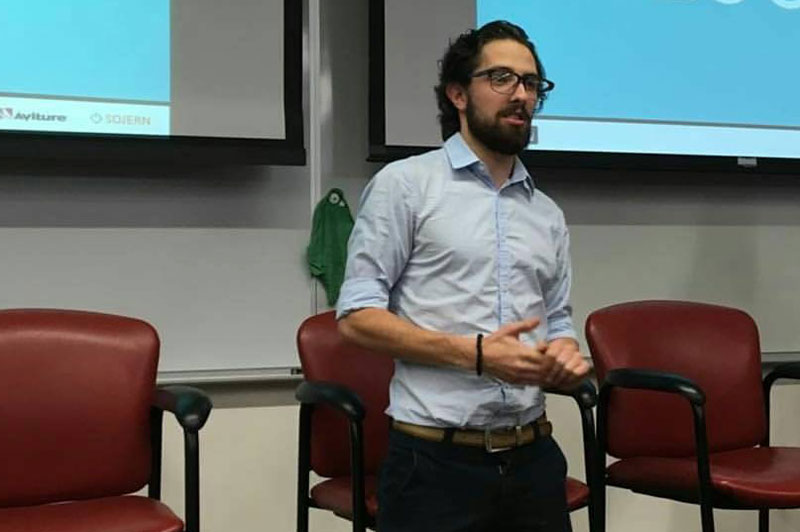 The UNO College of Business Administration is chock-full of students with innovative ideas and entrepreneurial aspirations.
Connor Yourston is one of those students. The senior studying supply chain management recently started selling beard oil through his business, Boondock Beard Co.
Catering to well-groomed guys and donating a portion of profits to American forest restoration, the company is slowly taking root. Products are currently available online through Etsy or through Yourston himself.
He mixes the oils by hand, on demand.
"Even though oils have an extremely long shelf life, I feel I add more value to the customers by making each bottle to order," he says. "It is just me, so sometimes I can get lots of work done and other times not so much depending on how much school work I have that week." 
Yourston primarily sells his products in person so he can get honest feedback from customers, although he plans to expand his presence online. His next goal is to launch a website.
"I'm really enjoying the ride," says Yourston, who is from La Paz, Bolivia.
Below, he shares more about the ups and downs of launching a business.
What are some challenges you have faced with your business? How have you overcome them?
The biggest challenge was to decide my brand identity. I, like many people who actually grow beards, love adventures and the outdoors, but we primarily live in the city. That's what I try to represent and how I came up with the name Boondock Beard Co.
How have you incorporated what you've learned at CBA into your business?
I have used lots of information from the Maverick Startups class, and I'm also learning and applying a lot from my marketing classes. Statistics has also helped me, even though Google Analytics does most of the work. My professors have also given me some helpful advice.
What are your career goals?
I really like the whole startup world. It can be pretty tough, but I plan on staying on this path for a while and keeping supply chain management as a backup. After graduation, I plan to take some time off before my master's degree, work on my business, keep my job at the bike shop and enjoy riding my bike for a bit. 
Visit Boondock Beard Co. on Etsy or email cyourston@unomaha.edu.
Contact Us
If you have a story idea, news tip or inquiry, please contact:
Chelsea Bailey, Director of Marketing, College of Business Administration
clbailey@unomaha.edu • 402.554.3852
Our Campus. Otherwise Known as Omaha.
The University of Nebraska does not discriminate based on race, color, ethnicity, national origin, sex, pregnancy, sexual orientation, gender identity, religion, disability, age, genetic information, veteran status, marital status, and/or political affiliation in its programs, activities, or employment. Learn more about Equity, Access and Diversity.
scroll to top of page