USSTRATCOM Fellows Program Receives Teamwork Award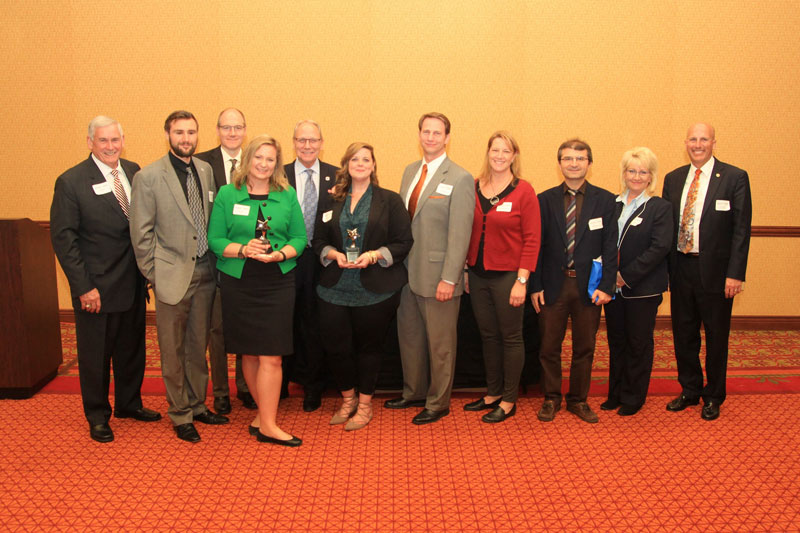 Courtesy of the National Strategic Research Institute
OMAHA – A leadership development program headquartered at the University of Nebraska at Omaha (UNO) was recently recognized for excellence in teamwork that supports national security research efforts.
The University of Nebraska's National Strategic Research Institute (NSRI) hosted a recognition event on Wednesday, Nov. 2, to applaud the accomplishments of researchers and others who have contributed to the success of the NSRI, a University Affiliated Research Center (UARC) at the University of Nebraska.
Among the 35 awards presented, the Team Excellence award went to the USSTRATCOM Strategic Leadership Fellows Program.
UNO, the University of Nebraska and U.S. Strategic Command launched the program in 2014 as a first-of-its-kind initiative, training the USSTRATCOM civilian workforce in areas such a team building, collaboration management, data‐driven decision making and project management, combined with mission-core competency development.
The cross-discipline, cross-campus program will welcome its fourth class in January 2017.
The USSTRATCOM Fellows Program is housed in Mammel Hall, home to the UNO College of Business Administration (CBA). Program directors are Dr. Gina Ligon, associate professor of management, and Dr. Doug Derrick, associate professor of IT innovation.
Both Ligon and Derrick have conducted numerous research projects on national security strategies for the Department of Defense and Department of Homeland Security.
Additional program leads include Dr. Chris Diller, management instructor; Ms. Rebecca Lair, program coordinator; Mr. Caleb Steffensmeier and Mr. Michael Mazgaj, graduate assistants; Mr. David Nielsen, assistant dean of UNO CBA; and Ms. Alicia Andry, assistant director of admissions for UNO Graduate Studies.

Other Fellows Program team members receiving recognition included Dr. Mario Scalora, Dr. Pete Simi, Dr. Roni Reiter-Palmon, Dr. Patrick McNamara, Dr. Joe Allen, Dr. Robin Gandhi, Dr. Matt Hale, Dr. Mark Scherer, Dr. Ann Fruhling, Dr. Erin Pleggenkuhle-Miles, Dr. Elizabeth Chalecki, Dr. Lynn Harland, Dr. Leif Lundmark, Dr. Erin Bass, Dr. Ramazan Kilinc, Dr. Jody Neathery-Castro, Dr. Lana Obradovic, Dr. Tatyana Novikov, Dr. Abhishek Parakh, Dr. Kerry Ward, Dr. Noel Palmer, Dr. Sharon Medcalf, and Mr. Kenneth Knotts.
Related