From UNO Magazine: Executive Privilege
International excursions are the hallmark of UNO's Executive MBA program.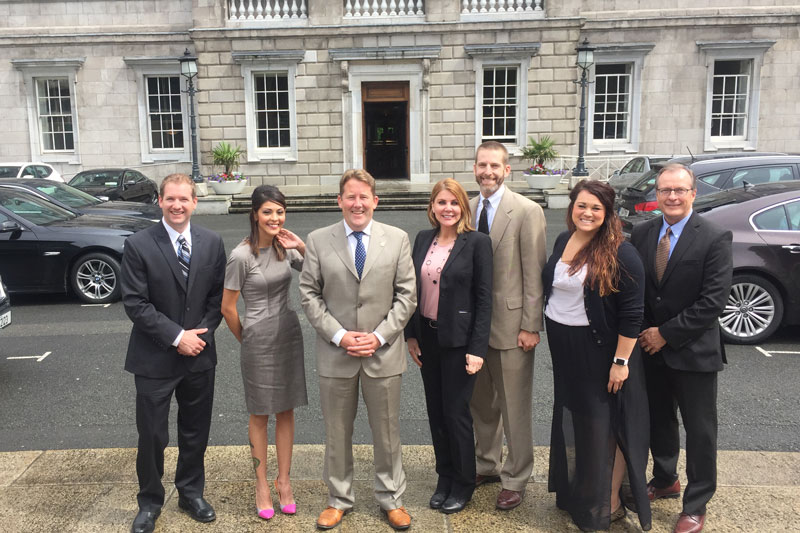 From UNO Magazine – When Michelle Foley landed in London on a Sunday morning this summer, she and her classmates headed straight to a craft beer pub near their hotel.
And they were just getting started.
In fact, her team's 12-day European excursion revolved exclusively around beer — pubs, breweries, bottle shops, even a beer and cider conference.
But it's not because they're big drinkers or beer buffs. Rather, the team was conducting in-country research for Zipline Brewing Co., a microbrewery headquartered in Lincoln, Nebraska.
Foley and her four team members are enrolled in UNO's Executive Master of Business Administration program, housed in the College of Business Administration. It has been sending students overseas since 1989 as part of an international consulting capstone project.
Along with supervising Associate Professor David Volkman, Foley's team visited 11 cities throughout the United Kingdom and Republic of Ireland in June to explore business conditions in those international markets. Yes, they had fun, taking in historical sites like Big Ben and Buckingham Palace while watching firsthand the fallout following the Brexit vote.
But mostly, it was all business.
Read the full story in UNO Magazine:
http://unoalumni.org/unomag-Fall16/execprivilege
Contact Us
If you have a story idea, news tip or inquiry, please contact:
Chelsea Bailey, Director of Marketing, College of Business Administration
clbailey@unomaha.edu • 402.554.3852