CBA Announces Second Scholars Academy Cohort
This fall, 20 new first-year students will start their journeys in the CBA Scholars Academy.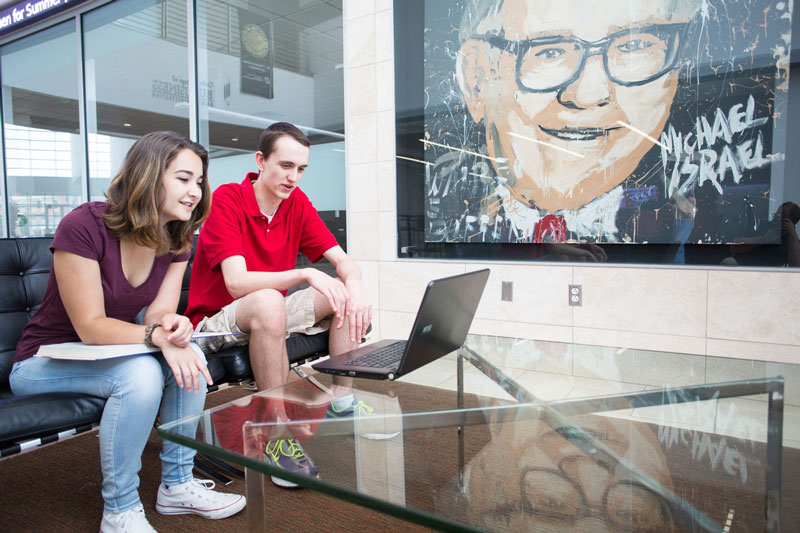 Two members of the inaugural CBA Scholars Academy 2015 cohort
OMAHA – The University of Nebraska at Omaha's business honors program has selected its second cohort. This fall, 20 freshmen will start their journeys in the College of Business Administration Scholars Academy, a prestigious program for top students pursuing careers in business.
Students selected for the 2016 cohort earned an average high school GPA of 3.9, ranked in the top 12 percent of their graduating classes and received more than $134,000 in scholarships from CBA.
In addition to top-notch academics, the new CBA Scholars have diverse backgrounds, hailing from four states, 12 cities and 19 different high schools.
Two students will compete in Division I athletics for the Omaha Mavericks, one on women's soccer and the other on women's golf.
"From academics to extracurricular activities, these are sought-after, exemplary students who could go anywhere," CBA Dean Louis Pol said. "We are excited to welcome them to UNO in the fall and are eager to see their positive contributions to our college."
With career interests that span most of CBA's 13 business concentrations, these first-year students will have access to exclusive opportunities to gain hands-on experience within their majors, enhance their leadership skills and connect with local business professionals. They will also take small, specialized courses that incorporate guest speakers, community service, case studies and international travel.
"I'm thrilled that the Scholars Academy will double in size this fall — from 20 to 40 students," said Bethany Hughes, director of the CBA Scholars Academy. "The longer these high-achieving students are on campus, the more I realize the extent of their impact. I look forward to watching as this second cohort hits the ground running."
The 2016 cohort comprises the following students (high school names are italicized):
Nebraska
Edgar: Garrett Uecker, Sandy Creek
Elkhorn: Alison Raszler, Elkhorn
La Vista: Jaime Andersen, Papillion-La Vista
North Platte: David Mata, North Platte
Omaha: Michael Brooks, Creighton Preparatory; Victoria Eremeeva, Millard South; Alejandra Escobar-Serrano, Omaha South; Dylan Loerts, Elkhorn South; Jakob Mach, Daniel J. Gross; Gerald (CJ) Monahan, Millard North; Lauren O'Malley, Millard West; Maria Perez Hernandez, Omaha South; Christopher Winchester, Omaha Central
Snyder: McKenzie Bruce, West Point-Beemer
Syracuse: Samantha Young, Syracuse-Dunbar-Avoca
Walton: Zach Tabor, Waverly
Waterloo: Emily Bednar, Douglas County West
Illinois
Lincolnshire: Benjamin Gerber, Adlai E. Stevenson
Iowa
Sioux City: Jorden Hansen, East
South Dakota
Madison: Samantha Langford, Madison
For questions about the CBA Scholars Academy, contact Bethany Hughes at bjhughes@unomaha.edu or visit cba.unomaha.edu/scholars.