Keep these statuses and closures in mind as you navigate campus.

Bonus Day Status in Lot D
Parking and Transit Services appreciates the collaboration with the CEC, Strauss, and Criss Library leadership and operations teams to make this option available to our campus community when demand for reserved visitor event parking is low.
"Bonus Days" are not guaranteed, and the daily availability of this lot is dependent upon campus events.
On "Bonus Days", the University Drive North gates to lot D will be opened at 7 A.M. for any vehicle with a valid UNO parking permit to park. A sign is placed at the gate entrance to indicate if it is a "Bonus Day".
On "Bonus Days", the gates to lot D will be closed at 1 P.M. to prepare the lot for evening events starting after 5 P.M. Vehicles will still be able to exit via the lot E booth exit after 1 P.M. The sign at the gate will be changed to indicate the lot is reserved at 1 P.M.
Parking and Transit Services will update the status each day around 4 P.M. on the Parking Lot and Road Closure webpage.
---
12/4/23 | BONUS DAY! Any vehicle with a valid UNO parking permit may park in Lot D.
12/5/23 | Possible. To be confirmed on 12/4/23.
12/6/23 | Not likely. To be confirmed on 12/5/23.
12/7/23 | Possible. To be confirmed on 12/6/23.
12/8/23 | Possible. To be confirmed on 12/7/23.

Road Closures or Impacts
UNIVERSITY DRIVE NORTH
Impacting University Drive near Durham Science Center | Work continues on the Durham Science Center, and the crane keeps showing up at various times without notice. Be aware that the drive may be closed at various dates and times.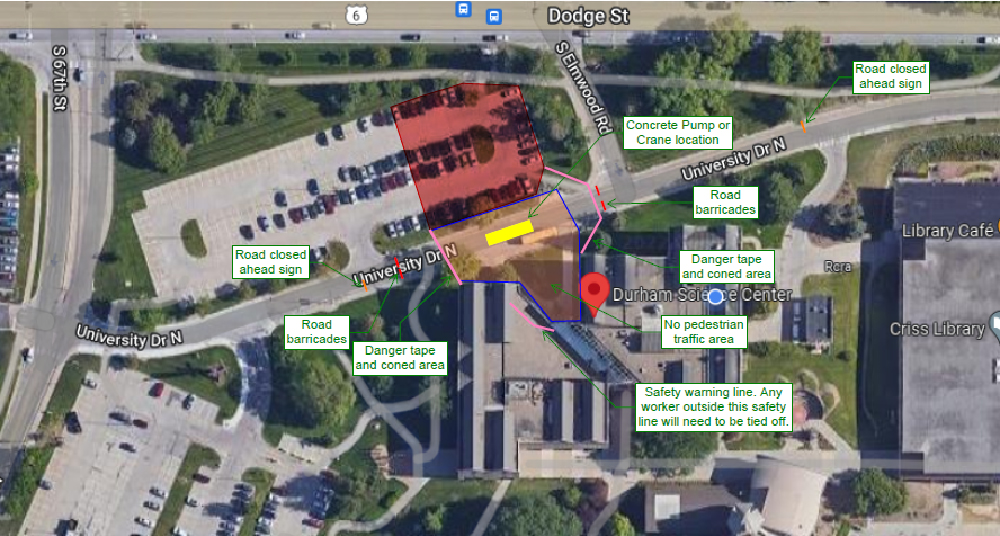 Lot Closures or Impacts
The University of Nebraska at Omaha is committed to providing an environment in which all individuals have equal access to all programs, services, activities, and facilities at UNO. If you notice or experience an accessibility concern due to a lot closure or any other impacts listed below, please either make a report here: Report an Accessibility Concern or contact Accessibility Services Center at unoaccessibility@unomaha.edu.
DODGE CAMPUS UTILITY PROJECT
Impacting Lot N | Beginning Monday, November 6, the access to lot N will only be from the north entrance as the temporary west entrance will only be used for construction. The drive aisle into the covered portion of lot N will remain 2-way, but the garage area will be a 1-way loop. This part of the project will last 3-4 weeks.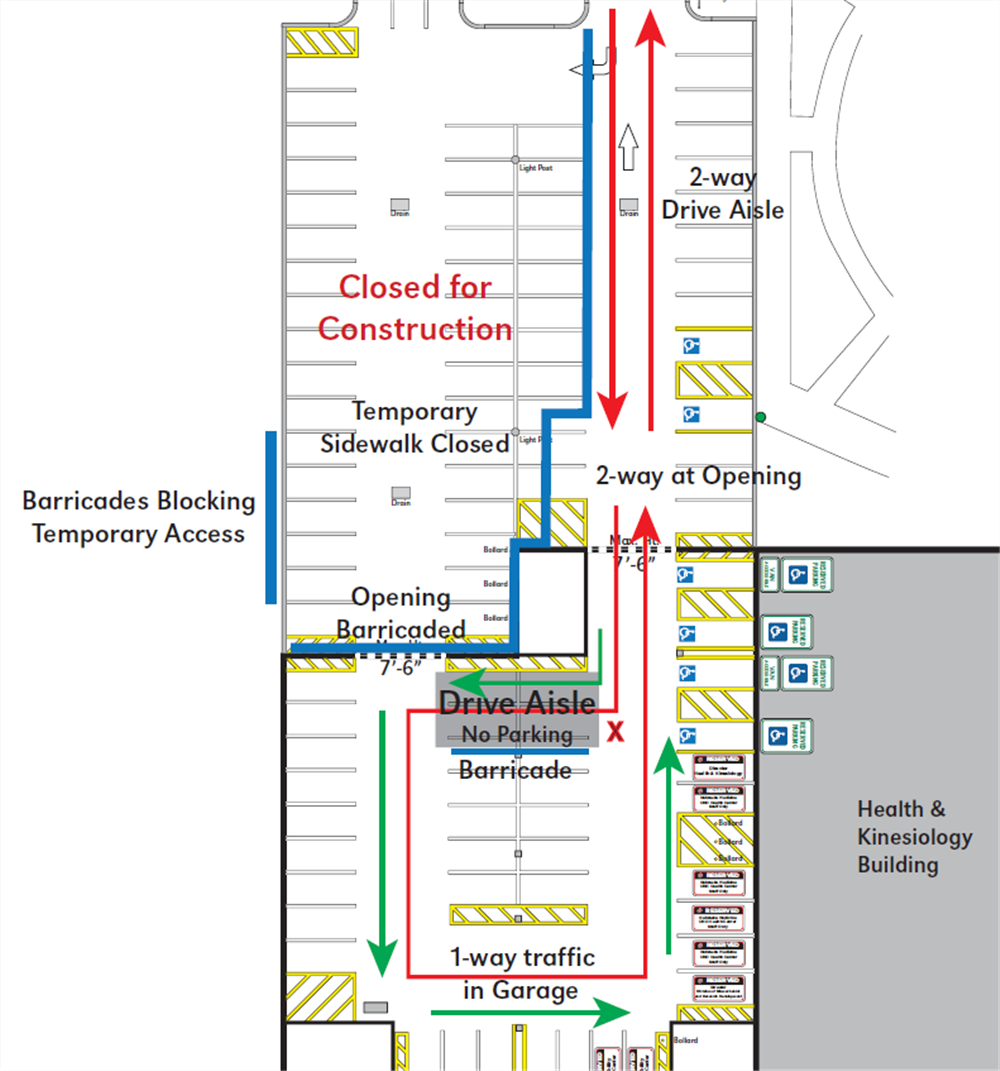 WEBER FINE ARTS EXTERIOR SEALANT PROJECT
Impacting Lot M | Three spaces in the southwest corner of lot M will be impacted by contractor use beginning Monday, May 22. This project is expected to continue into October.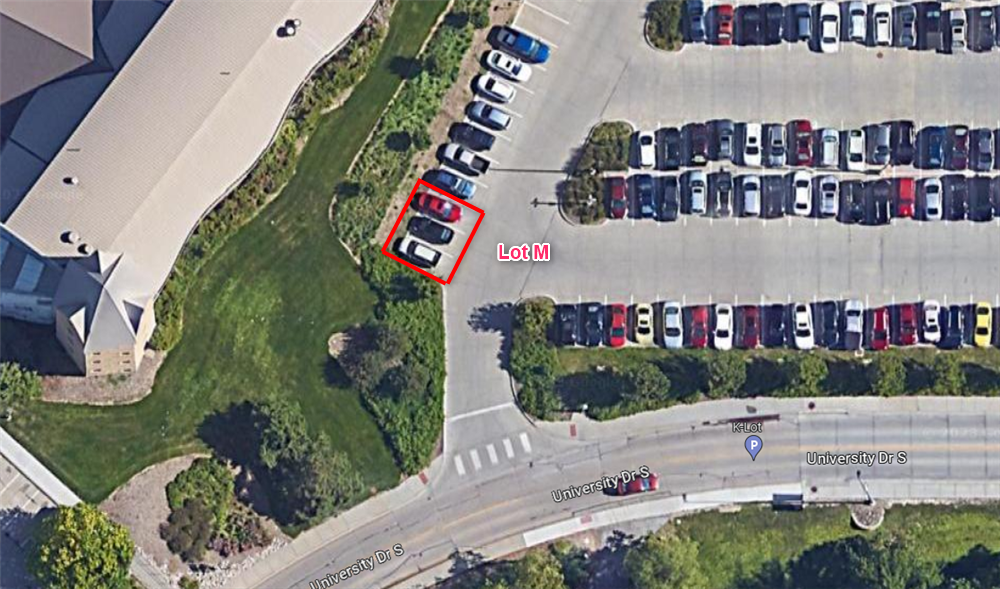 H & K REACH PROJECT
Impacting Lot O | Starting on Thursday, May 18, 2023 and running through May 31, 2024, the west side of lot O next to the H&K building will be fenced off and unusable for parking. The east side will remain reserved for Gait Lab visitors, with occasional temporary closure of the whole lot for large material deliveries. UPDATE: All of Lot O will be closed for steel deliveries from 6 A.M. to 1 P.M. on Tuesday, 9/19/23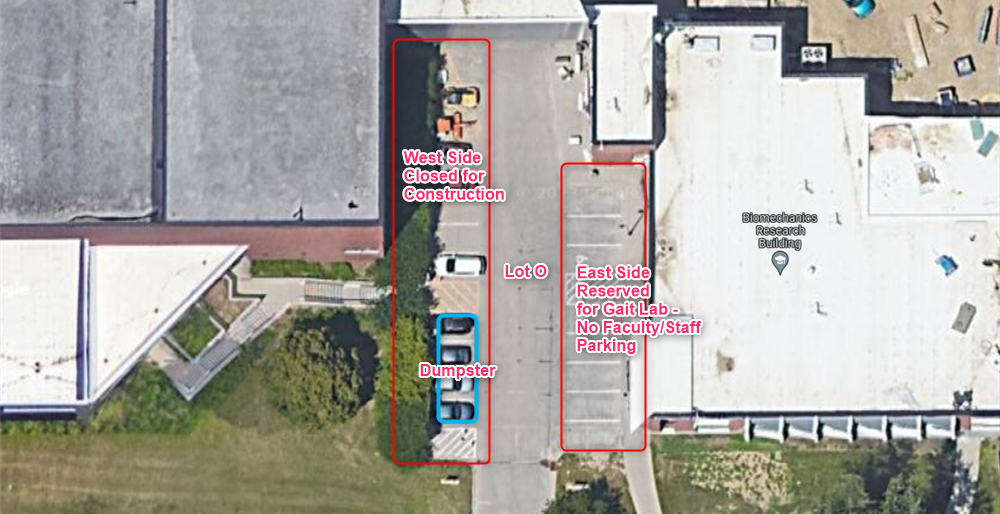 DURHAM SCIENCE CENTER RENOVATION
Impacting Lots F and Y | Beginning 5/2/22 and continuing through 2024. 48 stalls impacted by construction materials area fenced off. Additional 4-8 stalls impacted on 5/16/22 when storage containers placed on north side of lot. Contractors asked to park in lot Y to provide room for students in lot F.