The
Service Learning
Academy's (SLA) social mobility initiative is a way for students, educators, and community partners to recognize how poverty impacts Omaha and understand what actions can be used to address poverty in their own community.
This priority area allows for the SLA to focus and assess our social mobility efforts.
In partnership with AmeriCorps and the Campus Compact AmeriCorps VISTA Program, the SLA has had the opportunity to collaborate with AmeriCorps members to recognize the community's most pressing challenges and advance local solutions to work towards eradicating poverty.
Working alongside SLA staff members, community partners, and educators, AmeriCorps members support service learning projects with an social mobility focus.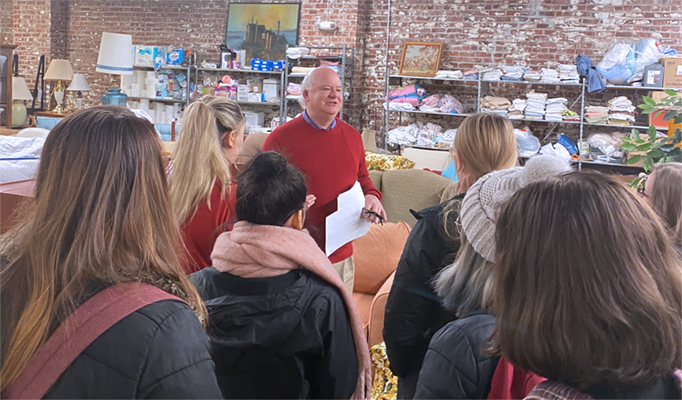 ---
Defining Anti-Poverty Service Learning
Whether the service learning project is a P-16 project, Traditional project, or Maverick Philanthropy Initiative project, each of these service learning models can have an anti-poverty focus. The SLA identifies projects as anti-poverty focused if one or more of the criteria below are met.
The subject matter of the

service learning

project is related to poverty.

The P-12 partner's school has a free and reduced lunch population of 50% or more.

The mission of the community partner supports anti-poverty efforts.
Though we know education is an avenue out of poverty, if students are unable to participate in school and graduate, the cycle of poverty continues. The SLA's anti-poverty priority area seeks to address this by highlighting the intersection of service learning, education, and poverty.
Anti-poverty service learning projects seek to increase student engagement, raise awareness of needs identified by people experiencing poverty, and foster collaborative relationships with local organizations. Together, we can address poverty in Omaha, one service learning project at a time.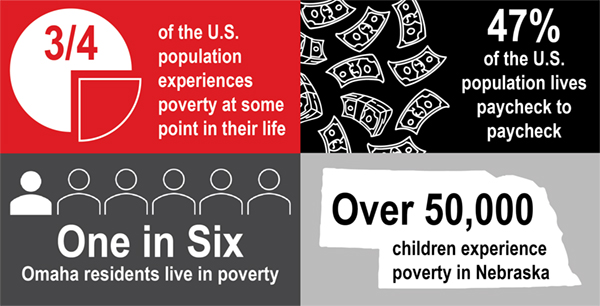 1-4
Three-fourths of the U.S. population experiences poverty at some point in their life. 47% of the U.S. population lives paycheck to paycheck. One in six Omaha residents lives in poverty. Over 50,000 children experience poverty in Nebraska.
---
Anti-Poverty Resources
and Information
Through collecting research and project materials, AmeriCorps members developed a comprehensive inventory of resources specifically curated for anti-poverty service learning.
Have your own anti-poverty research, class projects, or resources that you wish to share? Send us your materials via email at unosla@unomaha.edu and include "Anti-Poverty Service Learning Resources" as your email subject line.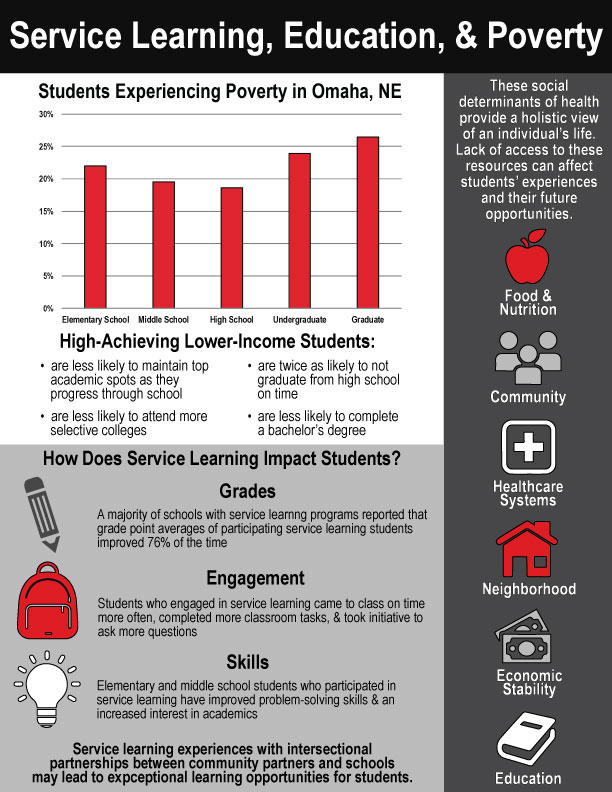 5-7
---
References
1. Confronting Poverty. (2021). About the project. Confronting Poverty. https://confrontingpoverty.org/about/
2. Board of Governors of the Federal Reserve. (2020, May). Report on the economic well-being of U.S. Households in 2019, featuring supplemental data from April 2020. https://www.federalreserve.gov/publications/files/2019-report-economic-well-being-us-households-202005.pdf
3. WelfareInfo. (2019). Poverty in Omaha, Nebraska. WelfareInfo. https://www.welfareinfo.org/poverty-rate/nebraska/omaha#:~:text=The%20poverty%20rate%20in%20Omaha%20is%2015.1%25.,line%20in%20the%20last%20year.
4. Voices for Children in Nebraska. (2020). Economic Stability 2020. Kids Count Nebraska. https://kidscountnebraska.com/economic-stability/#:~:text=51%2C085%20Nebraska%20children%20were%20living,of%20the%20Federal%20Poverty%20Line).
5. Office of Disease Prevention and Health Promotion. (2020). Social determinants of health. Healthy People. https://www.healthypeople.gov/2020/topics-objectives/topic/social-determinants-of-health
6. Wyner, J. S., Bridgeland, J. M., & Dilulio Jr., J. J. (2021). Achievement trap: How America is failing millions of high-achieving students from lower-income families. Jack Kent Cooke Foundation. https://www.jkcf.org/research/achievement-trap-how-america-is-failing-millions-of-high-achieving-students-from-lower-income-families/
7. Potts, S. & Billig, S. H. (2001). Service-learning affects student achievement. Wisconsin Department of Public Instruction. https://dpi.wi.gov/service-learning/schools/impact