Revisiting 'I Am the ROI': Carol RedWing
Carol RedWing's identity—both with her indigenous background and as someone heavily engaged with the UNO and Omaha communities—led her to continue her education at UNO, deepening her ties to area Native American and nonprofit organizations.
published: 2020/08/12
contact: Ryan Soderlin - University Communications
email: unonews@unomaha.edu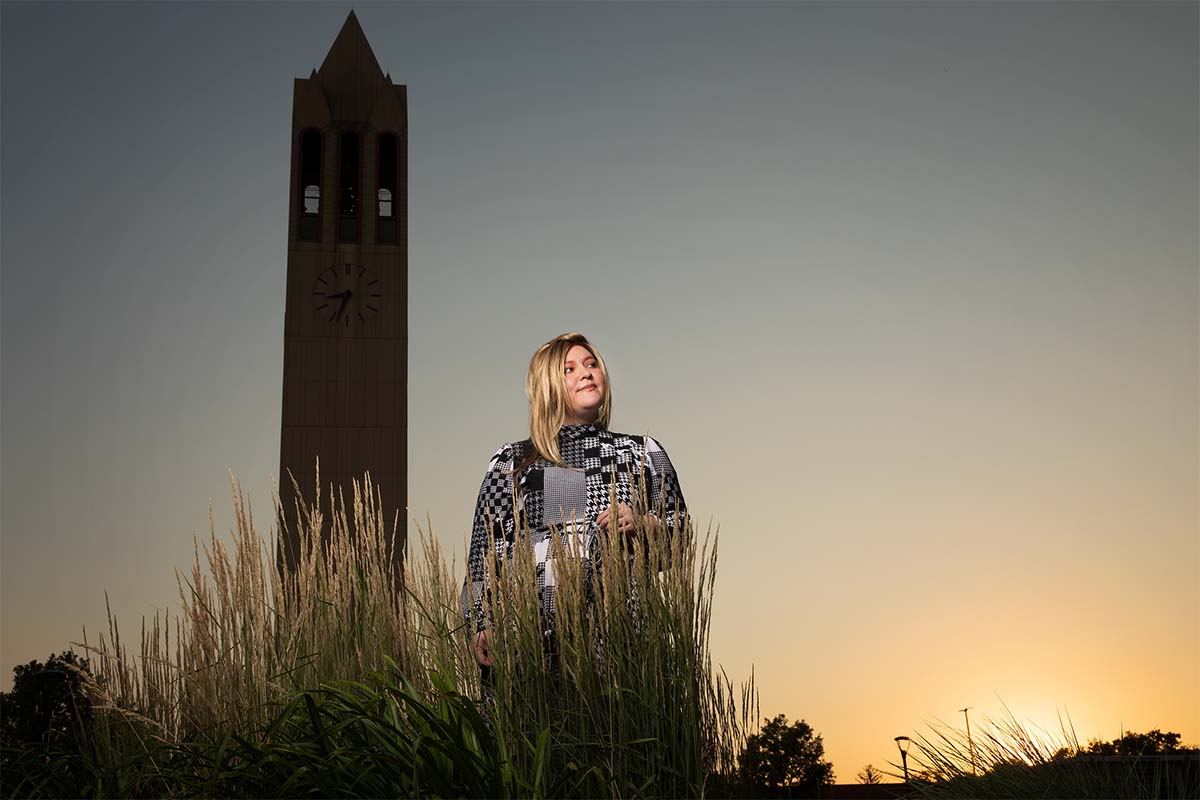 Carol RedWing earned degrees from UNO in Multidisciplinary Studies with a concentration in Indigenous American Studies and Environmental Science as well as a master's degree in Public Administration. Now she's focusing on her third: A doctorate in Public Administration.
Stepping outside the classroom and into the Omaha community to learn by helping others kindled Carol RedWing's interests in historical trauma, community engagement and public policy.
She explored these interests first as an undergrad at the University of Nebraska at Omaha (UNO), during a service learning project tied to the Omaha Public Schools. RedWing, an enrolled member of the Yankton Dakota Tribe with Santee Dakota descendancy, worked with local indigenous students in a program called Native Indigenous Centered Education.
RedWing, who grew up in Portland, Oregon, and Omaha, credits her parents for first igniting her passion for community engagement and service. Her mother was a public administrator for the City of Portland, and later worked for the City of Omaha and for the State of Nebraska as an equal opportunity investigator. "Having that background and having it in the home, being around it, it must have been in my DNA," RedWing said.
RedWing said the service learning experience helped connect what she was learning in the classroom to what she wanted to do in the future. "I was just starting to explore options of what public administration actually looked like beyond it sounding like a bureaucratic nightmare. Exploring what the actual applications could be as far as indigenous sovereignty or other issues that matter to me, like health issues, land issues," said RedWing. She said it provided a bridge for her to realize that public administration and public policy could be something that she could enjoy.
These interests in turn fueled her education at UNO. She earned her Bachelor's of Multidisciplinary Studies with concentrations in Indigenous American Studies and environmental science, plus her Master's in Public Administration at UNO.
Today she has begun pursuing her doctorate in Public Administration, an endeavor that will have her teaching and conducting research in a Specialty Faculty Development Position within UNO's Emergency Management and Disaster Services Department.
RedWing said another role in the Omaha community -- a job at nonprofit cinema Film Streams -- prepared her for her doctorate. She credits her Master's in Public Administration with a concentration in nonprofit management for giving her the tools needed to be successful at a 501(c)3 like Film Streams.
She was the point of contact for all things related to the membership program, which included member acquisition and retention activities, outgoing communications, and managing the membership database.
"What I learned in my coursework prepped me for the reality of how a 501(c)3 operates within the larger scheme of the public sector and just how unique nonprofits are within our society. That job prepared me to go on with my doctorate by realizing how much of the position I enjoyed was doing research, writing of relative membership items and also the collaborating with other organizations or entities. These were things that are inherent to the life of a doctoral student and university instructor," RedWing said.
Throughout her time at UNO, RedWing has built on her innate drive to get involved and to serve. As board member for Mode Shift Omaha, RedWing helps the grassroots organization work to create multimodal levels of transportation. "I think we should always look to have better systems put in place -- through our policies and by making sure people at the city are held accountable -- for what decisions are being made when it comes to roadways, walkways, the busing system, biking trails, and the safety and health of people," she said.
She also serves on the UNO Chancellor's Native American Advisory Council at UNO where she advocates for Native American perspectives. Redwing sees UNO as a community within the larger community of Omaha. Both have Native American communities that need representation. "Representing the Native community with the UNO community and the Omaha community is something that I want to keep doing. I'm really appreciative that I have been asked to be on the council," she said.
In setting out to pursue her doctorate, RedWing explored universities and came back to UNO for that balance between research and service. "There's such a strong connection to community engagement, service and service learning at UNO, which are things that are really important," she said. She expects her research to help fill in knowledge gaps around indigenous issues. Data can lead to funding for tribal needs and strengthen indigenous sovereignty, she said.
In choosing to begin her next chapter at UNO, RedWing continues to build on her interests and deepen her connection to her indigenous heritage. "I feel like it's really inclusive to people of different backgrounds. They really try to bring people in from different walks of life but also try to retain students who might be considered nontraditional," she said. "There's a lot of collaboration that I see on campus between different departments, between people. I think it's a good place."
About 'I Am the ROI'
'I Am the ROI' introduces you to alumni whose return on their investment in a UNO education goes far beyond career opportunities. UNO brought out the best in these leaders, change makers and innovators who are making a difference in our communities and enriching our quality of life.
This is a joint storytelling effort by UNO's Office of University Communications and the UNO Alumni Association.
About the University of Nebraska at Omaha
Located in one of America's best cities to live, work and learn, the University of Nebraska at Omaha (UNO) is Nebraska's premier metropolitan university. With more than 15,000 students enrolled in 200-plus programs of study, UNO is recognized nationally for its online education, graduate education, military friendliness and community engagement efforts. Founded in 1908, UNO has served learners of all backgrounds for more than 100 years and is dedicated to another century of excellence both in the classroom and in the community.
Follow UNO on Facebook, Twitter, Instagram, TikTok, LinkedIn, and YouTube.