Joanne Li Candidate Profile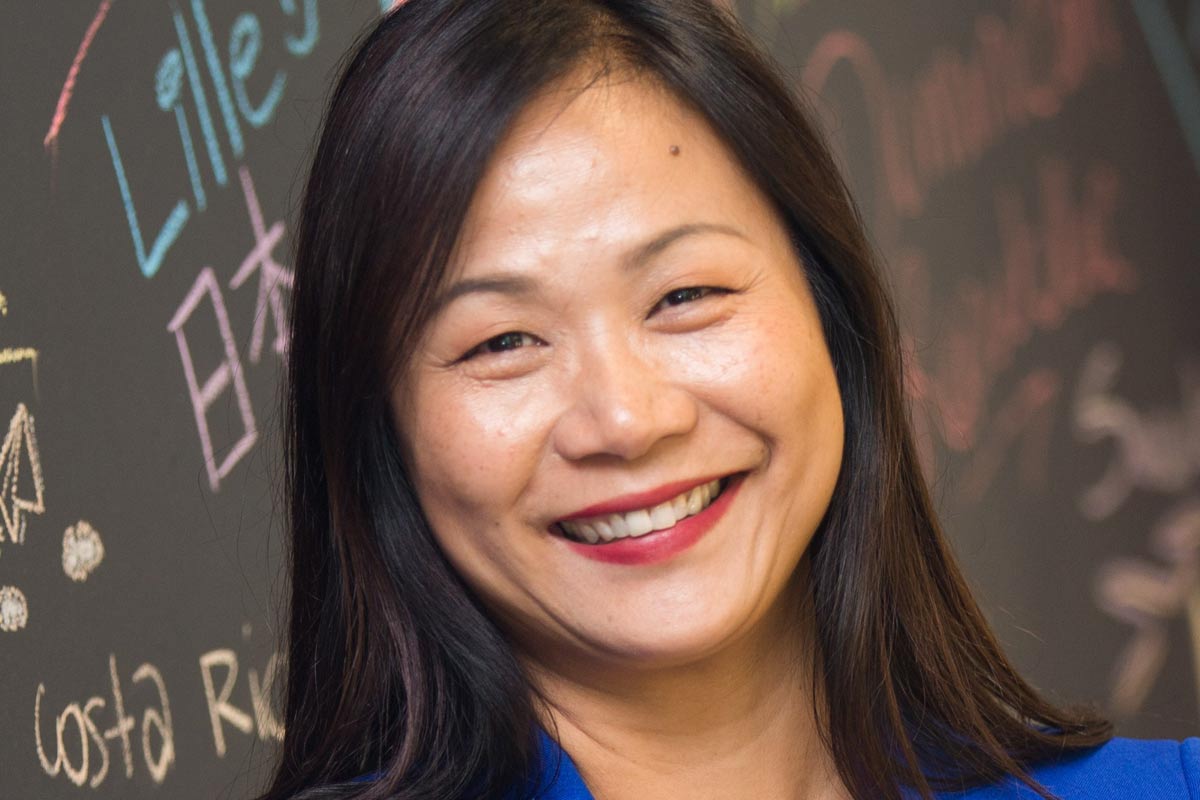 Update | May 1, 2021:
In a historic appointment, the University of Nebraska Board of Regents unanimously confirmed Joanne Li, Ph.D., CFA, as the 16th chancellor of the University of Nebraska at Omaha (UNO) during a Board of Regents meeting on May 1, 2021.
---
On March 31, 2021, University of Nebraska System President Ted Carter announced that following a national search, he has named Joanne Li, Ph.D., CFA, as the priority candidate to serve as the next chancellor of the University of Nebraska at Omaha.
Li is currently the dean, professor of finance and Ryder Eminent Scholar Chair in Business in the College of Business at Florida International University, a Research I institution and the nation's fourth-largest public university. A first-generation college student who went on to graduate summa cum laude, Li brings 15 years of progressive leadership experience in higher education, with a demonstrated record of advancing student access and success, diversity and inclusion, academic excellence, and community and donor engagement.
Among Li's accomplishments include:
When Li became dean of FIU's College of Business in 2017, the college's four-year graduation rate was about 29 percent. Following an expansion of student mentoring programs and other student success efforts, the college's four-year graduation rate is projected to be 70 percent in 2021.


Already the largest business school in Florida with a student population of 11,000, an $82 million budget and a workforce of 170 faculty and 160 staff, FIU's College of Business is experiencing growth, with an average 20 percent year-over-year growth in its Chapman Graduate School.


The FIU College of Business is ranked among the nation's best in a broad swath of categories, including a No. 2 ranking by U.S. News & World Report for its undergraduate international business program, a No. 3 ranking for its international MBA, and top-tier rankings for its online MBA concentrations in marketing, finance, general management and business analytics. FIU is the largest producer of MBAs in the nation. The college is also ranked. No. 1 in the world in real estate research productivity by the Journal of Real Estate Research, tied with the National University of Singapore.


During Li's tenure as dean, the FIU College of Business has hired 40 faculty, 25 of whom are minorities and 12 of whom are women. The number of Black staff in the college has grown 20 percent, and minority representation on the dean's student advisory board has increased 15 percent. Li is the outgoing president of the Council of Chinese American Deans and Presidents and in that role has authored white papers on strategies for increasing diversity that have been shared with other universities across the country.


Li has brought greater fiscal stability to the college, launching a comprehensive, collaborative review of the college's finances, structures and market opportunities that included the introduction of an online format for 11 of its graduate programs and a Doctor of Business Administration. Reserves have grown from $3 million when Li became dean to $18 million today.


Li is a successful fundraiser, having set two fundraising records for the FIU College of Business during her tenure. The college is poised to set another record this year, with major gifts supporting student scholarships, economic development, and diversity and inclusion. Giving during her deanship has totaled $12.5 million.


Li is highly engaged in the community, serving on the board of the Greater Miami Chamber of Commerce and partnering on community economic development efforts. The FIU College of Business' Small Business Development Center supports local businesses and entrepreneurs, and an "Innovation Hub" created by the college brings together industry professionals from across the community to develop career paths for students.


Additional Resources
Joanne Li, Ph.D., CFA Curriculum Vitae
Application Letter (PDF)
A Letter from NU President Ted Carter
Attend Listening Sessions
Upcoming listening sessions will be available in-person and via Zoom.
Provide Feedback
Any member of the UNO campus community, or public, are invited to provide feedback at any time during the 30-day review period directly to NU President Carter by emailing president@nebraska.edu. Feedback may also be submitted using this feedback form.
About the University of Nebraska at Omaha
Located in one of America's best cities to live, work and learn, the University of Nebraska at Omaha (UNO) is Nebraska's premier metropolitan university. With more than 15,000 students enrolled in 200-plus programs of study, UNO is recognized nationally for its online education, graduate education, military friendliness and community engagement efforts. Founded in 1908, UNO has served learners of all backgrounds for more than 100 years and is dedicated to another century of excellence both in the classroom and in the community.
Follow UNO on Facebook, Twitter, Instagram, TikTok, LinkedIn, and YouTube. 
Contact Us
If you have a story idea, news tip, or other question, please email the UNO News team at unonews@unomaha.edu.