Joanne Li Confirmed as UNO Chancellor; Will Assume Role July 1
In a historic appointment, the University of Nebraska Board of Regents today unanimously confirmed Joanne Li, Ph.D., CFA, as the 16th chancellor of the University of Nebraska at Omaha.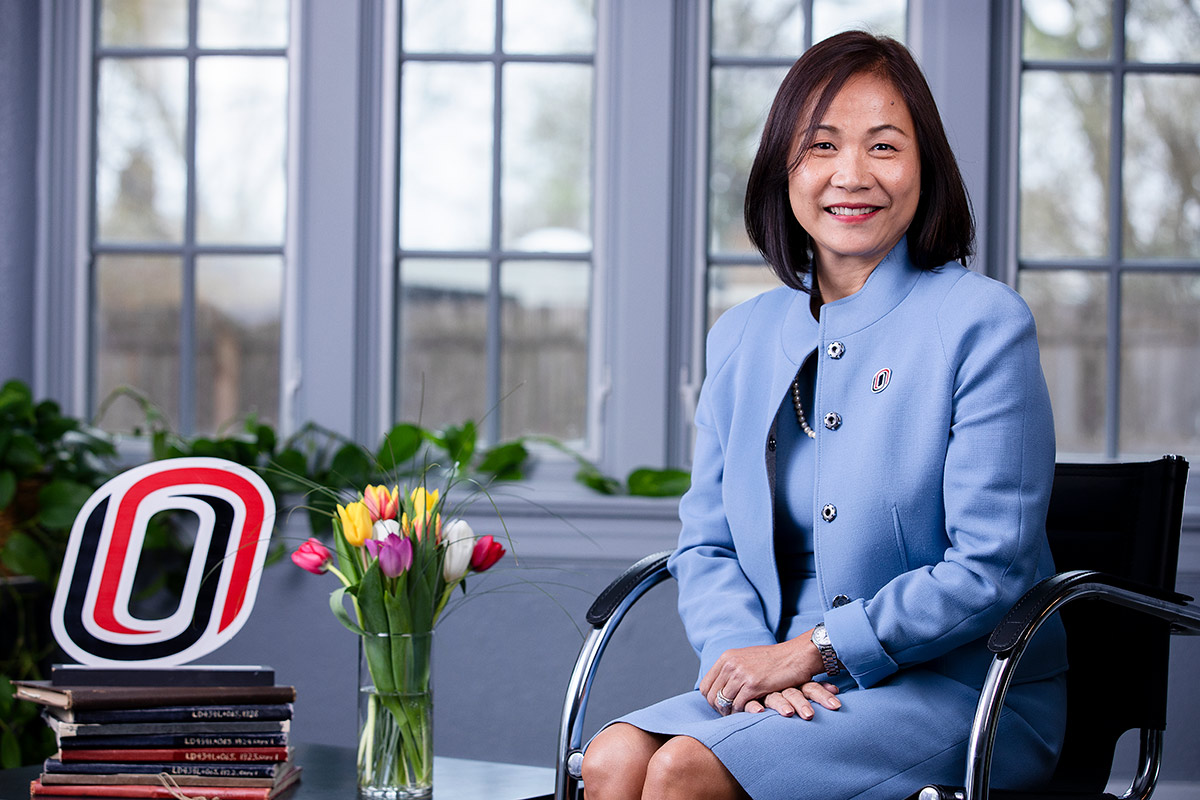 Joanne Li, Ph.D., CFA
In a historic appointment, the University of Nebraska Board of Regents today unanimously confirmed Joanne Li, Ph.D., CFA, as the 16th chancellor of the University of Nebraska at Omaha.
Li, currently the dean of the College of Business at Florida International University, will begin transition work as UNO chancellor-elect on June 1, 2021, and will assume the role of chancellor on July 1. She will become the first woman of color to serve as UNO chancellor and the first Asian-American in the history of the University of Nebraska system to hold an executive leadership role.
The Board's action follows a national search that resulted in NU System President Ted Carter's selection of Li as the priority candidate for UNO chancellor. Her candidacy then underwent a 30-day public vetting period during which Li engaged with 600-plus UNO students, faculty, staff, alumni and stakeholders to answer their questions and share her vision for Nebraska's metropolitan university.
"The heart of any university are its people. As I've gotten to know the people who make UNO such a wonderfully vibrant and diverse place, I've only become more excited about our potential to become the nation's leading metropolitan university," Li said. "I'm humbled that so many individuals took time to share their thoughts with me on what it means to be a Maverick"
"My first task is to continue listening and learning. Then, together, we'll work to turn our ideas into actions that create even more opportunities for students and families, deepen our connections to our community, and grow the economic and social well-being for Omaha and Nebraska for generations to come. Let's hit the ground running together."
Carter thanked the 14-member advisory committee that guided the chancellor search, as well as the hundreds of UNO stakeholders who attended listening sessions, provided input on the qualities the university should seek in the next chancellor, met with Li and shared feedback on her candidacy.
Based on feedback submitted to him, Li's relentless focus on students and her deep connection to the mission of public higher education resonated with the UNO community, Carter said.
"I am thrilled that we are bringing someone of Dr. Li's caliber to Nebraska," Carter said. "Jo, as we now know her, is the right person to continue the impressive momentum that UNO faculty, staff and students have built.
"Her resume alone is impressive. But more than that, Jo knows how higher education can change a student's life. She has spent her career creating opportunities for students, and now she will bring that same student-focused leadership to UNO. This is an exciting new chapter for the University of Nebraska at Omaha."
In addition to serving as dean, Li also is professor of finance and Ryder Eminent Scholar Chair in Business at Florida International University, the nation's fourth-largest public university. A first-generation college student who went on to graduate summa cum laude, Li will bring to UNO 15 years of progressive leadership experience in higher education. She has a demonstrated record in improving student outcomes, growing enrollment and programs, enhancing diversity and inclusion, fundraising and building community partnerships.
Li holds bachelor's and doctoral degrees in finance from Florida State University. She has previously served at Wright State University, Towson University and Loyola University of Maryland.
Li will succeed current UNO Chancellor Jeffrey P. Gold, M.D., who is stepping down from his UNO role and assuming the role of executive vice president and provost of the NU system. Gold will continue to serve as chancellor of the University of Nebraska Medical Center.
Comments on Li's Confirmation
Sacha Kopp, Ph.D., Senior Vice Chancellor for Academic Affairs
"I congratulate Dr. Joanne Li on her appointment to lead the University of Nebraska at Omaha in the next chapter of its history. Dr. Li's experiences leading a college in a metropolitan setting with a focus on community engagement, as well as her own experiences as a first-generation college student, make her an excellent fit to lead this premier institution. I look forward to her leadership in this new era at UNO and working together to further UNO's mission to transform and improve the quality of life locally, nationally, and globally through access to an exceptional education. I would like to also thank Chancellor Gold for his leadership in helping this institution achieve new heights, even among a global pandemic, and wish him the best in his new role with the University of Nebraska System."
Dan Shipp, Ed.D., Vice Chancellor for Student Success and Enrollment Management
"Our campus is excited for Dr. Li to join the Maverick family! Her background and relentless focus on student success make her a perfect choice to lead UNO at this critical moment in our institution's history."
Makayla McMorris, Executive Director, UNO Office of University Communications
"This is an exciting time to be a Maverick! Dr. Li brings a wealth of experience and a vision that will be tremendously beneficial to the university and the state of Nebraska. I have heard nothing but overwhelming support and approval from the campus and the community, which matches my enthusiasm for her appointment! From a marketing and communication standpoint, I am thrilled about what she brings to the university and I look forward to working, learning, and advancing the mission of the university under her leadership."
Elliott Ostler, Ph.D., UNO Faculty Senate President
"The Faculty Senate was very impressed with the energy and overall presence of Dr. Li. We felt she demonstrate a broad spectrum of outstanding qualities that will be ideal in supporting what UNO already does well while bringing new energy and vision to the integrated UNO/Omaha community partnership we want to continue to develop. The feedback we received from Faculty Senators was extremely, and overwhelmingly, positive and she left us feeling confident that UNO will be aptly guided into the future. Dr. Li demonstrated an understanding of the special relationship that a metropolitan institution shares with its host community and is eager grow with us as we explore new opportunities in our community and beyond. I am confident that she will continue the great tradition of academic and research support while expanding the richness of diversity in our students, staff, faculty and community through a strong commitment to the campus, to the community, to shared governance processes, and in particular, to our students' overall success."
Vanessa Hatfield-Reeker, UNO Staff Advisory Council President
"On behalf of the UNO Staff Advisory Council at UNO, I congratulate Dr. Joanne Li on her appointment as Chancellor of the University of Nebraska at Omaha. The UNO staff are excited to welcome Dr. Li to our campus and work alongside her to continue making this university such a wonderful place to work and study. Throughout the listening sessions, it was apparent that Dr. Li understands the importance and value of staff to the campus mission. The Staff Advisory Council has ambitious goals for the coming years and looks forward to partnering with her to achieve them."
Maeve Hemmer, UNO Student Body President and Student Regent
"Our community has shown great enthusiasm and support for the appointment of Dr. Joanne Li as the next UNO chancellor. Dr. Li's life experiences, as a woman of color, first generation college student, and an immigrant to the United States, parallel that of many Maverick students which will position her well to serve the UNO student body. Her student-centered approach to graduating global leaders will continue UNO's commitment to being an exceptional place to gain a higher education. We look forward to officially welcoming her to campus this summer and partnering with her to advance the student experience."
About the University of Nebraska System
The University of Nebraska is the state's only public university system, made up of four campuses – UNL, UNO, UNK and UNMC – each with a distinct role and mission. Together the campuses enroll more than 50,000 students and employ 16,000 faculty and staff who serve the state, nation and world through education, research and outreach. For more information and news from the University of Nebraska, visit www.nebraska.edu/news.
About the University of Nebraska at Omaha
Located in one of America's best cities to live, work and learn, the University of Nebraska at Omaha (UNO) is Nebraska's premier metropolitan university. With more than 15,000 students enrolled in 200-plus programs of study, UNO is recognized nationally for its online education, graduate education, military friendliness and community engagement efforts. Founded in 1908, UNO has served learners of all backgrounds for more than 100 years and is dedicated to another century of excellence both in the classroom and in the community.
Follow UNO on Facebook, Twitter, Instagram, TikTok, LinkedIn, and YouTube.