Over 1,800 to Receive Degrees from UNO in Spring 2023
In May 2023, 1,863 students are expected to complete their academic journey at UNO.
published: 2023/05/16
contact: Editorial and Media Relations - Office of Strategic Marketing and Communications
email: unonews@unomaha.edu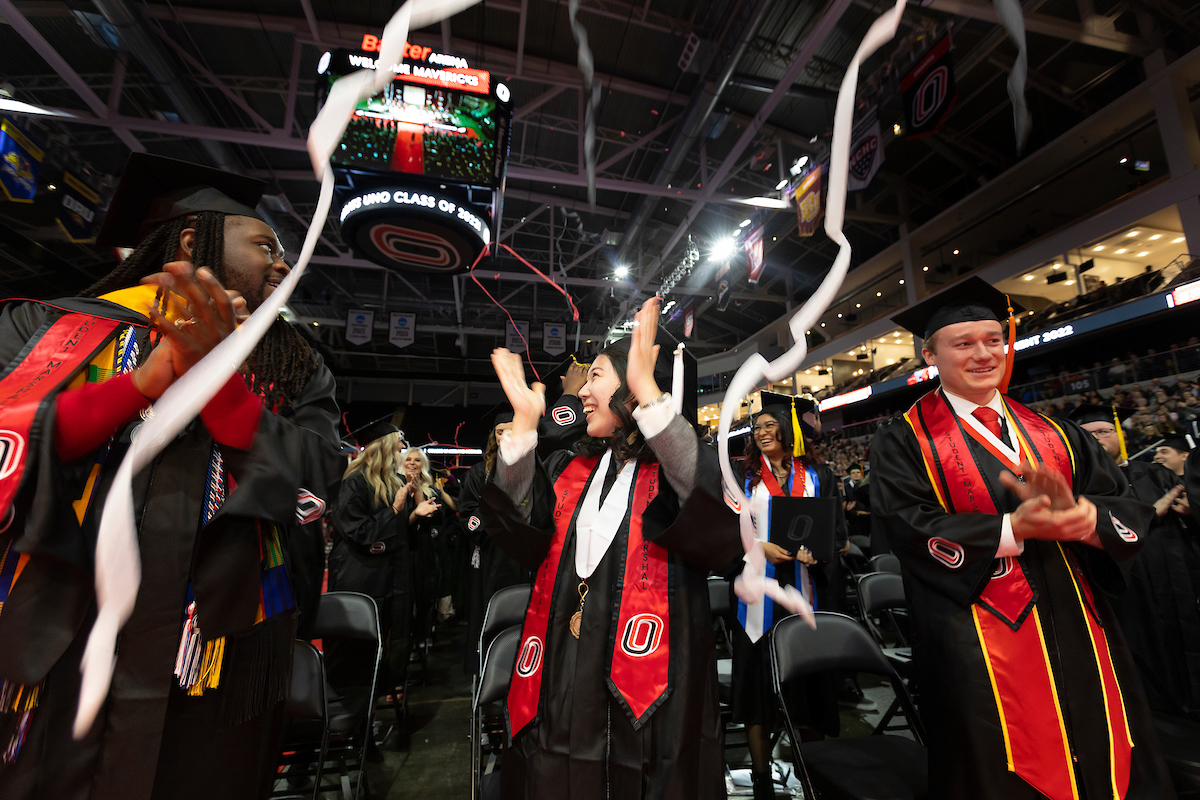 Graduates celebrate as streamers soar through the air at UNO's Fall 2022 commencement ceremonies held in December.
The University of Nebraska at Omaha (UNO) will celebrate its newest alumni as graduates receive their degrees at the May 2023 commencement ceremonies. Degrees will be conferred to graduates in two ceremonies to be held on Friday, May 19 at UNO's Baxter Arena. UNO Chancellor Joanne Li, Ph.D., CFA will preside over both ceremonies.
In May 2023, 1,863 students are expected to complete their academic journey at UNO. The university's Spring 2023 commencement ceremonies will celebrate the accomplishments of 1,656 students, including 176 students who expect to graduate in August. Students graduating in August 2023 have the option to participate in either May or December 2023 ceremonies.
A full schedule of the day's events and helpful information for attendees can be found at commencement.unomaha.edu.
May 2023 Commencement Schedule
The morning ceremony, beginning at 9 A.M., will honor graduates from the following colleges:
College of Arts and Sciences
College of Education, Health, and Human Sciences
UNL College of Engineering
The morning ceremony will feature keynote speaker General Anthony J. Cotton, commander for United States Strategic Command (USSTRATCOM) at Offutt Air Force Base.
The afternoon ceremony, beginning at 2 P.M., will honor graduates from the following colleges:
College of Business Administration
College of Public Affairs and Community Service
College of Information Science & Technology
College of Communication, Fine Arts and Media
The afternoon ceremony will feature keynote speaker Chuck Hagel, former U.S. Secretary of Defense.
Graduate students will walk with their respective colleges.
Doors open approximately one hour before the beginning of each ceremony. Graduates should arrive no later than 30 minutes prior to the beginning of their college's respective ceremony to check in and be seated. The ceremonies will be open to the public allowing family and friends to celebrate with graduates. No tickets are required to attend. Graduates and their guests are asked to stay for the entire ceremony out of respect for all other graduates.
The ceremonies will be streamed live at commencement.unomaha.edu and available for future viewing on demand.
Keynote Speakers
General Anthony J. Cotton
The commander for the United States Strategic Command (USSTRATCOM) at Offutt Air Force Base will be the keynote speaker for the A.M. ceremony.
General Cotton is the commander, United States Strategic Command (USSTRATCOM), Offutt Air Force Base, Nebraska. He is responsible for one of 11 Unified Commands under the Department of Defense. USSTRATCOM is responsible for strategic deterrence, nuclear operations, global strike, missile defense, joint electromagnetic spectrum operations, analysis and targeting, and missile threat assessment. USSTRATCOM is comprised of 150,000 Soldiers, Sailors, Airmen, Marines, Guardians, and civilians who operate globally performing the command's missions. The command also provides the Secretary of Defense and President a range of options to deter adversaries and assure allies. General Cotton entered the Air Force through the ROTC program in 1986 where he earned a bachelor's degree in political science from North Carolina State University. He has commanded at the squadron, group, wing, and major command levels. He has served as the Vice Commander and Commander of the 341st Missile Wing, Commander of the 45th Space Wing, Director of the Eastern Range, Patrick AFB, Florida, Deputy Director of the National Reconnaissance Office, Commander 20th Air Force, Commander and President of Air University, as well as Deputy Commander Air Force Global Strike Command. Prior to his current assignment, General Cotton served as the Commander, Air Force Global Strike Command and Commander, Air Forces Strategic – Air, USSTRATCOM, Barksdale Air Force Base, Louisiana.
Chuck Hagel
The former Secretary of Defense and U.S. Senator, and UNO alumni, will be the keynote speaker for the P.M. ceremony.
Hagel was the 24th Secretary of Defense, serving from February 2013 to February 2015. Hagel served two terms in the United States Senate (1997-2009) representing the state of Nebraska. He served in varying capacities on committees and subcommittees focused on areas including international relations, foreign trade, climate change, economic policy, intelligence, and more. Hagel is a graduate of the University of Nebraska at Omaha and returns to UNO's campus biannually to host events that bring global leaders and policy to UNO's campus and to inspire young students to pursue public service.
Student Speakers
DérNecia Phillips, Ed.D.
Phillips will be the student speaker for the A.M. ceremony.
Dr. Phillips is a champion for education, students, and the community. She is a doctoral student in the Educational Leadership Department, earning her doctorate in education and superintendent's endorsement. An Omaha native, she completed her undergraduate studies at Creighton University and graduate degrees in elementary education and educational administration and supervision at UNO. Phillips serves as an advocate in the community as a thought partner, mentor, and volunteer. She has worked as a teacher, instructional facilitator, assistant principal, principal, and education consultant. As a 2023 Phi Delta Kappa International Emerging Leaders Fellow, she was selected to work with a cohort of nine other fellows to address national issues in education. Phillips says her favorite part of UNO has been the supportive people and the innovative programs. She is especially proud of her participation in the UNO CADRE program, returning as a CADRE associate 15 years later to serve as a mentor to novice teachers. After graduation, she will explore opportunities with the university as well as continue her community activism at the intersection of education and social justice. She is excited to expand her impact supporting schools and leaders through her education consulting business, DAL Education & Care Solutions.
Zander Gibney
Gibney will be the student speaker for the P.M. ceremony.
Gibney (he/him) is receiving a Bachelor of Science degree in IT innovation with minors in theatre and screenwriting. Gibney is a recipient of the Walter Scott Jr. Scholarship and the University Honors Program Distinguished Scholarship. He gave campus tours, redesigned Nebraska Medicine's discharge instruction process for non-English-speaking patients, starred in the theatre department's productions of Macbeth, Into the Woods, and many other shows. For his senior capstone project, he developed an improv storytelling game called "And Scene" that has undergone many successful play tests with hope of becoming a full product someday soon. He is honored by the awards he is receiving at graduation, and to be speaking at commencement to help his fellow graduates embrace the importance of kindness and earnestness in everything they do as Mavericks as they step forward into the next phase of life. After graduation, Gibney is continuing his education by pursuing a Master of Fine Arts degree in acting at the Royal Birmingham Conservatoire in Birmingham, England.
Special Recognitions
Recognitions awarded at the May 2023 commencement ceremonies include the Chancellor's Medal, two Honorary Degrees, the Order of the Tower, and the Alumni Achievement Award.
The Chancellor's Medal and honorary degrees will be awarded at the 9 A.M. ceremony. The Order of the Tower and the Alumni Achievement Award will be awarded at the 2 P.M. ceremony.
The Chancellor's Medal
The medal will be awarded to Nancy Edick, Ed.D.
Edick serves as the dean of the College of Education, Health, and Human Sciences at the University of Nebraska at Omaha (UNO) She was the founding director for Career Advancement and Development for Recruits and Experienced teachers (CADRE), a nationally recognized Christa McAuliffe Award-winning teacher preparation program. She served as executive director of the Metropolitan Omaha Education Consortium (MOEC) and as a faculty member in the Teacher Education Department. Prior to joining UNO, Edick was a classroom teacher for Omaha Public Schools. Edick is also the inaugural recipient of the Lois G. Roskens Deanship and the first woman to serve as a college dean at UNO. Edick's commitment to the community is demonstrated through her work with child-serving organizations, most currently as an advisory board member for Completely KIDS and Kids Can, a board member of Project Harmony, a member of the Buffett Early Childhood Institute's Nebraska Early Childhood Workforce Commission and a member of the United Way Women's Leadership Committee. She and her husband Bob have three children and are also blessed with five grandchildren who bring them immeasurable joy.
Honorary Degrees
The honorary degrees will be awarded to Chuck Hagel and Mildred Brown.
Chuck Hagel
Hagel will receive an honorary Doctor of Law in recognition of his commitment to the university and longstanding career in public service. His full biography is listed above in the keynote speakers section.
Mildred Brown
Brown (1905-1989) left an indelible mark on the history of North Omaha and the Midwest. She was a journalist and businesswoman and co-founder and co-operator of the Omaha Star, a newspaper dedicated to the African-American community. After divorcing her husband in 1943, Brown took charge of the business, turning it into the sole African- American newspaper in Nebraska by 1945. She was also a key figure in the civil rights movement of the 1960s in Omaha. Through the Omaha Star, she raised awareness of civil rights issues and fought against housing discrimination by refusing to sell advertisements to discriminatory businesses. She was appointed as a goodwill ambassador to East Germany by President Lyndon Johnson. Brown's exceptional achievements also earned her a place in the Omaha Business Hall of Fame, making her one of only three women to be inducted. She was inducted into the Nebraska Journalism Hall of Fame in 2007 and the Omaha Press Club Journalism of Excellence Hall of Fame in 2008. The Omaha Star, which is believed to be one of the few American newspapers founded by a black woman, was also acknowledged for its historical significance when the Omaha Star Building was added to the National Register of Historic Places in 2007.
The Order of the Tower
The award will be given to Rodrigo and Mary López.
Rodrigo and Mary López have a long history of community service in Omaha, having served on numerous non-profit boards and have been appointed to several public service boards and commissions. They were honored in 2022 by the UNO College of Public Affairs and Community Service (CPACS) with the Hubert Locke Distinguished Service Award. Mary was Career Services Director for the UNO School of Public Administration, and now, is president of AmeriSphere Companies. She serves on the Munroe Meyer Institute, Omaha Public Library Foundation, and Kids Can Advisory Councils. Rodrigo is chairman of AmeriSphere Companies and serves on the Boards of Directors of Mutual of Omaha Insurance Company, Omaha Performing Arts, and The Durham Museum. They have been long-time donors and volunteers for the University of Nebraska System. Rodrigo was a member of NU Foundation Board of Directors, and Mary served on the Trustee Engagement Committee. Mary received master's degrees from the College of Education and the School of Public Administration. Rodrigo is a graduate of the EMBA program and also chairs CBA's National Advisory Board and serves on the Chancellor's Hispanic Advisory Council. Mary serves on the UNO Chancellor's Internship Advisory Board and a number of committees related to the School of Public Administration. They have established scholarship and leadership funds at UNO to provide students with financial support.
The Alumni Achievement Award
The award will be given to Praveen Neppalli Naga.
Praveen Neppalli Naga grew up in southern India and moved to the U.S. in 2002. He earned his master's degree in computer science in 2005 from the University of Nebraska at Omaha (UNO). He has worked at BHMI, Bank of America, and eventually moved to LinkedIn, where he spent seven years building the company's early products and data infrastructure. Naga joined Uber in 2015, starting as a senior engineering manager and currently serves as vice president of engineering. He leads the global Mobility and Enterprise. business which is focused on giving the best experience for the riders while building a platform for drivers and couriers to earn flexibly. He is a strong advocate for employees and believes in setting the standard for engineering excellence. He is an executive sponsor for the Women Employee Resource Group at Uber and is a dedicated mentor helping employees learn and grow. He is a proud parent of a special needs child and is passionate about helping other parents with special needs children. He lives in Silicon Valley with his wife, Anusha, and two sons.