New Dining Services Contract to Bring National Brands to UNO
published: 2023/01/07
contact: Brandon Bartling - Office of Strategic Marketing and Communications
email: unonews@unomaha.edu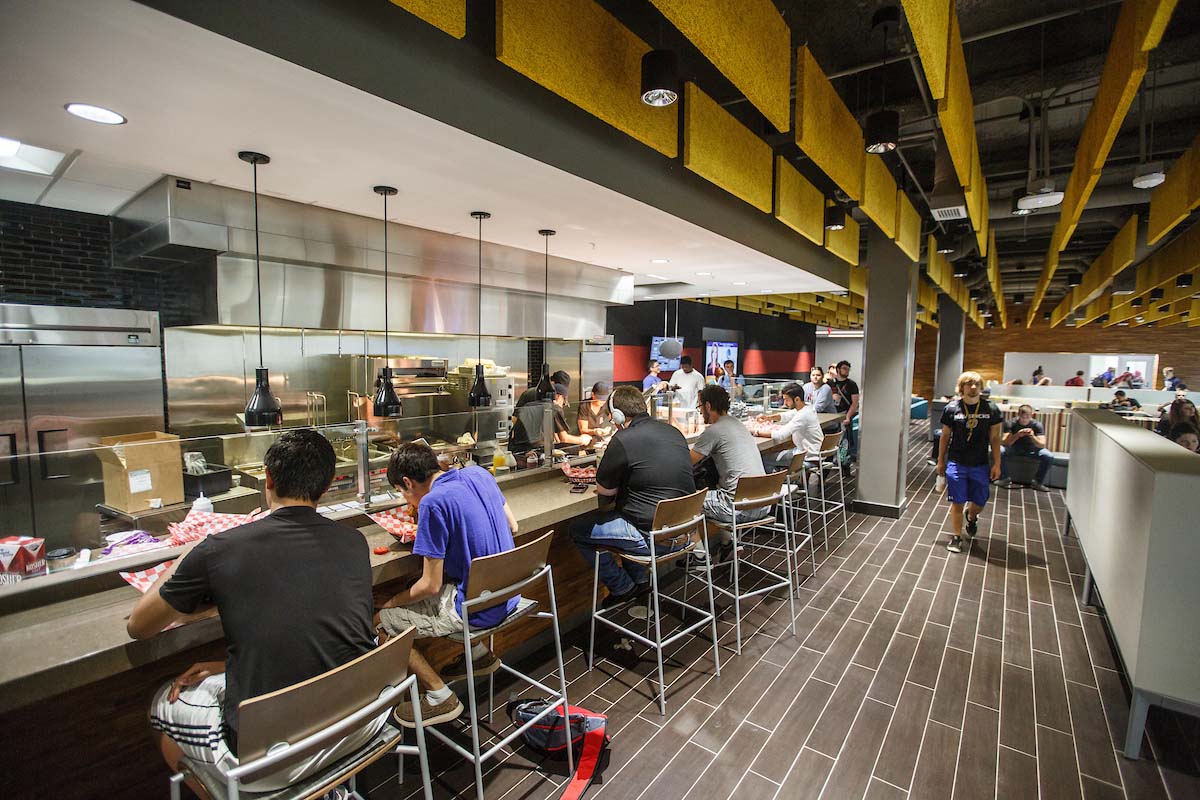 The current Durango Grill located in the Milo Bail Student Center on UNO's Dodge Campus.
Update (Jan. 30):
Several new dining options are now available in the Milo Bail Student Center food court area, including:
Slices: serving fresh baked pizza and breadsticks
Twists: serving choices of pasta, sauces, proteins, and breadsticks
Mixed: serving hand-tossed salad with lots of fresh choices
Taqueria: serving freshly made tacos and bowls
Hissho Sushi and Mein Bowl: returning campus favorites serving Asian hot food dishes and sushi rolls
Simply To-Go: serving made daily sandwiches, salads, fruit cups, and yogurt for those on the go
These transitionary options are now open until permanent offerings, including those listed below, are completed and opened over time.
---
Original Article (Jan. 7)
Queso burritos, Frappuccinos, waffle fries, and expanded dietary options will be served on campus at the University of Nebraska at Omaha (UNO) through a new dining services contract with Sodexo, which was approved in early December by the University of Nebraska Board of Regents.
Starbucks, Qdoba, and Chick-fil-A are among the proposed retail dining options contained in the approved contract for UNO's Dodge campus. Existing food offerings in the Milo Bail Student Center Food Court will be reimagined with proposed dining options that include:
Tres Habeneros, a Mexican food concept
Erbert and Gerbert's, a deli concept
Slices, a pizza, calzone and stromboli concept
Farmer's Field, a salad concept
Mein Bowl by Hissho Sushi, an Asian fusion concept
Durango Grill, a burger concept
Krispy Krunchy Chicken will continue to operate in the Maverick Den during the transition, and the Maverick Den convenience store will continue to provide grab and go food and beverage options, including Hardy Coffee.
When fully implemented, the new food service partnership also envisions menu items supportive of special diets such as allergen-free, healthy, international, gluten-free, vegan and vegetarian. Additional information on openings and product offerings will be shared as they become available. Changes to UNO's Dodge campus dining options are anticipated to begin during the Spring 2023 semester and continue through 2024.