Writing His Way: Overcoming the Pandemic
December 2022 College of Information Science & Technology graduate Justin Rathbone leaned on his passion for creativity and UNO's culture of student support to transform his future.
published: 2022/12/17
contact: Sam Peshek - Office of Strategic Marketing and Communications
email: unonews@unomaha.edu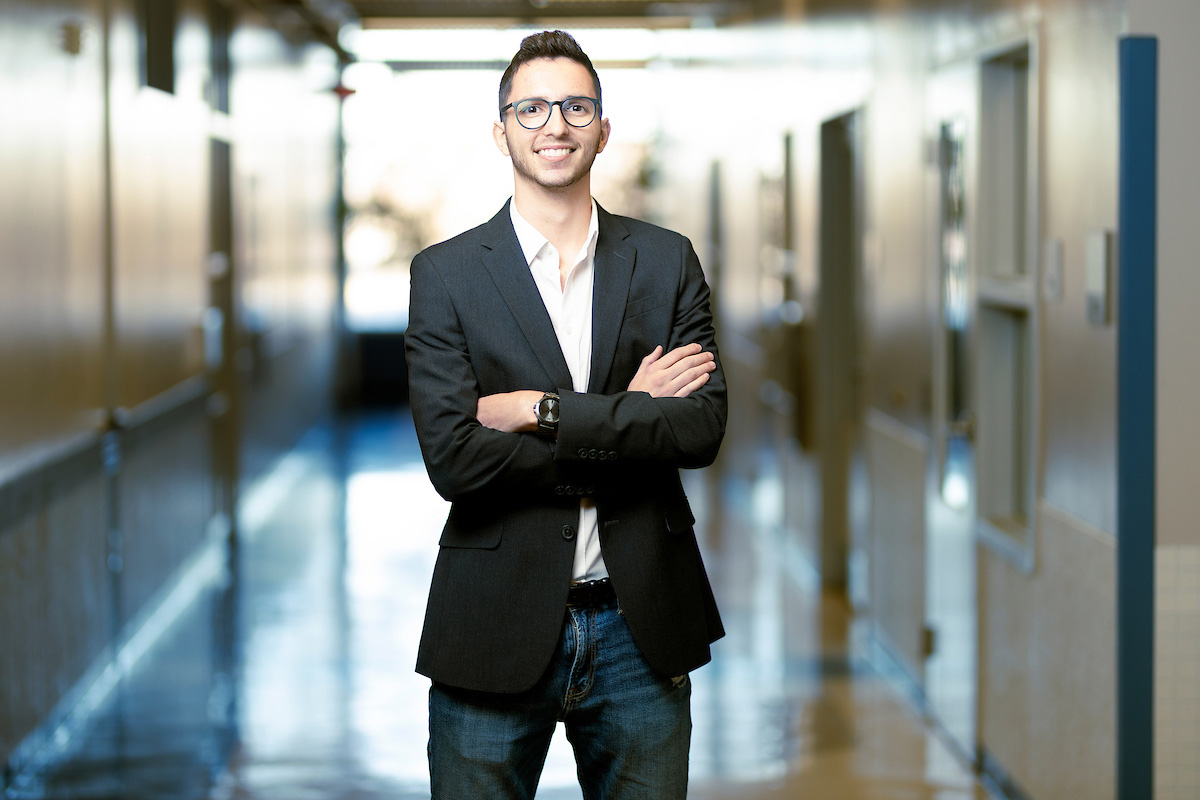 Justin Rathbone
Creating is part of Justin Rathbone's DNA.
It was in the eighth grade when the Waverly native's passion for creativity intersected with his knack for writing code and led him to create computer programs and games. Those twin interests helped propel him to become a graduate from the College of Information Science & Technology (IS&T) with a degree in computer science and sights set on a career in software engineering.
But life – much like creative pursuits – are never simple or linear. In 2020, Rathbone was one of many students across the country who struggled with their wellness during the height of the pandemic.
"My problems aren't special or unique, there were so many people during the pandemic who were struggling with their mental health," Rathbone said.
The semesters that followed were defined by time spent alone in his room, nervous and fearful of opening up to the world outside. It wasn't until his father had a stroke and a relationship ended that he decided to make changes – changes that were achieved by getting out of his comfort zone and utilizing a network of support and resources available on UNO's campus.
He started by getting out of his comfort zone and took a flight to New York City, thrusting himself into one of the most crowded places on Earth. He went to therapy to support his mental health and shared his challenges and triumphs on his YouTube page. Being able to reconnect on campus also proved vital.
"Being able to work out at the wellness center with my friends really helped me feel like a college student when I had all those online classes," Rathbone said.
No matter what variables life threw at him, or which direction he was pulled, the supportive culture in IS&T served as a constant.
"People just have an overwhelmingly positive energy and a desire to learn," Rathbone said. "It's just infectious. When you walk into the building, there's never a time when I've walked into [the Peter Kiewit Institute] and thought people aren't happy to be here."
One important source of positivity and good energy was in an online Calculus II class with Nicholas Kass, Ph.D. During live, virtual lectures, Rathbone said Kass made it a point to ensure each class was engaging and that students were able to find the support and social connections they needed to thrive in a virtual setting.
During the height of the pandemic, Kass said it was finding the best aspects of teaching in-person and replicating it for an online environment that made a difference. When he made the effort to be fully engaged, students, including Rathbone, responded.
"If you show up for a class in person or remote, be entirely present and entirely there," Kass advised.  "That certainly described [Justin] from every interaction I had.  I think he really put his best foot forward in every class and was always happy to be there.  It makes a fun experience for everybody."
Outside of the classroom and off UNO's campus, the college helped connect him with area companies and internship opportunities as early as his freshman year. He often jokes that at 18-years-old, he was able to work for a major corporation, but unable to use the building's fitness center because he wasn't 19-years-old.
This real-world experience was all made possible by his time as a Maverick.
"UNO and the College of IS&T is a place that you will never not belong," Rathbone said. "There's always a place for everybody. There are career opportunities everywhere. Whatever you want to major in, there's always something there for students."
His walk across the stage on Friday during commencement ceremonies in the company of his friends and loved ones – including his father, who made a full recovery – will mark an end to a college career of overcoming obstacles and building for his future, and the beginning of a career he loves. If he wants his classmates and future Mavericks to learn anything, it's that they have the same opportunities to create the life they want for themselves.
"The fact that I was able to write my own way through this difficult storm," he said. "I hope I can inspire other people."