Celebrating August 2022 UNO Graduates
More than 550 Mavericks from 27 countries and eight states received degrees during Summer Commencement ceremonies Friday at Baxter Arena.
published: 2022/08/13
contact: Office of Strategic Marketing and Communications
email: unonews@unomaha.edu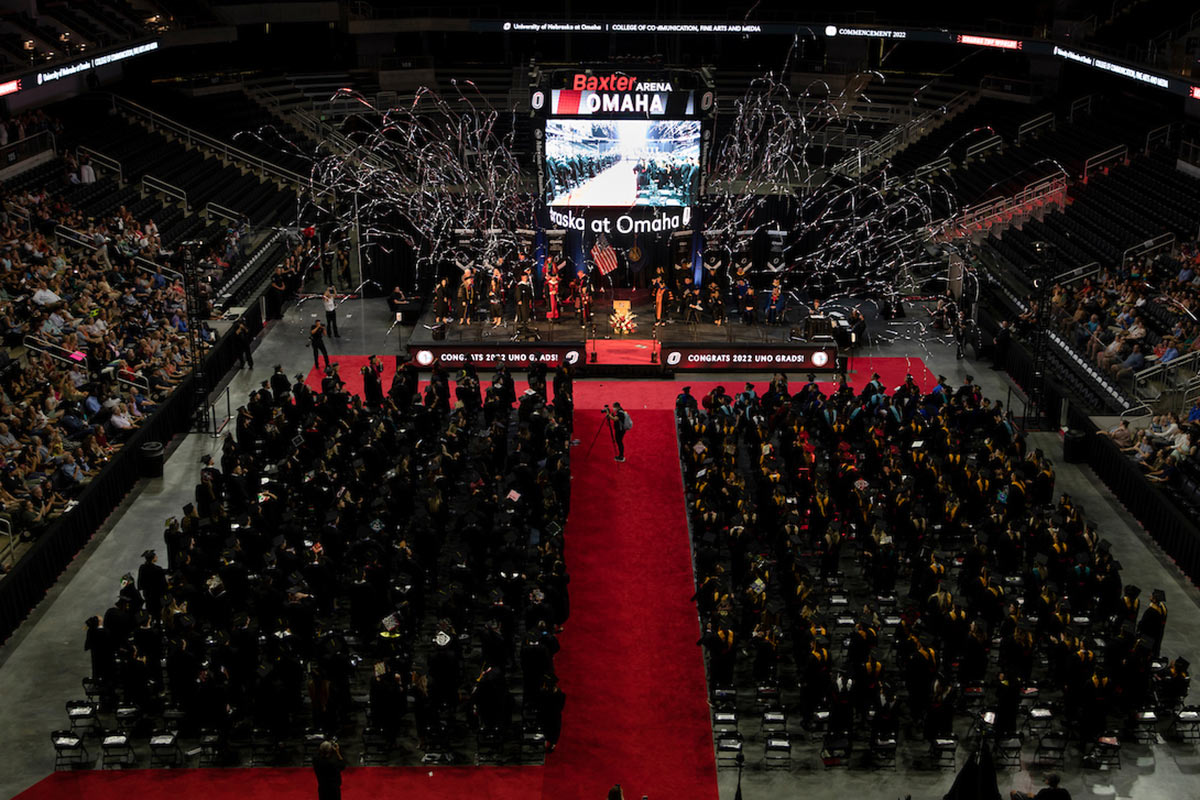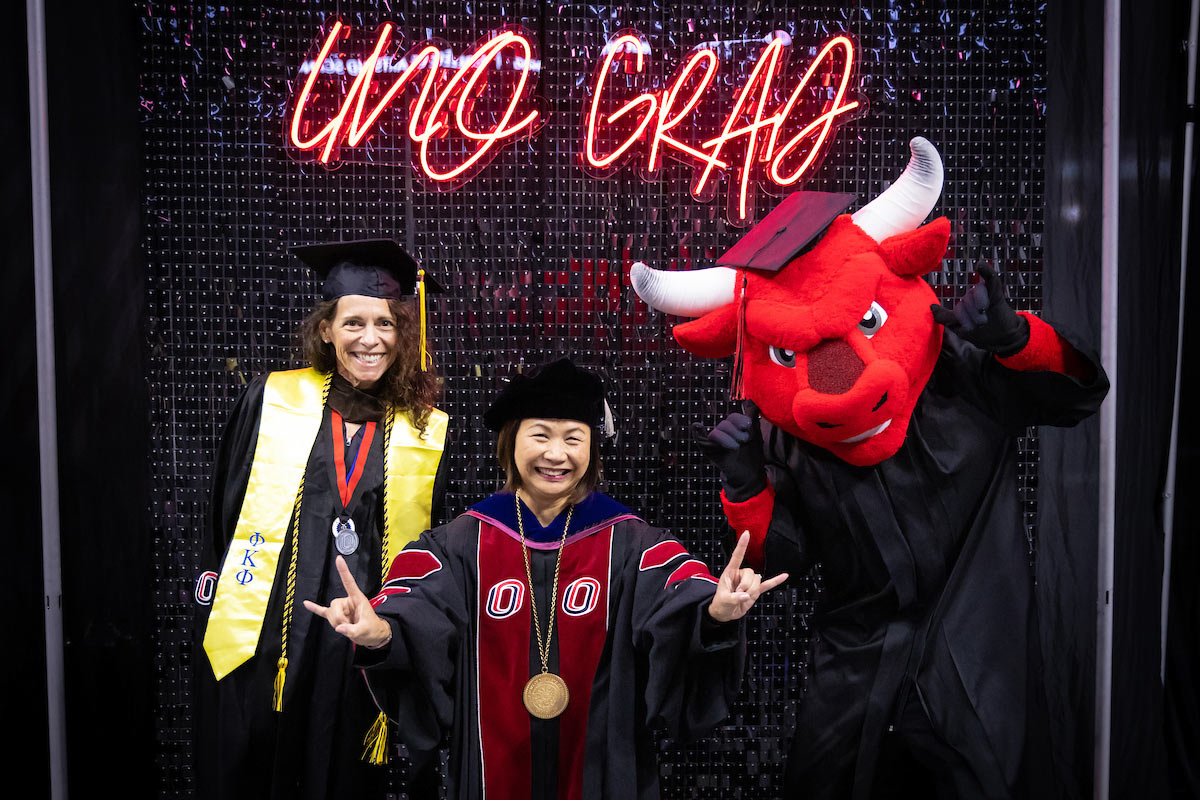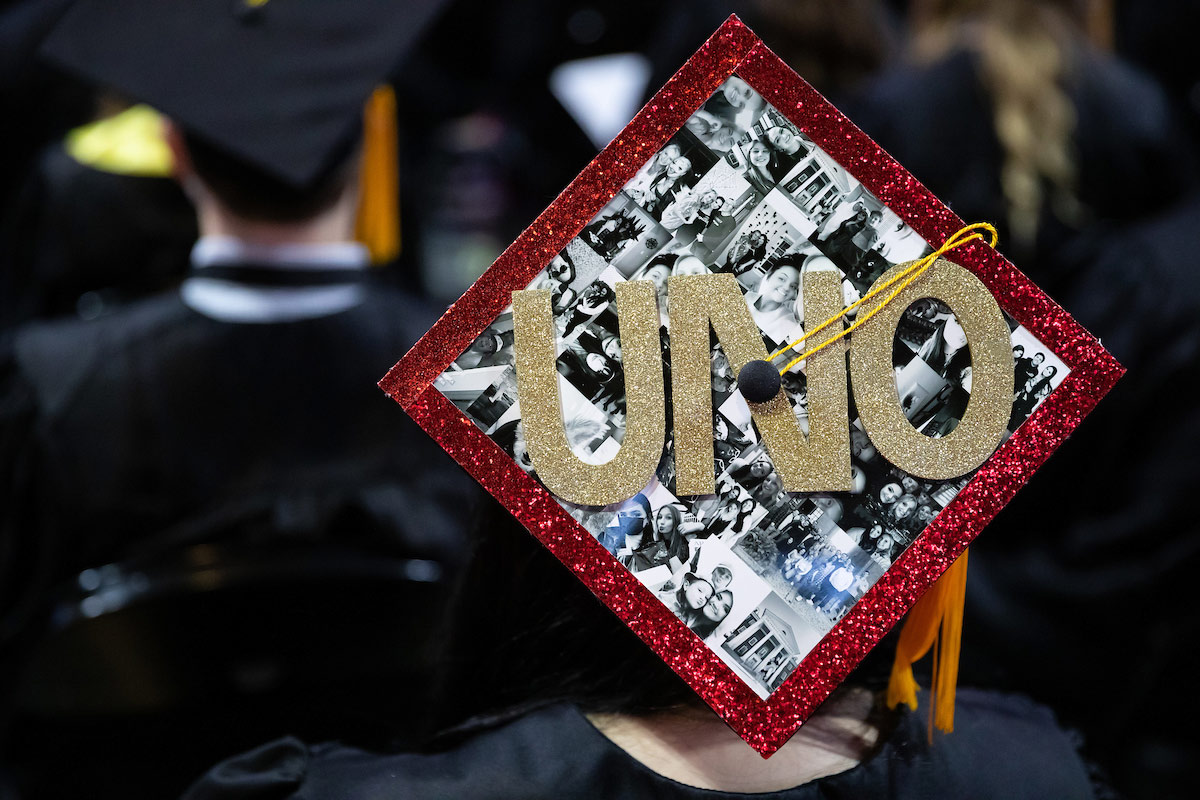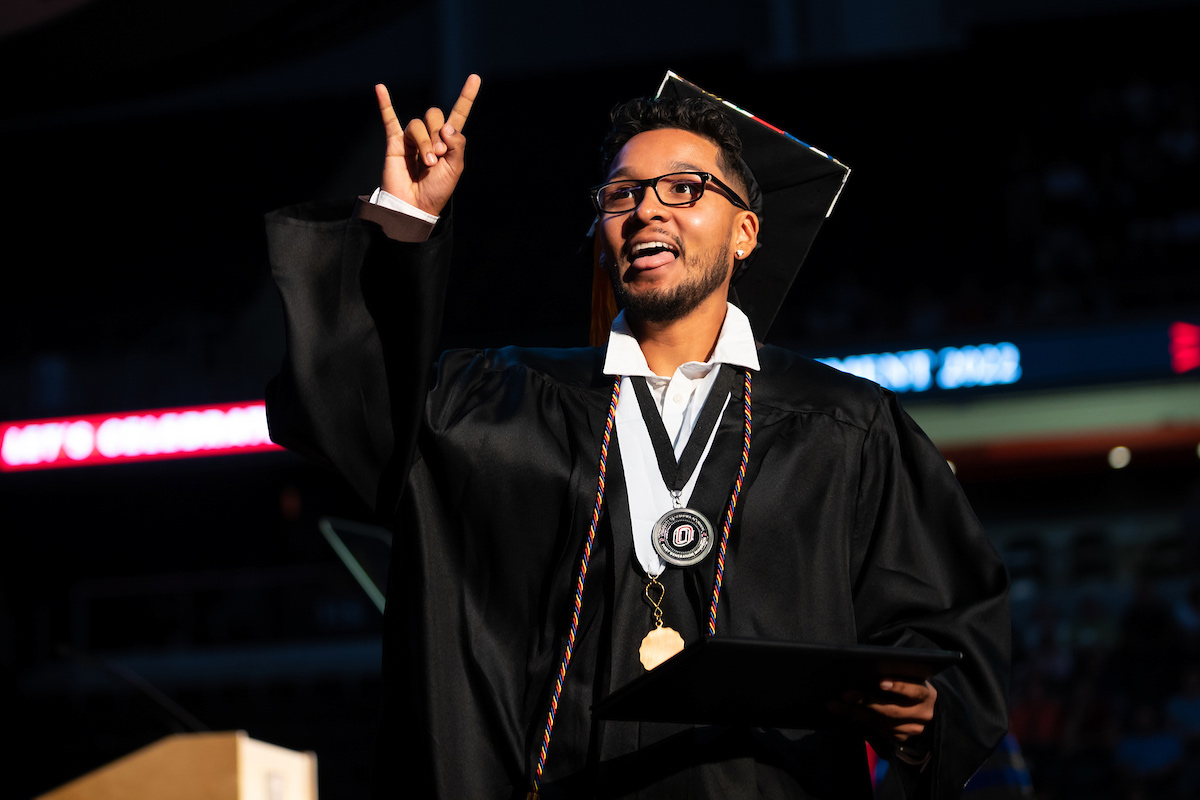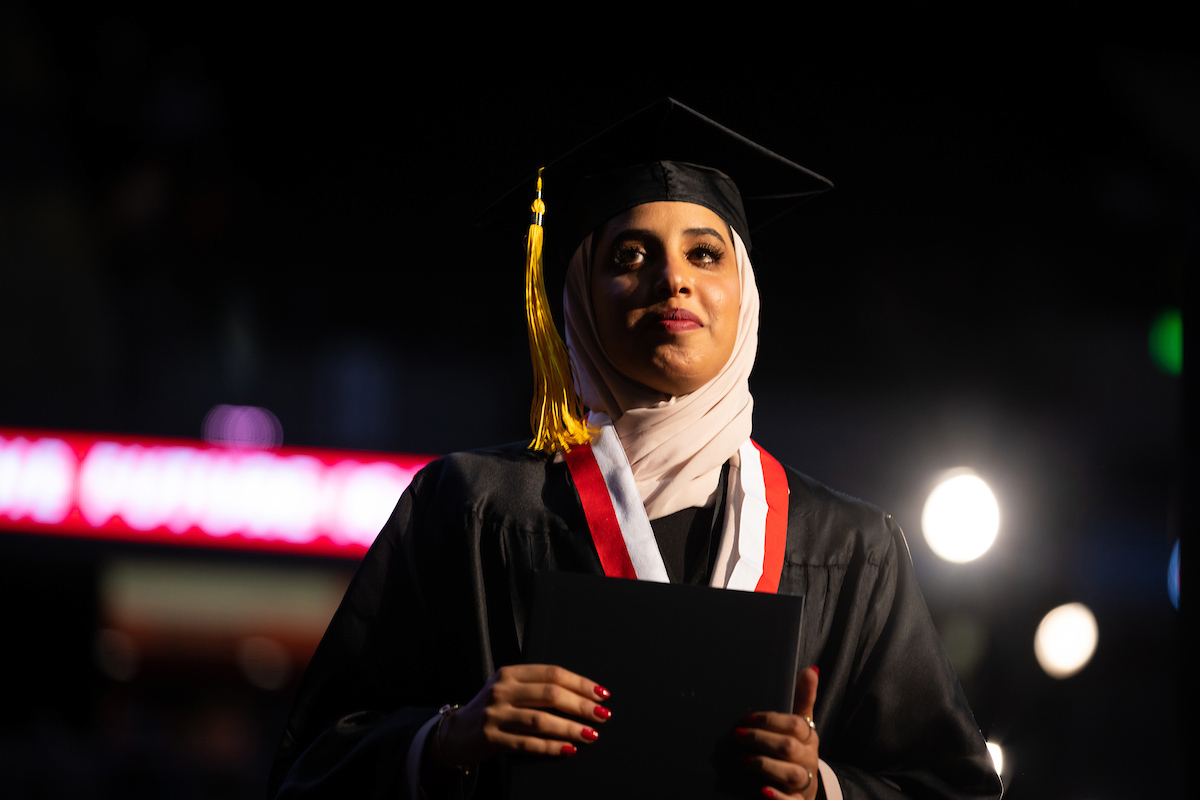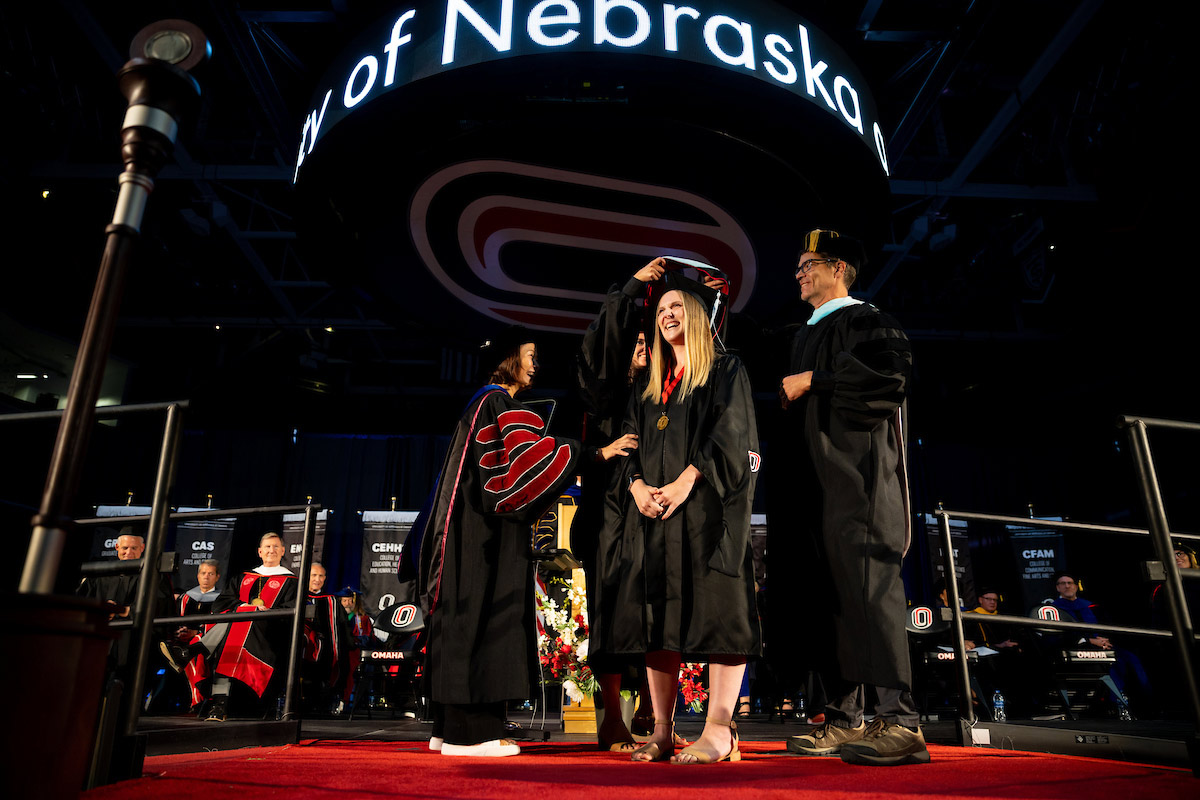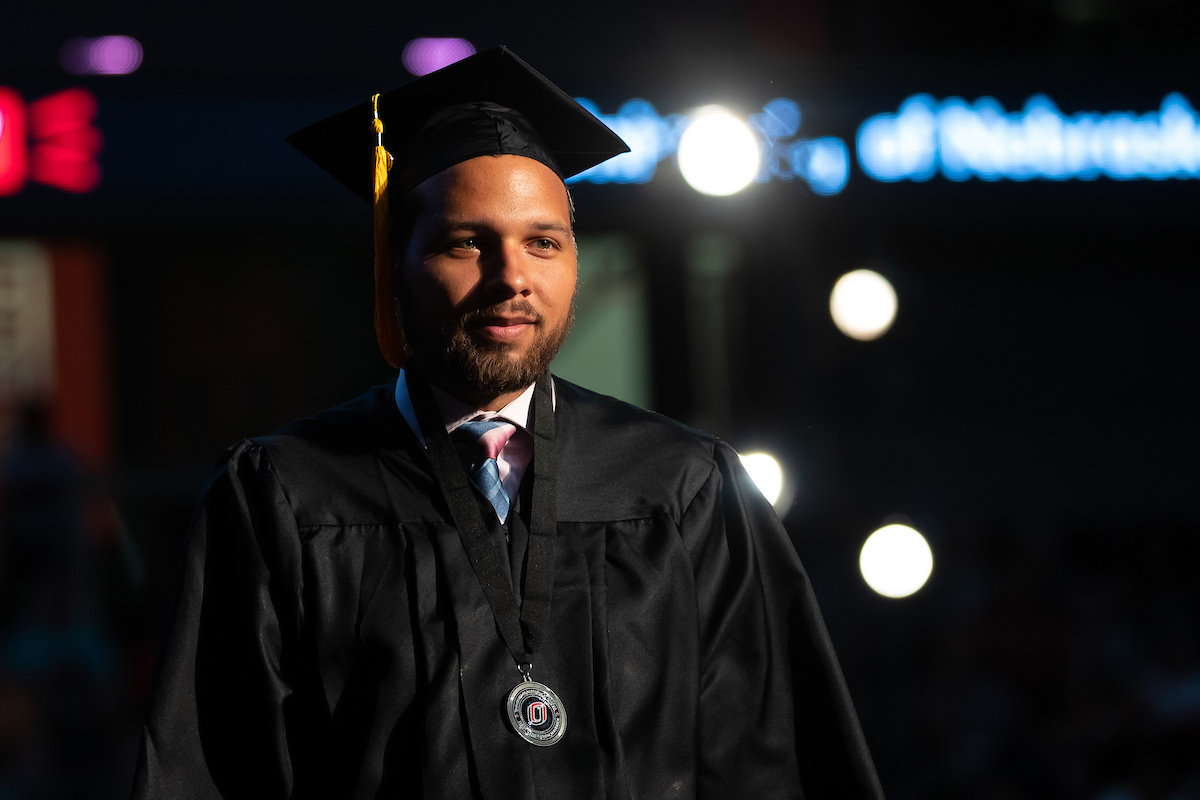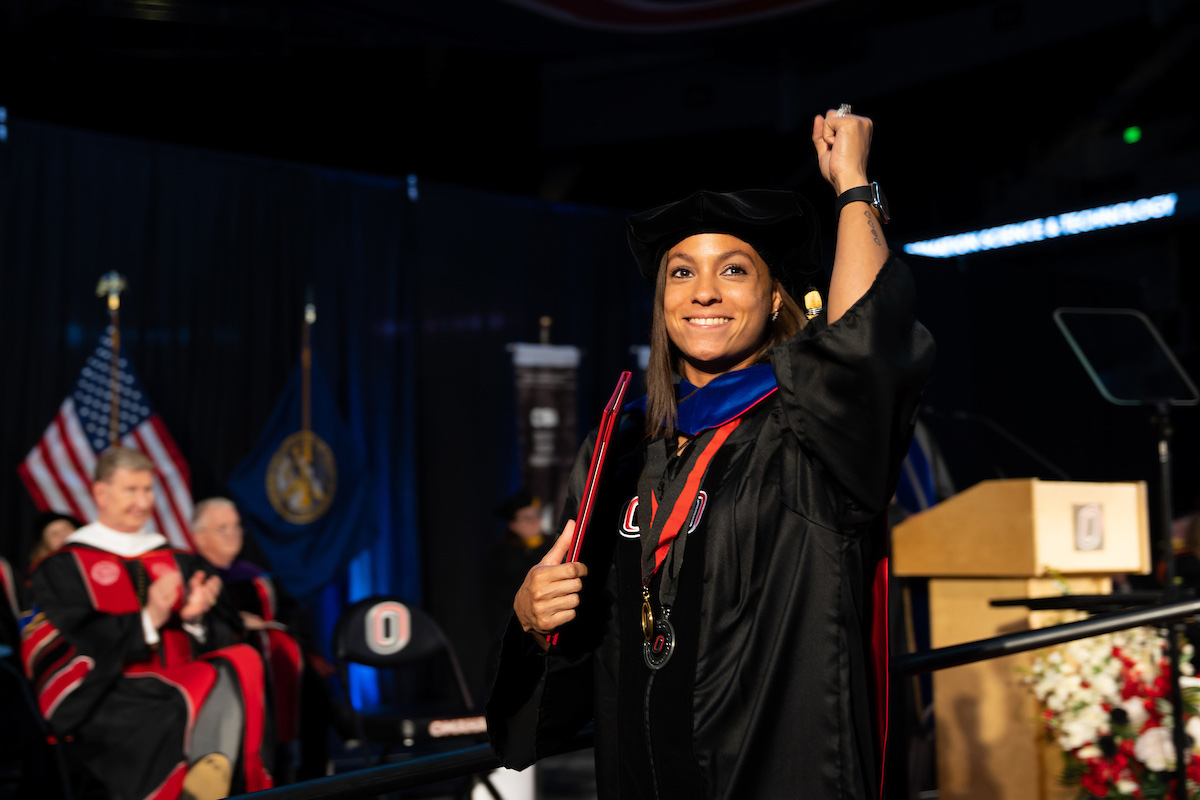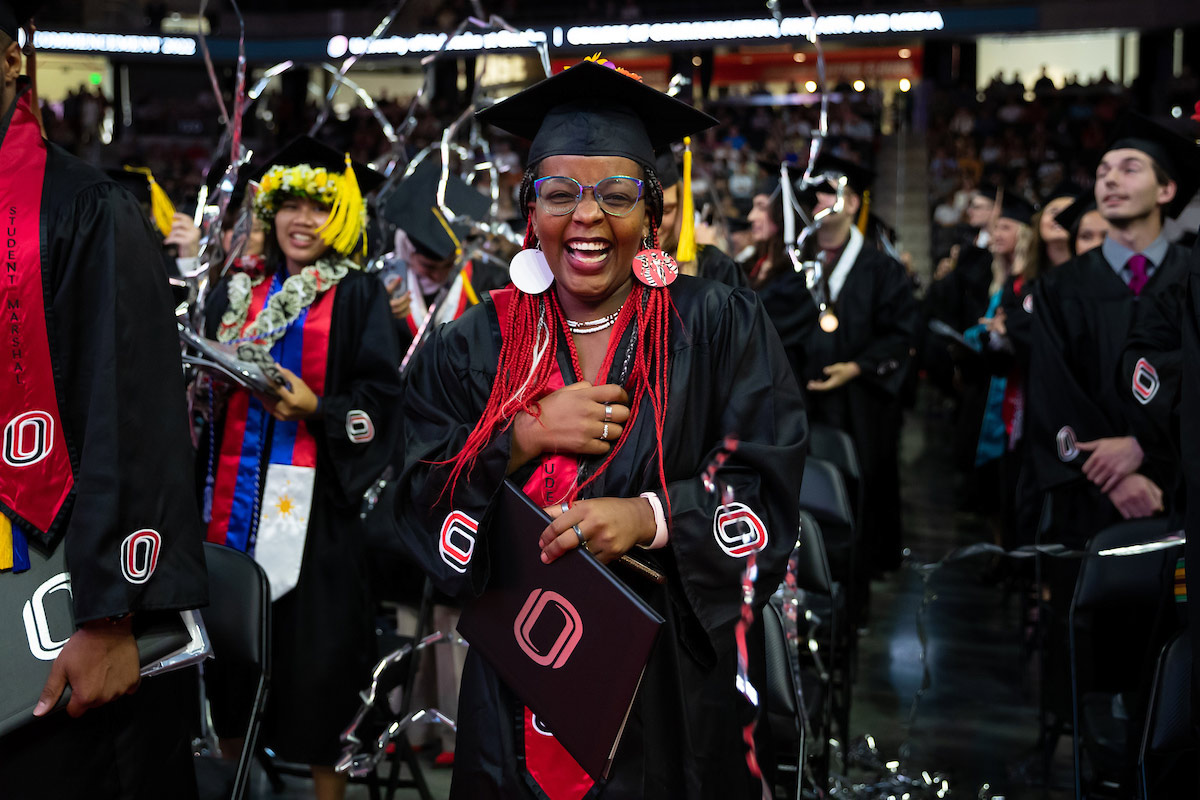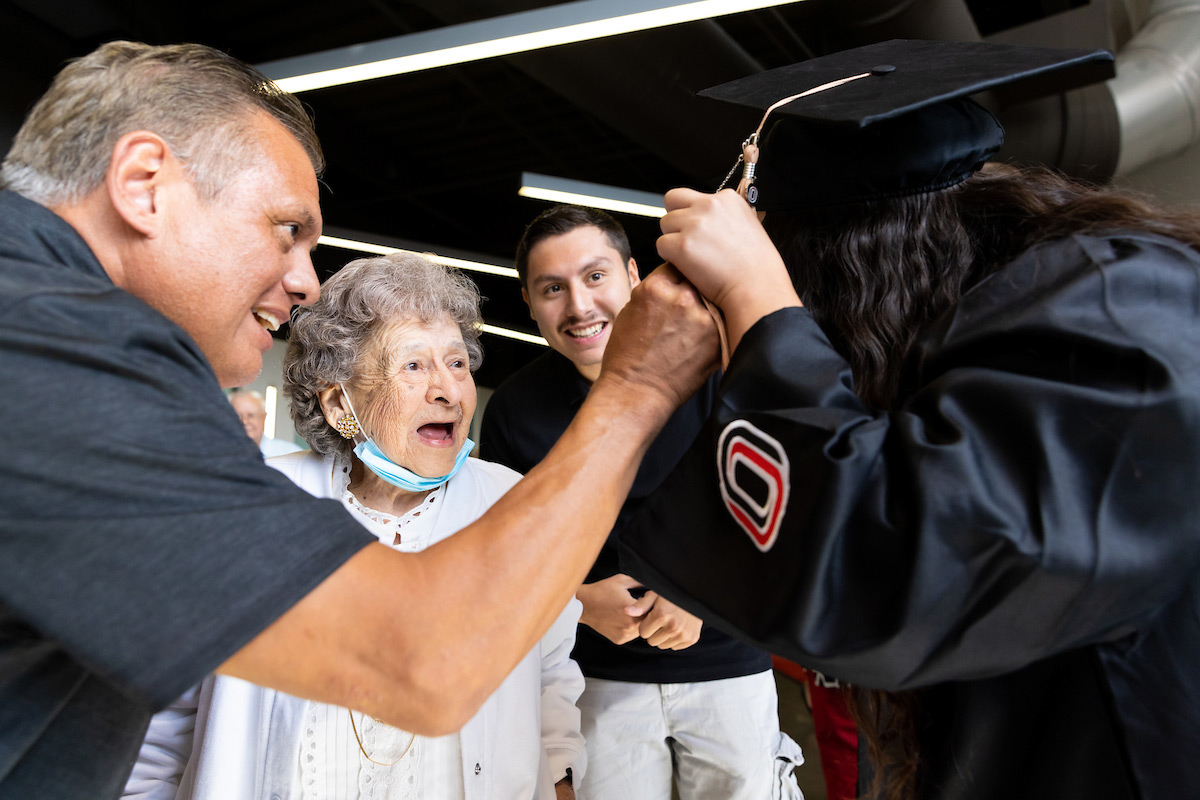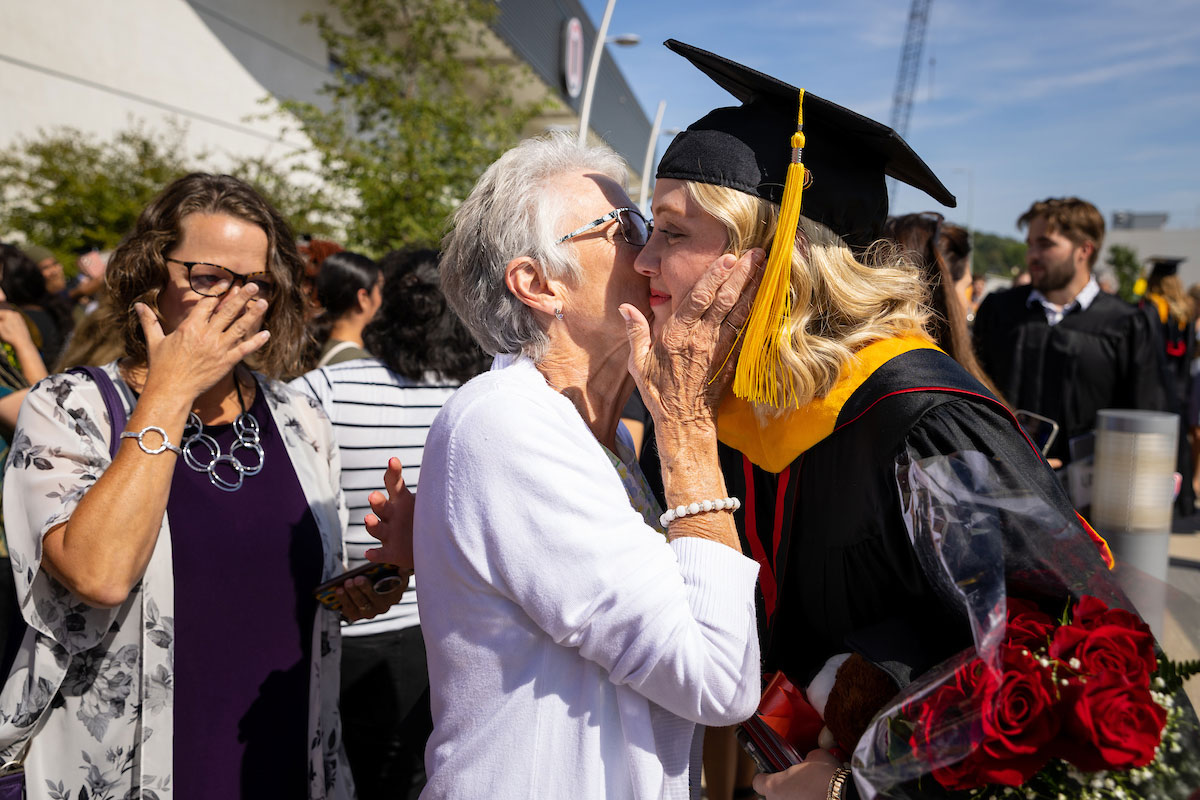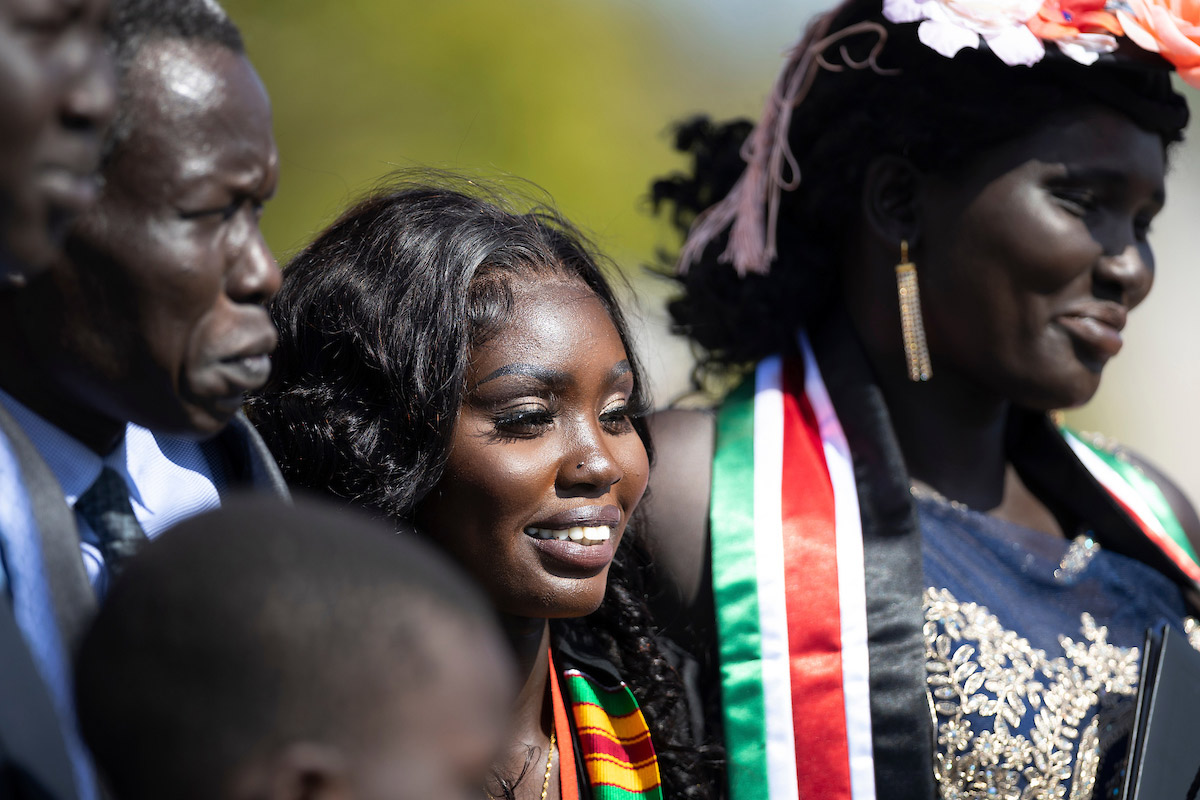 The 2021-2022 academic year concluded in a celebratory fashion Friday as the University of Nebraska at Omaha celebrated the newest class of Maverick graduates at Baxter Arena during August Commencement ceremonies.
"Wherever your path may lead after today, remember to lift others up along the way," UNO Chancellor Joanne Li, Ph.D., CFA, said during her commencement remarks. "Be the person who makes a difference in the life of someone who is walking a path like yours. Lead by example in every aspect of your lives."
Of the more than 550 Mavericks who graduated Friday, 332 received their undergraduate degrees, 256 received master's degrees, three received doctoral degrees, and 14 were recognized with certificates. Graduates from the August 2022 class also represented 27 U.S. states and eight countries, and included 132 students who became the first member of their family to achieve a college degree.
Taking part in the celebration of the newly minted Maverick alumni were six University of Nebraska System regents and NU System President Ted Carter.
Chancellor Li took a moment during the ceremony to recognize graduates who went the extra mile on their academic journeys.
"Many of our graduates had to wear multiple hats while being a student at UNO. You found work through campus jobs, internships, and part-time jobs outside of the university or maybe even worked full-time and took care of your families while still completing your classes," Li said. "This requires so much dedication and is not an easy feat. However, you did it and it has made you stronger."
Student speaker Maria Mendes Pinto – Master of Political Science graduate who immigrated from Lisbon, Portugal to Omaha in 2013 – recounted her journey to fellow graduates, and encouraged them to be a force for good in their communities after graduation.
"I am so deeply thankful for the warm reception I encountered on this campus and challenge you to go forth in the world with that same mindset," Pinto said. "Look around you and choose to act with love: spreading kindness, navigating your mistakes with grace and patience, listening to the experiences of others, and advocating for those who stand voiceless and most need your allyship."
There is no one definition of what a "Maverick" is, but there is a uniting Maverick spirit that guides each member of the Class of 2022.
Special Recognitions
During the ceremony, Chancellor Li recognized individuals whose achievements and contributions advanced the university.
Howard and Rhonda Hawks received the Order of the Tower for their philanthropic support of the university and were thanked via video. Julie Dierberger received the Chancellor's Medal for her leadership of UNO's Service-Learning Academy.
"Even when faced with the unprecedented challenges of the pandemic, Dr. Dierberger worked with faculty, staff, and students to embrace new methods of connecting with the community," Li told the Baxter Arena audience. "Because of this Maverick thinking, UNO not only maintained its ability to serve the community, but in fact was able to grow its offerings, and serve more partners than ever before."
The Order of the Tower
Howard and Rhonda Hawks
Howard and Rhonda Hawks work through The Hawks Foundation to address philanthropic support of education and socioeconomic issues such as mental health, substance use and homelessness support as well as support to Christian ministry and the arts.
Howard Hawks is Chairman of The Hawks Foundation and co-founded Tenaska in 1987. He served as Chairman and CEO of Tenaska until 2010 and has continued to serve as Chairman. Under his leadership, Tenaska grew from a small operation in Omaha, to one of the largest privately held companies in the U.S. Since 1987, the company has raised more than $18 billion for its projects through various combinations of commercial banks, capital markets and company-partnership equity.
Hawks has served on a number of boards, including Creighton University, University of Nebraska, Joslyn Art Museum, Heritage Services, Boys & Girls Clubs and Omaha Zoo Foundation.
Rhonda Hawks is President of The Hawks Foundation and responsible for daily management of The Hawks Foundation. She is a co-founder of the Behavioral Health Support Foundation, which subsequently created a public/private partnership to advocate for implementation of behavioral health reform and supplied funding for the renovation of Lasting Hope Recovery Center.
She has served on a number of boards including Project Harmony and Omaha Performing Arts.
The Chancellor's Medal
Julie Dierberger, Ph.D., Paul Sather Distinguished Director of UNO's Service Learning Academy
Dierberger has provided leadership in service-learning, community engagement and development, and student leadership development in public and private higher education institutions for the past 20 years. She created training for P-12 teachers and UNO faculty members to learn and apply best practices in service learning teaching. Dierberger serves on the SXSW (South by Southwest) EDU Advisory Board, is President of Phi Kappa Phi Honor Society, and the Vice President of the Aksarben-Elmwood Park Neighborhood Association.
About the University of Nebraska at Omaha
Located in one of America's best cities to live, work and learn, the University of Nebraska at Omaha (UNO) is Nebraska's premier metropolitan university. With more than 15,000 students enrolled in 200-plus programs of study, UNO is recognized nationally for its online education, graduate education, military friendliness and community engagement efforts. Founded in 1908, UNO has served learners of all backgrounds for more than 100 years and is dedicated to another century of excellence both in the classroom and in the community.
Follow UNO on Facebook, Twitter, Instagram, TikTok, LinkedIn, and YouTube.